Caravan and Motorhome Club achieves Green Tourism Silver Award
20/05/2022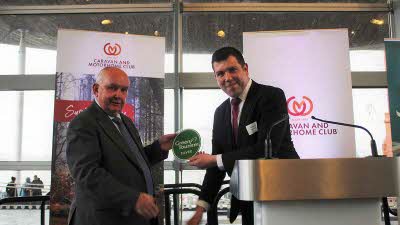 The Caravan and Motorhome Club is delighted to announce it has achieved a Silver Award, from the Green Tourism accreditation scheme, across its nationwide campsite network and its Head Office, based in Sussex.
The Award was presented to the Club at a Parliamentary Reception at the Senedd in Wales on 18th May during Wales Tourism Week.
Green Tourism is a long-established UK based organisation that aims to help businesses improve their tourism services to meet the growing need to become more environmentally and socially responsible. The awards certification programme recognises the commitment of tourism businesses which are actively working to become more sustainable.
Green Tourism awards an accreditation of Gold, Silver or Bronze to recognise the level of achievements based on a number of criteria taken from their People, Places and Planet standard. The awards are acknowledged worldwide as an indicator of good environmentally-friendly practice.
Mark Feast, the Caravan and Motorhome Club's Sustainability Advisor said, "The Club is exceptionally proud to have achieved a Silver Award from Green Tourism. Together we are on a continuous journey of responsible actions to reduce our environmental impact and help our members, guests, and future generations, get more from the great outdoors."
Mark continued, "We are very proud that the Club's Head Office achieved a Silver Award and our key strengths were within the People area of the criteria, including Health and Safety and Equality, Diversity and Inclusion. This assessment is an opportunity to celebrate the Caravan and Motorhome Club's working standards and also highlight areas to focus our efforts for improvements to aim to achieve the Gold award in the near future."
Caravan and Motorhome Club campsites have been awarded a range of awards, between Silver and Bronze. Club Members will be able to view the campsite's award level in each of the campsite reception areas and in the new edition of the Club's Sites Directory & Handbook.
Notes to Editors:
About the Caravan and Motorhome Club
Champions of the great outdoors – from glamping to touring – the Caravan and Motorhome Club represents the interests of around one million caravan, motorhome, campervan and trailer tent owners across the UK. Founded in 1907, the Caravan and Motorhome Club has a wealth of experience and prides itself on offering great value and high quality campsites for tourers and glampers.
Caravan and Motorhome Club membership is just £56 per year and provides members with access to 2,700 quality campsites in the UK and overseas. The Club offers over 340 campsites across 16 countries in Europe including France, Spain and Italy amongst other destinations. Stays at these sites can be packaged with great ferry offers to create holidays that are protected by ABTA. The Club also offers a range of escorted and independent tours in Europe, Australasia, North America and Southern Africa, all of which are protected by ABTA. All members can take advantage of expert advice, overseas travel services, cover and insurance and exclusive member offers and discounts.
For further information about becoming a member of the Caravan and Motorhome Club, please visit www.camc.com or call 01342 318 813.

About Experience Freedom
Experience Freedom from the Caravan and Motorhome Club provides glamping accommodation in some of the most beautiful locations in the UK. Experience Freedom offers a choice of glamping accommodation, motorhome hire and tent camping, all of which are available to non-members. Caravan and Motorhome Club members receive a 10% discount on glamping and up to 10% off motorhome hire plus a free Club bundle worth over £50.
Experience Freedom is operated by the Caravan and Motorhome Club, a membership organisation with a wealth of experience in operating high quality campsites. To find out more, visit www.experiencefreedom.co.uk