Caravan and Motorhome Club and Mark Blundell team up for British Touring Car Championship campaign
20/03/2019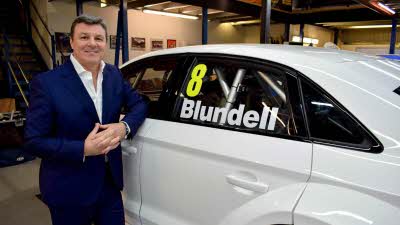 The Caravan and Motorhome Club are delighted to announce their support of Mark Blundell ahead of the former Formula One star's debut campaign in the British Touring Car Championship (BTCC). The new partnership will see Blundell, a Club member, appear at a number of Club events during 2019 as well as having the Club logo on Blundell's BTCC race suit.
Blundell, the 1992 winner of the 24 Hour of Le Mans race, is thrilled to have the support of the Caravan and Motorhome Club ahead of his comeback season. Blundell said, "I'm delighted to have the backing of the Caravan and Motorhome Club going into my first season in the BTCC. I've enjoyed working with the Club in the past and I'm looking forward to working alongside their team across the coming campaign."
Harvey Alexander, director of marketing at the Caravan and Motorhome Club is equally thrilled at the new partnership and aligning with the UK's most popular form of domestic motorsport. Alexander said; "We're proud to be a part of one of the biggest stories in British motorsport this year. Many of our members are huge fans of the British Touring Car Championship and leisure vehicles are used extensively by fans and competitors alike. We're really looking forward to all of the excitement that the new BTCC season will bring and it's great that there's a Club site near to each circuit."
Mark's return to action begins with the official BTCC Media Day on 27 March at Brands Hatch, with the first round getting underway on the 6 April, also at the Kent-based track.
To find out more about the Caravan and Motorhome Club and how to become a member, please visit https://www.camc.com
-Ends-