Caravan and Motorhome Club launches its 2022 driving training courses
23/11/2021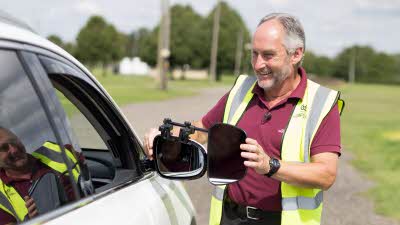 With many people looking to get out on the open road in 2022 and explore further than they have for a while, now is a great time to book a driving training course. The Club, which has over 40 years experience running its courses, has launched its programme for next year.
Whether you're new to caravanning or motorhoming or you just need a refresher, the Caravan and Motorhome Club's COVID-Secure training courses offer practical advice for all. Running from February to November at 14 locations across the UK, each training course provides professional safety instructions and techniques and is taught by the Club's friendly expert instructors who are also members.
The training courses are split into Practical Caravanning; Caravan Manoeuvring; and Motorhome Manoeuvring. The caravan and motorhome manoeuvring courses both take less than seven hours, whilst the Practical Caravan Manoeuvring course for people who are completely new to caravanning is completed within 10 hours split over two days.
Sessions include:
Manoeuvring advice

Hitching and towing safely

Straightforward safety checks

Understanding the laws that affect caravanning and motorhoming

Practice in manoeuvring an outfit forwards and backwards

Understanding loading and how it affects towing
The Practical Caravanning Course was devised in cooperation with the Road Transport Industry Training Board. Each training centre is staffed by professional instructors and the courses are designed to be as enjoyable as they are informative.
The courses are run at centres in Askham Bryan, Burnley, Bury St Edmunds, Darlington, Dumfries, Figheldean, Llanelli, Llay, Macclesfield, Newark, Plumpton, Winchester, Worcester and Stoke Climsland.
The courses are priced as follows:
Participants also benefit from the opportunity to save five percent on the Club's caravan cover, motorhome insurance and car insurance for a new policy or at the next renewal - evidence of course completion is required. They also receive the Club's Essential Guide to Touring for free, which is jam-packed with plenty of useful information and normally costs £16.00.
Harvey Alexander, Director of Marketing and Membership Services at the Caravan and Motorhome Club said: "We are delighted to be launching our driving training courses for 2022 as we know that our members are looking forward to taking their vehicles further around the UK and many are planning to venture into Europe. Our COVID-Secure courses provide great value for money and real peace of mind, meaning that people have the confidence to relax and enjoy their touring adventure."

For more information about the Caravan and Motorhome Club's training courses, please visit camc.com/courses, call 01342 336666 or email events@camc.com