Caravan and Motorhome Club partner with British Canoeing
17/12/2020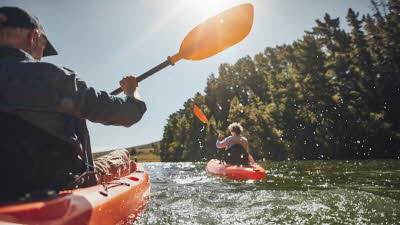 The Club is delighted to announce its partnership with British Canoeing, the Club is now British Canoeing's new Official Accommodation Partner.
Brian Morgan, Head of Events and Communications at the Caravan and Motorhome Club said "We are beyond pleased to be working with British Canoeing. We know that 2020 has seen a huge resurgence with people taking part in activities on the waterways, many of our members enjoy canoeing, kayaking and stand up paddleboarding so it's great to be able to offer our members even more choice of activities with such a renowned organisation as British Canoeing. As a Club we do all we can to encourage people to spend time in the great outdoors, and now, members of British Canoeing will also be able to see for themselves the benefits of leisure vehicle, camping and glamping holidays while enjoying their hobby on the waterways, it really is the perfect accommodation solution."
This new strategic partnership aligns perfectly with both audiences, and will see all Caravan and Motorhome Club campsites being added to the PaddlePoints website to help paddlers to better plan their trips.
In addition, Caravan and Motorhome Club members will be able to access discounts on British Canoeing products and services. Members can soon find out how to access discounts through their member news and on their member benefits page.
Morgan continues, "The Club offers a choice of some 2,700 beautiful campsite locations, many by waterways, both in the UK and Europe, there's a perfect destination for everyone wanting to get out, explore and have adventures. This new strategic partnership aligns perfectly with both audiences, and will have mutual benefit to members of both organisations."
Samantha Rankin, Head of Membership and Customer Services for British Canoeing, said:
"We are delighted to welcome the Caravan and Motorhome Club to the British Canoeing family. This strategic partnership has many mutual benefits to each organisation's respective members, and will go a long way to linking our outdoor enthusiast paddlesport family with the ability to access some of the best touring sites available in the UK and Europe.
"We will also work closely with the Club to provide their members with exciting content to inspire them to participate in paddlesports on their holidays, making the most of the great outdoors and creating long lasting, happy memories".
For more information about the Caravan and Motorhome Club, please visit: www.camc.com
- ENDS -
The Caravan and Motorhome Club
Champions of the great outdoors – from glamping to touring – the Caravan and Motorhome Club represents the interests of around one million caravan, motorhome, campervan and trailer tent owners across the UK. Founded in 1907, the Caravan and Motorhome Club has a wealth of experience and prides itself on offering great value and high quality campsites for tourers and glampers.
Caravan and Motorhome Club membership is just £54 per year and provides members with access to 2700 quality campsites in the UK and overseas.
For further information about becoming a member of the Caravan and Motorhome Club, please visit www.camc.com.
Experience Freedom from the Caravan and Motorhome Club provides luxury accommodation in some of the most beautiful locations in the UK. Experience Freedom offers a choice of glamping accommodation, motorhome hire and tent camping, all of which are available to non-members. Caravan and Motorhome Club members receive a 10% discount on glamping and 15% discount on motorhome hire.
Experience Freedom is operated by the Caravan and Motorhome Club, a membership organisation with a wealth of experience in operating high quality campsites. To find out more, visit www.experiencefreedom.co.uk
For press information, interview requests and imagery, please contact Nikki Nichol, external communications and sponsorship manager at the Caravan and Motorhome Club on 01342 336 797 / 07771 834 443 or via email: nikki.nichol@camc.com
British Canoeing (www.britishcanoeing.org.uk)
British Canoeing is the national governing body for paddlesports in the UK. Our purpose is to:
Inspire people to pursue a passion for paddling; for health, enjoyment, friendship, challenge and achievement.
In March 2017 British Canoeing launched Stronger Together, the new strategic plan for 2017-2021, that will guide the work of the organisation over the next four years through the delivery of 11 key ambitions.
Stronger Together seeks to harness the skills, enthusiasm and commitment of individuals and organisations - including members, clubs and centres, regional development teams, discipline committees, national associations and stakeholders – to build a brighter future for the sport.
For more information please contact:
British Canoeing Media Contact: Ruth Norfolk, PR & Communications Manager – ruth.norfolk@britishcanoeing.org.uk / 07594 087857