Caravan and Motorhome Club support ROKiT MB Motorsport and Jake Hill in 2022
20/04/2022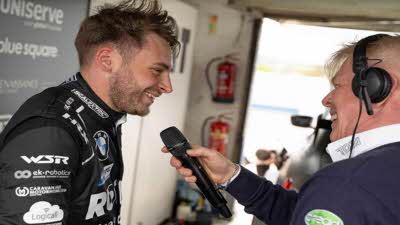 The Caravan and Motorhome Club will proudly support ROKiT MB Motorsport and leading British driver Jake Hill in the 2022 Kwik Fit British Touring Car Championship.
Continuing a partnership that has grown over the past three years, the Caravan and Motorhome Club reunite with the team ahead of its most exciting season yet - as Jake makes his final preparations behind the wheel of the hybrid-powered BMW 330e M Sport, operated by 15-times BTCC champions, West Surrey Racing.
Motorsport and leisure vehicles go hand in hand with caravans, campervans and motorhomes, often the accommodation of choice for the BTCC's loyal fan base.
Jake Hill will proudly carry the Caravan and Motorhome Club logo on his racing suit as well as all of the team's official teamwear throughout the campaign.
"It's brilliant to welcome the Caravan and Motorhome Club back to the team," Mark Blundell, Sporting Director of MB Motorsport said. "We've enjoyed a successful relationship together and look forward to adding to that success this season. The caravan and motorhome community play such a big role in the success of the BTCC and it's always fantastic to see them lining the circuit - often showing their support with lots of flags on display."
Harvey Alexander, Director of Marketing and Membership Services at the Caravan and Motorhome Club said, "The BTCC enjoys a loyal and passionate fanbase which goes hand in hand with our membership community. Race fans can enjoy every moment of the action while having all of their leisure vehicle home comforts with them. Partnering with ROKiT MB Motorsport, we're excited for another season of thrilling racing and playing a part in one of the most exciting prospects on the grid. We wish Jake Hill all the best for the 2022 season."
Ends
Notes to Editors
About the Caravan and Motorhome Club
Champions of the great outdoors – from glamping to touring – the Caravan and Motorhome Club represents the interests of around one million caravan, motorhome, campervan and trailer tent owners across the UK. Founded in 1907, the Caravan and Motorhome Club has a wealth of experience and prides itself on offering great value and high quality campsites for tourers and glampers.
Caravan and Motorhome Club membership is just £56 per year and provides members with access to 2,700 quality campsites in the UK and overseas. The Club offers over 340 campsites across 16 countries in Europe including France, Spain and Italy amongst other destinations. Stays at these sites can be packaged with great ferry offers to create holidays that are protected by ABTA. The Club also offers a range of escorted and independent tours in Europe, Australasia, North America and Southern Africa, all of which are protected by ABTA. All members can take advantage of expert advice, overseas travel services, cover and insurance and exclusive member offers and discounts.
For further information about becoming a member of the Caravan and Motorhome Club, please visit www.camc.com or call 01342 318 813.

About Experience Freedom
Experience Freedom from the Caravan and Motorhome Club provides glamping accommodation in some of the most beautiful locations in the UK. Experience Freedom offers a choice of glamping accommodation, motorhome hire and tent camping, all of which are available to non-members. Caravan and Motorhome Club members receive a 10% discount on glamping and up to 10% off motorhome hire plus a free Club bundle worth over £50.
Experience Freedom is operated by the Caravan and Motorhome Club, a membership organisation with a wealth of experience in operating high quality campsites. To find out more, visit www.experiencefreedom.co.uk