Caravan and Motorhome Club technical manager awarded Distinguished Service Certificate by BSI Committee
16/10/2018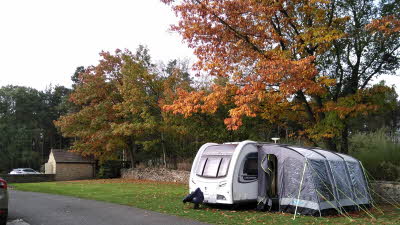 This award is specifically in recognition of Martin's longstanding contribution to standards development in the area of camping tents and caravan/motorhome/campervan awnings. The certificate was presented to Martin today by Maxi Brown, chair of the BSI committee for sleeping bag and tent standards and Nick Lomas, Club Director General at the Motorhome and Caravan Show held at the NEC.
BSI is the National Standards Body for the UK, and develops and maintains not only British Standards, but also represents UK interests in standards work at European and global levels. Martin's BSI committee work gives the Club a voice in defining best practice for many aspects of product design and Martin sits on standards committees covering many aspects of leisure vehicle design and safety.
Members are generally nominated by their fellow committee members and Martin was recommended for his tireless work and enthusiasm over 20 years to ensure that the highest standards are met within the tent and awnings sector.
The caravan, camping and motorhome industry is worth £6 billion a year to the UK economy and as camping is becoming a more and more popular UK past time, it becomes increasingly important to ensure the highest standards are met.
Martin has worked for the Caravan and Motorhome Club as technical manager for 20 years and he said: "Standards are a key foundation on which good design and product safety are based. As more and more people take up camping, it's even more crucial that the highest standards are upheld. I have been honoured to contribute to British and international standards development on behalf of the Club and its members, and look forward to continuing to do so. I'm delighted to accept this award today and thank my fellow committee members for their nomination."
Maxi Brown, Capability Development Manager at product and material testing experts, Intertek, chairs the BSI committee dealing with tents and awnings. She said: "Martin's technical skill is always evident at our meetings. He encourages positive and progressive inclusion of new safety aspects in all standards and always has the interests of his Club's members at heart. On a lighter note, I often rely on Martin's legendary skills as a grammarian. Many a happy hour has been spent correcting text to make appropriate use of commas and to include other long-lost forms of punctuation into sentence structure."