Caravan and Motorhome Club Week
30/09/2020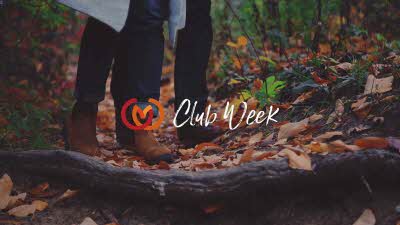 The Caravan and Motorhome Club invites you to join-in with its Club Week. A week-long free virtual event from the 12th-18th October packed full of fun and information. Plus, anyone who joins the Club between 12th and 25th October will also get their first night free* on a Club campsite.
This would have typically been the time when the industry headed en-masse to the NEC for a major leisure vehicle touring exhibition, which sadly had to be cancelled this year. But the Club doesn't want its community of members, or like-minded holidaymakers, to miss out on the opportunity to hear what's new in the world of touring, so is staging a virtual 'Club Week' packed full of advice and inspiration to get you in the holiday vibe. All the content will be available on the Club's website www.camc.com/clubweek and on the Club's social media channels (@CandMClub).
During Club Week, there will be daily forum videos, hosted by TV presenter, Club member and campervanner, Matt Allwright. He will be asking all the questions you want answered and the forums will be premiered on the Club's social page on Facebook at 11am each day, one per day for the duration of Club Week. During and after each forum, viewers will have the opportunity to ask Club staff any questions in real-time on the themed forums. So follow @CandMClub on Facebook and visit www.camc.com/clubweek to make sure you don't miss out. All this from the comfort of your own armchair!
Matt Allwright will be talking to the Club's Director General, Nick Lomas, about what's been happening in 2020 (and there's been a lot!) and looking forward to 2021 and Club plans. Matt will also be talking to a number of staff from the Club and the forums will cover topics such as Autumn/Winter Touring inspiration with details about Club campsites and Experience Freedom glamping; technical and training tips; how to save money with the Club's member offers; overseas travel to fuel your wanderlust and insurance and cover products.
There will also be forums with special guests; British Canoeing will inspire you to get out on the water; Raleigh will tell you all about the benefits of e-bikes and the Club's member offer. Special celebrity guest, avid caravanner and Club member Karen Wright from the 2018 series of The Great British Bake Off will also be chatting with Matt. The Club website will also feature the latest news from caravan, motorhome and campervan manufacturers giving details of the latest product launches. During Club Week there will be one of the Club's hugely popular live quizzes on Facebook (@CandMClub) that will feature highlights from the week, so make sure you tune in to make the most of Club Week!
Harvey Alexander, Caravan and Motorhome Club Director of Marketing and Membership Services said, "We know our members will miss going to the NEC exhibition so we wanted to make sure we could bring them details of the latest leisure vehicle product news and launches, also to help bring our community together to share tips and experiences of their touring holidays. The forums with Matt Allwright are always hugely popular at the show so this is a great way to continue the activities and bring them not only to our members but those who have an interest in this holiday pastime. We look forward to welcoming everyone to Club Week."
Matt Allwright, Caravan and Motorhome Club ambassador said, "I'm going to miss seeing everyone at the show so this is a great way of keeping in touch and bringing Club members all the latest information in a relaxed and informative way. I'm really looking forward to Club Week, see you there!"
Membership of the Caravan and Motorhome Club is just £54 per year. Members have access to thousands of UK sites, plus expert advice, overseas travel services, cover and insurance and exclusive member offers and discounts. You can find a whole host of hints and tips at Touring with the Caravan and Motorhome Club. The Club's website also features the 'Club Together' online forum that brings together thousands of like-minded tourers who share experiences, offer advice and handy hints and tips.
To find out more about Club membership and its campsites, and to view all its advice for first-timers, visit https://www.caravanclub.co.uk/uk-holidays/start-a-new-adventure for further information about the Caravan and Motorhome Club visit www.camc.com and for details of Club Week visit www.camc.com/clubweek
*Terms and conditions apply, check the website for details
Ends