Get into the festive spirit exploring Christmas markets in Germany and the Netherlands
22/08/2023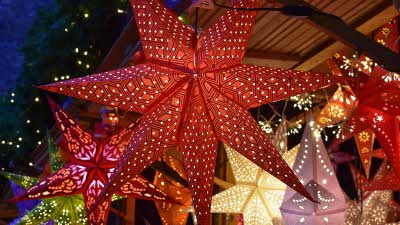 The Caravan and Motorhome Club's Christmas Market Tour across Germany and the Netherlands offers the ultimate Christmas road trip, visiting the magical Christmas markets of Cologne and Aachen in Germany and Valkenburg in the Netherlands.
From just £699* for an outfit and two people, the four-night holiday, from 11 December, provides the ideal opportunity for plenty of last minute shopping as well as sightseeing.
From searching for gifts at the world-famous markets, viewing the incredible Nativity Sand Sculpture in Valkenburg to sampling delicious Christmas treats such as gingerbread and marzipan bread fresh from the oven, there are plenty of opportunities to get in the Christmas spirit.
Day one begins at Camping Vinkenhof, a semi-rural campsite located in the hilly countryside of southern Limburg, in the Netherlands, where tourers can meet their hosts and fellow group over a drink of Christmas Gluhwein and a traditional Dutch snack. The following day there is a coach excursion to Cologne, a city famed for its Gothic architecture, impressive cathedral and views across the River Rhine. Here there is the chance to explore the many Christmas markets with free time to shop and soak up the festive atmosphere.
Other experiences include a trip to the magical market caves of Valkenburg with the chance to watch the town's famous Christmas parade, and to taste 'Printen' a local speciality of Aachen, similar to gingerbread.
The trip includes four nights camping, excursions, several meals and a dedicated tour host to accompany the group. Offering the widest choice of crossings, the Club has negotiated deals with ferry companies and LeShuttle (Eurotunnel) to help save money, with their 'lowest price guarantee'. New joiners to the Club this summer will also be able to save 20 per cent on ferry and LeShuttle crossings.
Members of the Caravan and Motorhome Club can also benefit from the Red Pennant emergency assistance to keep them protected when travelling across Europe. This travel insurance has been specifically designed for touring holidays and includes options of motoring or personal insurance for single-trip or annual multi-trip cover. Cover options include European breakdown roadside assistance, vehicle and passenger repatriation, continuation of holiday travel, medical emergency and ski cover. When travelling with one of the Caravan and Motorhome Clubs' European tours, members can feel at ease with Red Pennant insurance – which even has access to a 24-hour, multi-lingual assistance line.**
For further information about becoming a member of the Caravan and Motorhome Club or to book, please visit www.camc.com or call 01342 318 813.
Notes to Editors
*Prices based on two people travelling together. Single and extra person pricing also available.
**A sample of the Red Pennant policy wording, including the limitations and expectations that apply, is available upon request. For further information visit camc.com/redpennant. The Red Pennant European Breakdown Cover and/or European Travel Insurance policy is underwritten by Tedaisy Underwriting Limited as Underwriting Agents for Astrenska Insurance Limited. Astrenska Insurance Limited is authorised by the Prudential Regulation Authority (PRA) and regulated by the Financial Conduct Authority (FCA) and the Prudential Regulation Authority; Registered in England & Wales; Registered Number 01708613; Registered Office: Cutlers Exchange, 123 Houndsditch, London, EC3A 7BU. FCA registration number 202846.
The Caravan Club Ltd, which trades as Caravan and Motorhome Club is authorised and regulated by the Financial Conduct Authority for general insurance and credit activities.
About Caravan and Motorhome Club
Championing and helping its members get more from the great outdoors, whether glamping or touring, the Caravan and Motorhome Club represents the interests of over 1.1 million caravan, motorhome, campervan and trailer tent owners across the UK. With over 115 years of knowledge and expertise, the Club has a wealth of experience and prides itself on offering great value and high quality campsites for tourers and glampers.
Caravan and Motorhome Club membership is just £59 per year and provides members with access to over 2,700 quality campsites across the UK and Europe. As the UK's No. 1 rated touring club* it makes sure members get the most from their membership, saving them money with great value offers whether touring or at home.
The Club also offers a range of escorted European tours which are protected by ABTA. Plus escorted and independent tours in Australasia, North America and Southern Africa which are also fully protected, either by ABTA or ATOL when a flight is included. All members can take advantage of expert advice, overseas travel services, cover and insurance and exclusive member offers and discounts.
For further information about becoming a member of the Caravan and Motorhome Club, please visit www.camc.com or call 01342 318 813.
*As rated on Trustpilot
About Experience Freedom
Experience Freedom from the Caravan and Motorhome Club provides glamping accommodation in some of the most beautiful locations in the UK. Helping members get more from the great outdoors, Experience Freedom offers a choice of glamping accommodation, motorhome hire and tent camping, all of which are available to non-members. Motorhome hire, including some discounted hire schemes can be found here https://www.experiencefreedom.co.uk/motorhome-hire/
Experience Freedom is operated by the Caravan and Motorhome Club, a membership organisation with a wealth of experience in operating high quality campsites.
Caravan and Motorhome Club members can save up to 10% on glamping accommodation for themselves and their friends and family when staying at the campsite with them. It is automatically applied to the booking when the membership number is used. To book friends and family, simply call on 01342 777533 to make a booking with your Club membership card.
To find out more, visit www.experiencefreedom.co.uk
Media Contacts:
For more press information, please email Nikki Nichol at the Caravan and Motorhome Club on nikki.nichol@camc.com or by calling 07771 834443.
Or contact the Four Communications press team, by emailing Victoria Eltis and Helen Coop at camc@four.agency or call 07891 423322.