European and Worldwide Tours for 2023
18/10/2022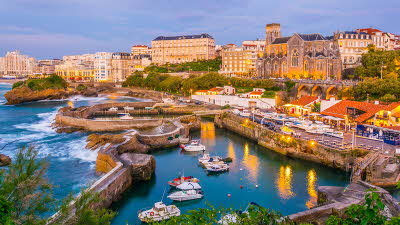 The Caravan and Motorhome Club is launching new European tours, expanding its offering for a wide range of activities when out exploring across France. After a two year hiatus due to the pandemic the Club is also reintroducing a number of European and worldwide tours for its members.
Members can choose from 19 escorted European tours in 10 different locations and are carefully curated with a balance of excursions and free time. Tourers can plan their trip with their caravan, motorhome or campervan while being supported by experienced tour hosts and enjoying the company of like-minded tourers.
With its ABTA-bonded package holidays across Europe, the Club offers members discounted ferry and Eurotunnel tickets, up to 10 per cent on crossings, with a 'Lowest Price Guarantee' meaning further savings for the whole group.
New European tours for 2023
The Club is proud to announce three new tours across France for 2023.
The Basque Country Tour offers a truly 'foodie' experience while travelling through the heart of the Basque Country – Europe's most exciting culinary hotspot. On this 14-night tour, travellers will explore France and Spain, including Biarritz, St Jean de Luz and San Sebastian, while sampling regional specialities; savouring Basque wines, Basque cheeses, pintxos and more. Departures are from May.
The Wines of the Loire Tour is perfect for the wine-lovers who want to discover the scenic Loire Valley, while tasting world-renowned wines along the way. Guided by wine experts, this oenological adventure sweeps through domains such as Chinon, Saumar and Anjou – all set against the stunning backdrop of some of France's most iconic châteaux and, of course, the River Loire. This 12-night tour will be based at the Camping L'Isle Verte. Prices start from £1,219.50 per person, with departures from September.*
Finally, for those who want to explore France a bit further, the 26-night France Grand Tour provides for the ideal adventure. Stops include Normandy, to visit Mont St Michel, the Loire Valley, for wine-tasting, and the Dordogne region, to explore the cliff-top village of Rocamadour. This tour is ideal for travellers wanting to immerse themselves fully into the 'joie de vivre' of the French, by discovering French cuisine, wine and culture and staying across six different campsites. Prices start from £1,672.50 per person, with departures from May.**
On top of these exciting new tours for 2023, The Caravan and Motorhome Club is starting up its most popular European tours.
First Time Abroad Tours
The Club is reintroducing two First Time Abroad tours to Normandy and Brittany, which are a great introduction for people wanting to take their caravan or motorhome abroad for the first time.
The First Time Normandy Tour explores the scenic region of Normandy in France. Before arrival in France, travellers will spend two nights at the Caravan and Motorhome Club's Brighton Club Site where they will meet with their Tour Hosts and fellow members, and attend a driving course. Once in France, members will stay at Camping Port'land - ideally placed to discover the incredible region of Normandy. Prices to be confirmed with departures from May and June.
Like with the Normandy Tour, The First Time Brittany Tour is perfect for those new to the overseas touring life. Kicking off in the UK at Caravan and Motorhome Club's Rookesbury Park Site to meet fellow members and to attend a driving course, before setting off to the picturesque region of Brittany to enjoy its long stretches of sandy beaches and historical towns. Members will be based at the Domaine du Logis campsite, situated in the scenic grounds of a 15th Century Château. Prices to be confirmed, with departures from May and June.
Ireland
The Escape to Ireland Tour kicks off by journeying through County Wicklow, sweeping through the charming city of Cork, discovering the impressive Cliffs of Moher by boat and ending up in Dublin. This 21-night escape explores southern Ireland in depth, weaving in historical knowledge, learning about the Titanic and the Irish emigration story in Cobh, and culinary experiences by tasting the award-winning smoked salmon at the Burren Smokehouse and whisky at The Temple Bar, Dublin. Prices start from £1,199.50 per person, with departures from May.***
Spain
The Spanish East Coast Tour takes members, over 26-nights, on an in-depth exploration of the wonderful Spanish coast. Sweeping through the beautiful cities of Barcelona and Valencia, soaking up the history of Peñíscola and discovering the UNESCO town of Elche, this tour is ideal for those who want to soak up the culture of Spain. Travelers will be treated to a boat trip through the Caves of San Jose and visit the Bodegas Torres vineyard. Prices to be confirmed, with departures from March and April.
Worldwide tours for 2023
Tourers can choose from 32 once-in-a-lifetime caravan and motorhome touring holidays in 2023 or tailor-make their own tour. Options include escorted, independent or tailor-made tours across Canada, New Zealand, Southern Africa, Australia and America. Club members can save £100 off per booking.
The next escorted tour departs in May 2023, tourers are encouraged to book by 15 November to secure a place on the trip to Canada, where they will be able to discover sophisticated cities, breath-taking lakes and marvellous mountains all with experienced local tour hosts. Choose to enjoy wine within the sun-drenched region of Penticton, unwind on glorious lake beaches or be adventurous with horse riding, canoeing and mountain yoga.
A 25-day escorted tour of the ice-capped peaks of the Canadian Rockies includes flights, airport transfers, motorhome hire, two nights in a hotel either side of the trip, 21 nights pre-booked campsites in sought after areas, locally guided tours by Canadian guides and a welcome dinner and BBQ dinner. Prices start at £4,999 per person, with departures in May and September.
Members of the Caravan and Motorhome Club can also benefit from the Red Pennant emergency assistance to keep them protected when travelling across Europe. This travel insurance has been specifically designed for touring holidays and includes options of motoring or personal insurance for single-trip or annual multi-trip cover. Cover options include European breakdown roadside assistance, vehicle and passenger repatriation, continuation of holiday travel, medical emergency and ski cover. When travelling with one of the Caravan and Motorhome Clubs' European tours, members feel at ease with Red Pennant insurance – which even has access to a 24-hour, multi-lingual assistance line for members.
Notes to Editors
*based on 2 people (outfit + 2 pers. price is £2439 and outfit + 1 is £1999)
**based on 2 people sharing (outfit + 2 price is £3345 and outfit + 1 is £2,315)
***(outfit + 2 price is £2,399)
About the Caravan and Motorhome Club
Champions of the great outdoors – from glamping to touring – the Caravan and Motorhome Club represents the interests of around one million caravan, motorhome, campervan and trailer tent owners across the UK. Founded in 1907, the Caravan and Motorhome Club has a wealth of experience and prides itself on offering great value and high quality campsites for tourers and glampers.
Caravan and Motorhome Club membership is just £56 per year and provides members with access to 2,700 quality campsites in the UK and overseas. The Club offers over 300 campsites across 14 countries in Europe including France, Spain and Italy amongst other destinations. Stays at these sites can be packaged with great ferry offers to create holidays that are protected by ABTA. The Club also offers a range of escorted and independent tours in Europe, Australasia, North America and Southern Africa, all of which are protected by ABTA. All members can take advantage of expert advice, overseas travel services, cover and insurance and exclusive member offers and discounts.
For further information about becoming a member of the Caravan and Motorhome Club, please visit www.camc.com or call 01342 318 813.
About Experience Freedom
Experience Freedom from the Caravan and Motorhome Club provides glamping accommodation in some of the most beautiful locations in the UK. Experience Freedom offers a choice of glamping accommodation, motorhome hire and tent camping, all of which are available to non-members. Caravan and Motorhome Club members receive a 10% discount on glamping and up to 10% off motorhome hire.
Experience Freedom is operated by the Caravan and Motorhome Club, a membership organisation with a wealth of experience in operating high quality campsites. To find out more, visit www.experiencefreedom.co.uk
Media Contacts:
For more press information, please email Nikki Nichol at the Caravan and Motorhome Club on nikki.nichol@camc.com or by calling 07771 834443.
Or contact the Four Communications press team, by emailing Victoria Eltis and Fleur van Heusde at camc@fourcommunications.com or call 07891 423322.