Every dog has its day with the Caravan and Motorhome Club
12/08/2021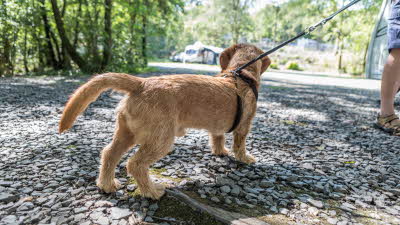 Dogs are definitely having their day this summer with 17 percent of Caravan and Motorhome Club owners getting a new dog during lockdown. Some 15 percent say the furry new addition to their family has influenced their holiday choice of camping or touring.
The results, from a recent survey of dog owning Caravan and Motorhome Club members, found that 73 percent of respondents own one dog, while 8 percent have two dogs, 2 percent have three dogs, 1 percent have four dogs and the remainder have five or more!
Dogs owned by Caravan and Motorhome Club owners are a well-travelled bunch - over 25 percent of respondents said they had taken their dogs abroad on holiday prior to the pandemic and 20 percent said they intended to travel abroad with their pooch once restrictions were lifted.
International Dog Day Competition

With so many members owning dogs, the Caravan and Motorhome Club has launched a competition to celebrate International Dog Day. Running until the day itself, 26th August, the competition offers the chance to win the ultimate prize bundle for four-legged friends. The Club has teamed up with Naturediet, Doggy Bag, Ivy & Duke, Red Original and Colapz to offer prizes worth over £500. Find out more at camc.com/paws
Paws of Approval
With staycations firmly on the agenda for most Club members this summer, the Club has worked hard to improve its dog-friendly facilities. All campsites welcome dogs for no extra cost and many have a dog walk on-site or very nearby, making them a great place to stay owners and dogs alike. There is a dedicated search and book tool for owners to find the site most suitable.
The Club has its own "Paws of Approval" rating system: www.camccom/pawsofapproval Campsites are rated for their dog friendliness and facilities and over 93% of members have rated sites excellent, very good or good. The accessibility of dog walks, dog-friendly people, cleanliness and the availability of a dog wash all rate highly amongst dog owners who have recently treated their companion to a Caravan and Motorhome Club UK stay.
Freelance journalist and author of the upcoming guidebook Dog-Friendly Weekends: 50 breaks in Britain for you and your dog, Lottie Gross says: "I wholeheartedly recommend Caravan and Motorhome Club campsites to anyone on the move with their dog this summer. From fenced-in dog walk areas to "dog stops" where you can tie them up outside facilities and water bowls all over the site, our four-legged family members are well catered for.
"I spent a month in Wales exploring the campsites with my Manchester Terrier, Arty, and was surprised to learn how many of the staff at each site had their own animals living there with them. Arty absolutely loved the Brecon Beacons site where a dog walk by a stream is an idyllic late-night wee stop before bed!"
Aurélie Four, 'mum' of four-legged social media star Marcel Le Corgi, says: We've stayed on several Caravan and Motorhome Club campsites with Marcel in the UK, renting a motorhome in Dorset, glamping in a pod in the Cotswolds and more recently driving a campervan to a site in South London. What we love about the campsites is the warm welcome of the Caravan and Motorhome Club teams and fellow club members, the amenities for dogs and their well-behaved owners, and the walks and fenced off dog exercising areas, which like the rest of the sites are always super clean and well maintained.
"Dogs are creatures of habit and so I highly recommend a campervan, pod or motorhome, when travelling with them and moving around, for they provide them with a place to settle in (and you with flexibility), a fridge for those on foods that need refrigerating and there is the option to cook on site should there be no dog-friendly eatery nearby."
Harvey Alexander, director of marketing at the Caravan and Motorhome Club says: "We have noticed a definite uplift in members looking for dog-friendly campsites. This coupled with the current staycation boom means that our campsites are more popular than ever with dog owners. We do however recognise that not everyone is a dog lover and all our sites have guidelines to ensure that dog lovers and non-dog lovers alike can holiday in harmony together."
Favourite campsites for four-legged friends
With the majority of campsites scoring very highly for dog friendliness; the two most dog friendly sites receiving a "five paw" rating continue to be:
Englethwaite Hall Caravan and Motorhome Club Site
Located in the Eden Valley of Carlisle, Englethwaite Hall Caravan and Motorhome Club Site is set against a backdrop of the lovely High Stand Forest. The area is especially popular for dog walkers because of its convenient footpath access to uncrowded landscapes and scenic beauty. For added activities such as a swimming pool, cinema, restaurants and pubs, the nearby town of Carlisle can be reached by the Settle to Carlisle steam railway.
Pitches start from £22.10 per pitch night for a family of four.
Stamford Caravan and Motorhome Club Site
Stamford Caravan and Motorhome Club Site is set in a tranquil, open meadowland location surrounded by attractive woodland, ideal for dog walkers! Within a short distance from the campsite is the town of Stamford - one of the most perfectly preserved stone towns in England, it has a rich history and boasts many historic medieval buildings.
Pitches start from £17.85 per pitch night for a family of four.
When asked why they holiday with their dogs, owners cite reasons such as dogs being a member of the family, the expense of kennels, the fact that the dogs get them out and about more and taking the dogs along offers the freedom to go on much longer holidays without worrying about leaving he beloved pooch at home. However, it's not just dogs that members travel with, one respondent said they regularly took their cat and another takes the family pet parrot!
Top dog-friendly offers
Members of the Caravan and Motorhome Club have access to over 50 fantastic offers, and there are plenty for precious pooches and their owners! These include:
For more information on the Caravan and Motorhome Club, please visit www.camc.com
-Ends-