Insurance Choice Awards Finalists
18/10/2022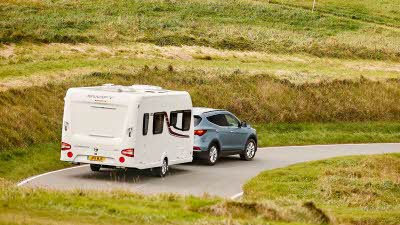 The Caravan and Motorhome Club is celebrating after getting through to the finalist stage of this year's Insurance Choice Awards for both its Caravan Cover and its Motorhome/Campervan Insurance.
The Insurance Choice Awards, run by the financial services review platform Smart Money People, are the largest consumer-voted awards within the sector. Launched in 2016 to help increase trust and transparency in financial services, the awards find the best possible cover and insurance products and providers on the market.
Winning an Insurance Choice Award is a real seal of approval as it is voted for by The Club's customers - members who have purchased the Caravan Cover or Motorhome/Campervan Insurance. The fact that The Club has been named Best Caravan Cover Provider and Best Motorhome Insurance Provider every year since the categories were launched, demonstrates how its members continue to appreciate both the expertise and service that the hardworking teams provide.
Harvey Alexander, Director of Marketing and Membership Services at the Caravan and Motorhome Club, said: "We are delighted to be finalists once again for the Best Caravan Cover Provider and Best Motorhome Insurance Provider titles at the Insurance Choice Awards. In times of uncertainty such as over the past few years, with challenges like the pandemic and air travel disruption, our members want to feel like they have everything covered and continue to value and trust our cover."
He adds, "Club members continue to see the importance, no matter if they have a caravan, campervan, motorhome or trailer tent, to be protected and to have us looking after their needs."
Members can relax knowing they have the cover they need whether their caravan, motorhome or campervan is in use touring or in storage. The Club's Caravan Cover is rated 9.3 out of 10 by Club members for claims handling satisfaction*, while nine out of ten members choose to renew** their Motorhome and Campervan Insurance with the Club. What's more, members who switch to the Club's Motorhome and Car Insurance will be guaranteed to save at least £25***.
As the Club knows that their members like to get away, our Home Insurance can provide full cover for up to 90 days away from home, and beyond 90 days on application, allowing members to make the most of their long-touring holidays.
In addition to a comprehensive range of insurance and cover options, the Club also offers MAYDAY UK Breakdown Cover which has members covered 24/7/365 for breakdown emergencies nationwide. The Club's Red Pennant European Breakdown and Travel Insurance includes options to cover single trips, including long stays overseas, and multiple trips in a year - providing choices for all members and taking into account individual preferences.
For more information on insurance with the Caravan and Motorhome Club see www.camc.com/insurance.
-Ends-
Notes to Editors
Small print
*In-house claims satisfaction survey data for period 1 July 2021 to 30 June 2022. From 86 completed surveys.
**Based on motorhome/campervan renewal data supplied by Devitt Insurance Services for the period 1 July 2021 to 30 June 2022 (91% overall).
***Send us proof of a current renewal invitation (including details of cover and price) from your existing insurer/broker, and we'll beat it by at least £25. Offer only applies when switching to the Club, is subject to insurers' acceptance of the risk and cover being arranged on a like-for-like basis. Terms and conditions and excesses may vary from your current insurer and optional extras (such as Breakdown and Legal Expenses cover) are excluded. Future renewal prices will always be less or the same as an equivalent new business price.
Caravan and Motorhome Club's Motorhome/Campervan Insurance is arranged for the Club by Devitt Insurance Services Limited.
Caravan Cover is provided directly by the Caravan and Motorhome Club.
Red Pennant is underwritten by Tedaisy Underwriting Limited as Underwriting Agents for Astrenska Insurance Limited.
MAYDAY UK Breakdown Cover is provided by Green Flag and underwritten by U K Insurance Limited. UK Insurance Limited is authorised by the Prudential Regulation Authority and regulated by the Financial Conduct Authority and the Prudential Regulation Authority.
Caravan and Motorhome Club is a trading name of The Caravan Club Limited, registered in England and Wales no. 00646027. Registered address: East Grinstead House, East Grinstead, West Sussex RH19 1UA. The Caravan Club Ltd is authorised and regulated by the Financial Conduct Authority (no. 311890) for general insurance and credit activities.
About the Caravan and Motorhome Club
Champions of the great outdoors – from glamping to touring – the Caravan and Motorhome Club represents the interests of around one million caravan, motorhome, campervan and trailer tent owners across the UK. Founded in 1907, the Caravan and Motorhome Club has a wealth of experience and prides itself on offering great value and high quality campsites for tourers and glampers.
Caravan and Motorhome Club membership is just £56 per year and provides members with access to 2,700 quality campsites in the UK and overseas. The Club offers over 300 campsites across 14 countries in Europe including France, Spain and Italy amongst other destinations. Stays at these sites can be packaged with great ferry offers to create holidays that are protected by ABTA. The Club also offers a range of escorted and independent tours in Europe, Australasia, North America and Southern Africa, all of which are protected by ABTA. All members can take advantage of expert advice, overseas travel services, cover and insurance and exclusive member offers and discounts.
For further information about becoming a member of the Caravan and Motorhome Club, please visit www.camc.com or call 01342 318 813.
About Experience Freedom
Experience Freedom from the Caravan and Motorhome Club provides glamping accommodation in some of the most beautiful locations in the UK. Experience Freedom offers a choice of glamping accommodation, motorhome hire and tent camping, all of which are available to non-members. Caravan and Motorhome Club members receive a 10% discount on glamping and up to 10% off motorhome hire.
Experience Freedom is operated by the Caravan and Motorhome Club, a membership organisation with a wealth of experience in operating high quality campsites. To find out more, visit www.experiencefreedom.co.uk
Media Contacts:
For more press information, please email Nikki Nichol at the Caravan and Motorhome Club on nikki.nichol@camc.com or by calling 07771 834443.
Or contact the Four Communications press team, by emailing Victoria Eltis and Fleur van Heusde at camc@fourcommunications.com or call 07891 423322.