Members increase contribution to rural economies
21/02/2023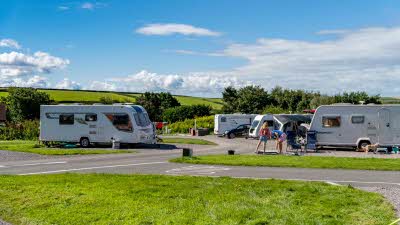 The Caravan and Motorhome Club, the UK's number one rated touring club, continues to make a positive impact on local economies, predicting that the £420 million contributed annually by members will continue to grow in 2023.
Despite the continuing cost of living crisis, Caravan and Motorhome Club members are still intending to make the most of their holidays and spend in local economies in 2023. Over 80 percent of respondents of a recent survey* said they intend to eat and drink out whilst on their UK touring holiday this year and over 90 percent said they will buy food shopping locally. A further 60 percent said they would be purchasing take-aways and food from local restaurants whilst on their holiday.
The Club has more members and more offers than any other UK touring club and encourages them to make the most of the great outdoors, it also offers more choice with more UK and overseas campsites than any other UK touring Club.
According to the recent Centre of Economics and Business Research (Cebr) report commissioned by the Caravan and Motorhome Club, owners of leisure vehicles feel more in control of the cost of their holiday and whilst they are saving on accommodation, they are likely to spend money on shopping, eating out, visitor attractions, etc.
Owners of leisure vehicles also tend to stay away for slightly longer, increasing local spending. The Cebr report shows that motorhome owners' average holiday length is nearly a whole day extra at 8.5 nights.
Harvey Alexander, Director of Marketing and Membership Services said: "Our members love to make the most of the great outdoors while travelling and exploring new destinations. Our extensive network of campsites across the UK, combined with the spending power of our members, makes a significant impact on the rural economy, helping to support local businesses and communities."
In addition to the economic benefits, the Caravan and Motorhome Club offers its members a range of benefits, including savings of £15 per night on average, no additional costs for children under five years old, dogs go free and awnings are free when staying on Club campsites. Members also have a choice of more European campsites, more training courses and venues and more access to small 5-pitch campsites than any other UK touring club.
In 2023 the Club will also extend its offers and savings for members meaning more deals on great days out and activities. Members and non-members can also book with a low deposit from only £25*, with free cancellations or amendments up to 21 days before arrival. The Club will also be adding even more locations to its glamping offering - called Experience Freedom - across nine different campsites, making it the perfect choice for those looking for a memorable and affordable holiday experience, while supporting the local economy.
Alexander continues: "We are proud to have the largest membership base of any UK touring club and to be trusted by generations for our advice. By providing members with access to 2,700 quality campsites in the UK and overseas and helping them getaway for less with a growing range of great offers, Caravan and Motorhome Club members will continue to travel frequently and make the most of their holidays whilst supporting the rural economy."
For further information about becoming a member of the Caravan and Motorhome Club or to book, please visit www.camc.com or call 01342 318 813.
Notes to Editors
* The survey was run in January 2023 with Club members
*The deposit for each stay will either be 20% of the total value of the stay or a £25 minimum, if the price of the stay is less than £25, then the total price of the stay will be required as the deposit.
About Caravan and Motorhome Club
Championing and helping its members get more from the great outdoors, whether glamping or touring, the Caravan and Motorhome Club represents the interests of over 1.1 million caravan, motorhome, campervan and trailer tent owners across the UK. With over 115 years of knowledge and expertise, the Club has a wealth of experience and prides itself on offering great value and high quality campsites for tourers and glampers.
Caravan and Motorhome Club membership is just £59 per year and provides members with access to over 2,700 quality campsites across the UK and Europe. As the UK's No. 1 rated touring club* we make sure members get the most from their membership, saving them money with great value offers whether touring or at home. Since 2018, the Club has saved members over £11 million via Member Offers and its Club Shop.
The Club's everyday savings help members get more from the great outdoors while saving money. Members will save £15 per night on UK Club campsites anytime throughout the year – recuperating their membership cost back in only four nights! Members can save on touring essentials with up to 10% off in the Club Shop, deals on caravan cover and five star insurance. They can also take advantage of leisure and family time savings with up to 50% off on days out including award-winning attractions and experiences and with the Club's outdoor partners including the likes of Cotswold Outdoor, Mountain Warehouse, National Tyres and many more.
The Club offers over 300 campsites across 14 countries in Europe including France, Spain and Italy amongst other destinations. Stays at these campsites can be packaged with great offers on Eurotunnel and ferry crossings at the lowest price guaranteed to create holidays that are protected by ABTA. The Club also offers a range of escorted European tours which are protected by ABTA. Plus escorted and independent tours in Australasia, North America and Southern Africa which are also fully protected, either by ABTA or ATOL when a flight is included. All members can take advantage of expert advice, overseas travel services, cover and insurance and exclusive member offers and discounts.
For further information about becoming a member of the Caravan and Motorhome Club, please visit www.camc.com or call 01342 318 813.
*As rated on Trustpilot
About Experience Freedom
Experience Freedom from the Caravan and Motorhome Club provides glamping accommodation in some of the most beautiful locations in the UK. Helping members get more from the great outdoors, Experience Freedom offers a choice of glamping accommodation, motorhome hire and tent camping, all of which are available to non-members. Motorhome hire, including some discounted hire schemes can be found here https://www.experiencefreedom.co.uk/motorhome-hire/
Experience Freedom is operated by the Caravan and Motorhome Club, a membership organisation with a wealth of experience in operating high quality campsites.
Caravan and Motorhome Club members can save up to 10% on glamping accommodation for their friends and family staying at the campsite at the same time, it is automatically applied to the booking when the membership number is used. To book friends and family, simply call on 01342 777533 to make a booking with your Club membership card.
To find out more, visit www.experiencefreedom.co.uk
About Cebr:
The Centre for Economics and Business Research is an independent consultancy with a reputation for sound business advice based on thorough and insightful research. Since 1992, Cebr has been at the forefront of business and public interest research. They provide analysis, forecasts and strategic advice to major UK and multinational companies, financial institutions, government departments and agencies and trade bodies. For further information about Cebr please visit www.cebr.com
Media Contacts:
For more press information, please email Nikki Nichol at the Caravan and Motorhome Club on nikki.nichol@camc.com or by calling 07771 834443. Or contact the Four Communications press team, by emailing Victoria Eltis and Fleur van Heusde at camc@fourcommunications.com or call 07891 423322.