The Wanderer Award
14/12/2022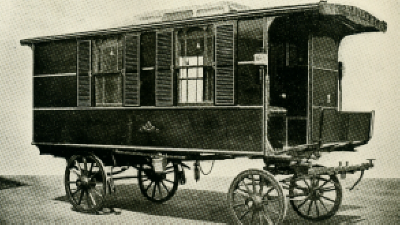 The first ever custom built for leisure caravan, The Wanderer, receives an Engineering Heritage Listed Status award
The Caravan and Motorhome Club is the proud custodian of The Wanderer, the first-ever custom-built for leisure caravan, and is delighted to announce it has been awarded Engineering Heritage Listed Status by the Institute of Mechanical Engineers.
The Engineering Heritage Awards were established in 1984, the awards recognise pioneering engineering artifacts, locations, collections, and landmarks.
The iconic Wanderer provides a continuity from the earliest origins of the pastime through to today. While technology has progressed and caravanning has become a far more socially-inclusive activity, the essence of what Wanderer was able to facilitate – access to the great outdoors for leisure, in comfort and in safety – is as true of a modern caravan as it is of this 1885 one. Today's caravan owner would still recognise many aspects of the fundamental design as being as relevant today as they were 130+ years ago.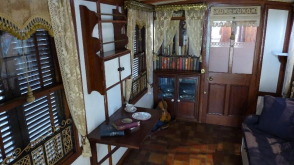 Although periodic restorations have been carried out, The Wanderer remains fundamentally as originally built, and largely original in terms of structure, fixtures and fittings. Where parts have had to be repaired or replaced, this has been done sensitively, with original components being reused (e.g. original wheel hubs were used in rebuilt wheels). As such, the look and feel of the original design has been carefully retained, and continues to give a faithful impression of the concept when new.
The leisure caravan industry contributes more than £9 billion to the UK economy each year.. As the world's first caravan made specifically for leisure purposes, The Wanderer played a significant role in the growth of this vitally important industry and the enjoyment and wellbeing of millions of tourers who love the great outdoors.
Today, it resides in the renovated railway Goods Shed at the Caravan and Motorhome Club Broadway campsite. The Wanderer and its interpretation panels help visiting Club members to learn more about the origins of their pastime.
Background to the design and build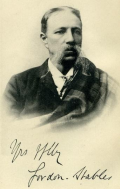 A surgeon in the Royal Navy, Dr William Gordon Stables retired to Berkshire in his thirties due to ill health. During his time in the Royal Navy, Stables had voyaged around the world and he used this adventurous nature to become a successful author, writing adventure books for boys.
Inspired by the Romany way of life he commissioned the Bristol Wagon Company, makers of the Pullman railway carriage, to build a caravan robust enough – structurally and technically – to undertake a tour of the UK. Built in 1885 at a cost of £300, The Wanderer was relatively luxurious with its own cooking and washing facilities and even musical instruments for entertainment. A unique concept when first built, the design drew on features used in other applications but never combined before such as: small wheels/wide body to maximise interior space; a sophisticated braking system; an incredibly well planned interior layout (which would still work well today) and versatile storage in every spare space.
The caravan weighed a hefty two tons due to its construction out of rich mahogany, lined with maple adorned with black and gold mouldings and so was fitted with a tramcar brake, an iron skid to lock one wheel if necessary when going downhill. It also had a roller towed on a chain bridle to check the back wheel if the horses struggled uphill and the caravan began to roll backwards.
The Wanderer in action
In the summer of 1885, Stables left Twyford in Berkshire, to embark on a 1,300-mile tour of the UK. With two horses and accompanied by his manservant, it took two months to reach Inverness in Scotland, travelling at an average speed of two miles an hour. The Wanderer created considerable interest and curiosity from locals on its journey. With the poor quality of the roads, Stables's servant would scout ahead on a tricycle to ensure their suitability for such a large 'van.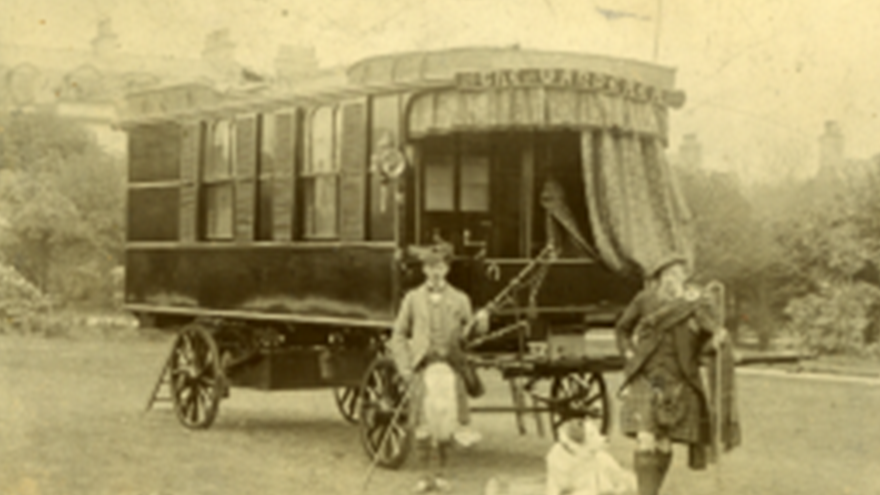 The following year Stables wrote up the journey in a book entitled 'The Cruise of the Land-Yacht Wanderer' (1886). This book inspired others to follow and the craze for caravanning took off, although in the early decades, in an age before workers enjoyed paid holidays, it was almost exclusively restricted to the wealthy. This elite group of pioneer caravanners became widely known as 'Gentlemen Gypsies'. The Wanderer became a point of reference for other designs, thanks in part to its own effective design and Stables' publications. It featured in 'how to' books on caravanning for many years to follow.
The Caravan Club of Great Britain and Ireland (which became the Caravan and Motorhome Club in 2017) formed on 14 June 1907 when barrister and journalist J Harris Stone gathered eleven enthusiasts to his London home. Dr William Gordon Stables, although not present at this inaugural meeting, was appointed Vice President, a post he held until his death in 1910. The Club aimed to bring together like-minded caravanners and to help source caravans for people that required them. Harris Stone also set about organising and listing suitable caravan pitches, ending the need to apply to landowners for a place to stop. Today the Caravan and Motorhome Club represents 1.1 million individuals across the UK.
Following Stables' death in 1910, The Wanderer was sold but subsequently bought back by the family. It remained with the family until his daughter's death in 1961 when it was bequeathed to The Caravan Club. Following a period of restoration by Fleetwood Brothers of Staffordshire, The Wanderer was loaned to Bristol City Museum in 1964 before going on display at the Bristol Industrial Museum.
Although periodic restorations have been carried out, The Wanderer remains fundamentally as built, original in terms of structure, fixtures and fittings. Where parts have had to be repaired or replaced, this has been done sensitively, with original components being reused and as such, the look and feel of the original design has been sensitively retained and continues to give a faithful impression of the concept when new.
In 1982, The Wanderer helped to mark the Club's 75th Anniversary, attending the Royal Windsor Horse Show and for the Centenary in 2007 by making appearances at both Blenheim Palace and Buckingham Palace.
Nick Lomas, Director General of the Caravan and Motorhome Club said, "The Wanderer was the first caravan built specifically for leisure and, as such, led to caravanning becoming the popular leisure activity it is today together with all of the associated benefits to the UK economy. The Club is proud to be the custodian of this incredible vehicle, it is a unique survivor from an era when leisure was the exception, not the norm. We are delighted and proud it has been recognised with a Engineering Heritage Listed Status award."
About Caravan and Motorhome Club
Championing and helping its members get more from the great outdoors, whether glamping or touring, the Caravan and Motorhome Club represents the interests of over 1.1 million caravan, motorhome, campervan and trailer tent owners across the UK. With over 115 years of knowledge and expertise, the Club has a wealth of experience and prides itself on offering great value and high quality campsites for tourers and glampers.
Caravan and Motorhome Club membership is just £59 per year and provides members with access to over 2,700 quality campsites across the UK and Europe. As the UK's No. 1 rated touring club* we make sure members get the most from their membership, saving them money with great value offers whether touring or at home. Since 2018, the Club has saved members over £11 million via Member Offers and its Club Shop.
The Club's everyday savings help members get more from the great outdoors while saving money. Members will save £15 per night on UK Club campsites anytime throughout the year – recuperating their membership cost back in only four nights! Members can save on touring essentials with up to 10% off in the Club Shop, deals on caravan cover and five star insurance. They can also take advantage of leisure and family time savings with up to 50% off on days out including award-winning attractions and experiences and with the Club's outdoor partners including the likes of Cotswold Outdoor, Mountain Warehouse, National Tyres and many more.
The Club offers over 300 campsites across 14 countries in Europe including France, Spain and Italy amongst other destinations. Stays at these campsites can be packaged with great offers on Eurotunnel and ferry crossings at the lowest price guaranteed to create holidays that are protected by ABTA. The Club also offers a range of escorted European tours which are protected by ABTA. Plus escorted and independent tours in Australasia, North America and Southern Africa which are also fully protected, either by ABTA or ATOL when a flight is included. All members can take advantage of expert advice, overseas travel services, cover and insurance and exclusive member offers and discounts.
About Experience Freedom
Experience Freedom from the Caravan and Motorhome Club provides glamping accommodation in some of the most beautiful locations in the UK. Helping members get more from the great outdoors, Experience Freedom offers a choice of glamping accommodation, motorhome hire and tent camping, all of which are available to non-members.
Experience Freedom is operated by the Caravan and Motorhome Club, a membership organisation with a wealth of experience in operating high quality campsites.
Caravan and Motorhome Club members can save up to 10% on glamping accommodation for their friends and family staying at the campsite at the same time, it is automatically applied to the booking when the membership number is used. To book friends and family, simply call on 01342 777533 to make a booking with your Club membership card.
To find out more, visit www.experiencefreedom.co.uk
For further information about becoming a member of the Caravan and Motorhome Club, please visit www.camc.com or call 01342 318 813.
*As rated on Trustpilot
Media Contacts:
For more press information, please email Nikki Nichol at the Caravan and Motorhome Club on nikki.nichol@camc.com or by calling 07771 834443.
Or contact the Four Communications press team, by emailing Victoria Eltis and Fleur van Heusde at camc@fourcommunications.com or call 07891 423322.