Caravan and Motorhome Club Towcar of the Year 2023
23/09/2022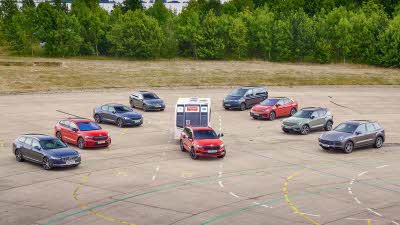 The ŠKODA Karoq Sportline 2.0 TDI 150PS DSG 4x4 SCR has won this year's overall trophy and also triumphed in the Caravan Weight 1400kg - 1500kg Category and the Family Towcar Category in the 40th Caravan and Motorhome Club Towcar of the Year Competition.
The industry's longest standing towcar testing awards saw the ŠKODA Karoq take the title honour ahead of the entire field, its performance highly impressed the judges around UTAC's Millbrook Proving Ground's demanding and unique track.
The ŠKODA Karoq Sportline 2.0 TDI 150PS DSG 4x4 SCR has long been a favourite with families looking for a practical capable SUV. The 2023 edition, a recently refreshed model complete with new styling and technology and a 2.0-litre diesel engine with four-wheel drive, claimed Class and Category victories as well as the overall title.
Twenty four entrants were put into caravan weight categories – rather than being listed by price – to make it easier for buyers to know which cars could tow their caravans. Cars were entered into classes using their 85% kerbweight figure or by their towing limit, whichever was the lower. The competition had six weight classes, two Family Towcar categories as well as Electric and Plug in Hybrid categories.
The complete winners' line-up:
Caravan Weight under 1200kg: Volkswagen ID.5 Style 77kWh Pro Performance 204PS
The brand-new ID.5, the coupe version of Volkswagen's ID.4 SUV, impressed with its super-smooth power delivery, effortless torque, composed road manners and good stability on slow and fast roads.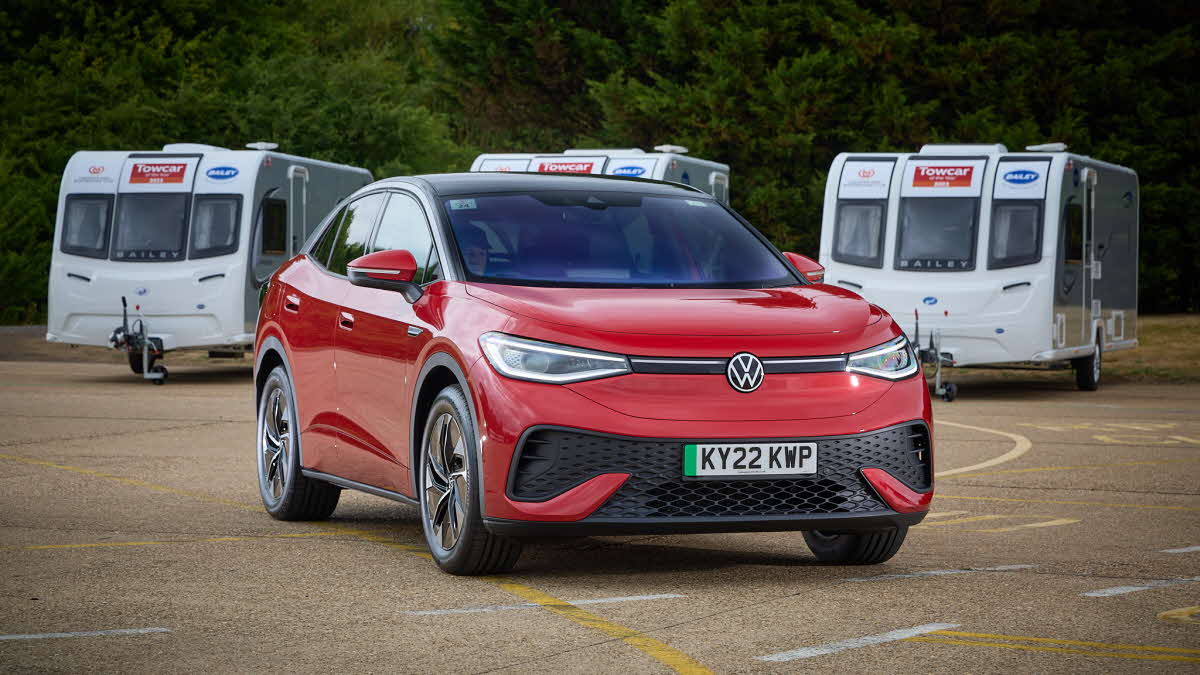 Caravan Weight 1200kg - 1300kg: ŠKODA Enyaq iV 80X Sportline
The Enyaq iV offers a masterclass in current EV technology, exhibiting a smooth and ultra-refined character when towing. An additional electric motor on the front axle makes the 80x four-wheel drive, and the extra traction while hitched helped both on twistier roads and the hill start.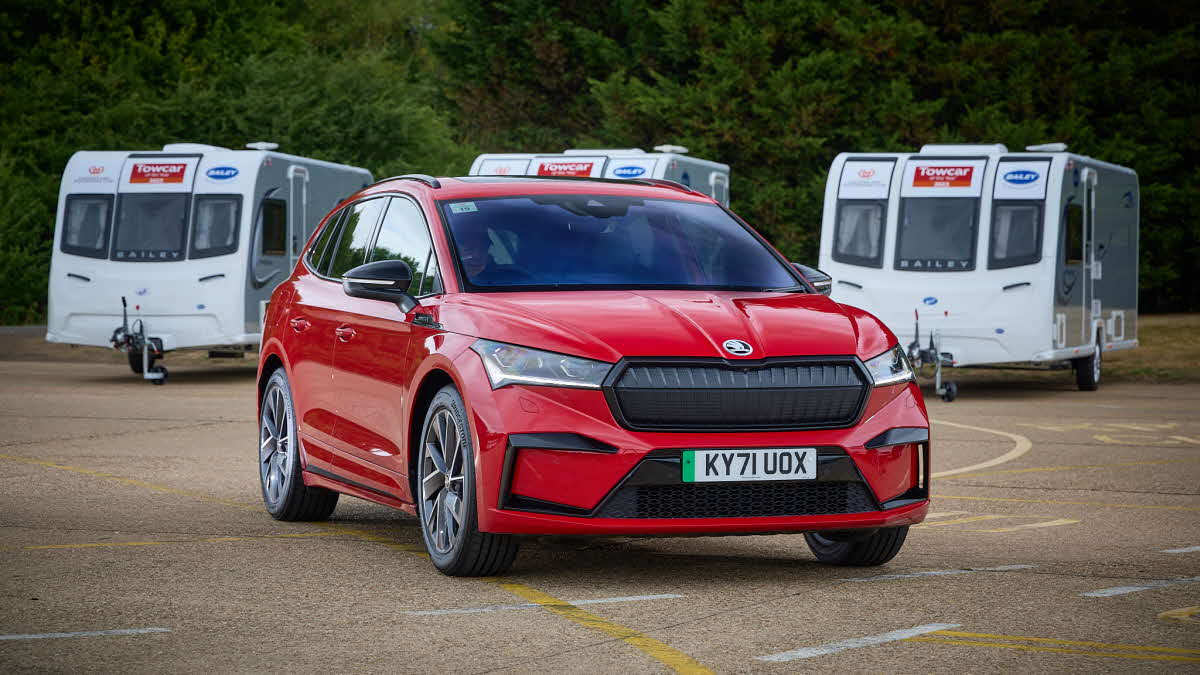 Caravan Weight 1300kg - 1400kg: Volkswagen Golf Estate Alltrack 2.0-litre TDI 4MOTION 200PS 7spd DSG
The vehicle impressed with its practical boot, great rear visibility and competent driving manners. The 2.0 TDI is a great engine for towing with bundles of torque and the DSG automatic box shifts smoothly.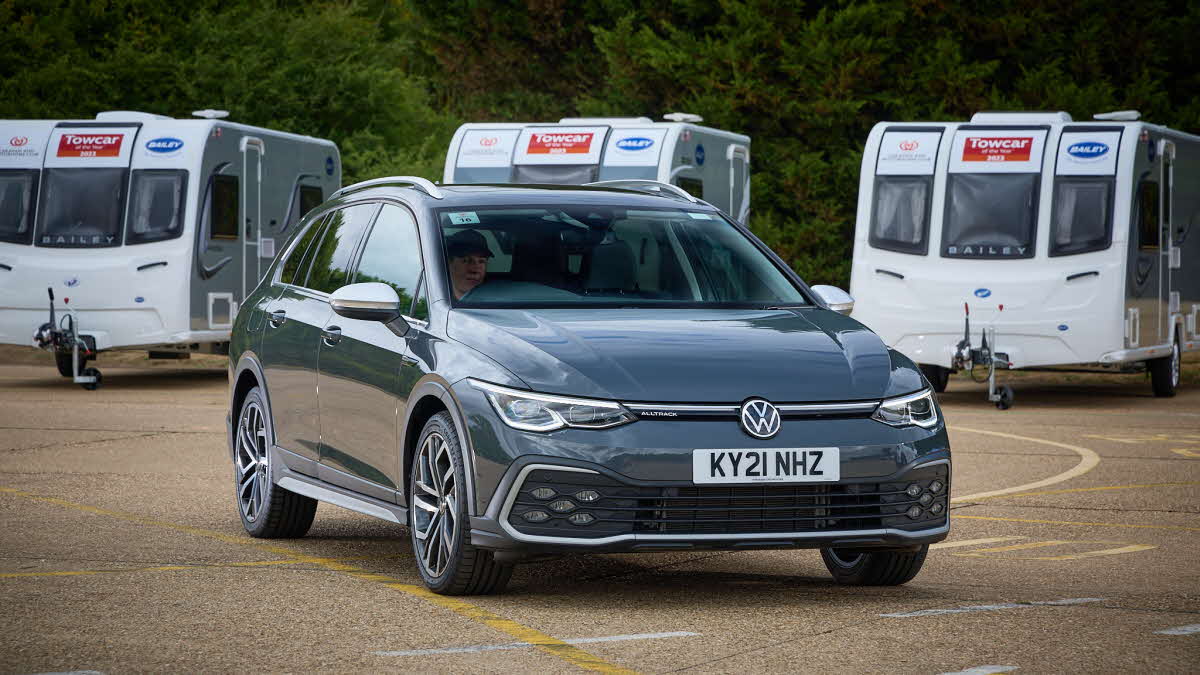 Caravan Weight 1400kg - 1500kg / Family Towcars / Overall Winner: ŠKODA Karoq Sportline 2.0 TDI 150PS DSG 4x4 SCR
The ŠKODA Karoq wowed the judges. When hitched, the Karoq is composed and well-mannered, the engine gives useful mid-range punch to maintain swift progress and the four-wheel drive system means there's plenty of traction at all times. Arguably just as importantly, with its big boot, quality cabin and roomy rear space, this car makes for an excellent unhitched daily driver.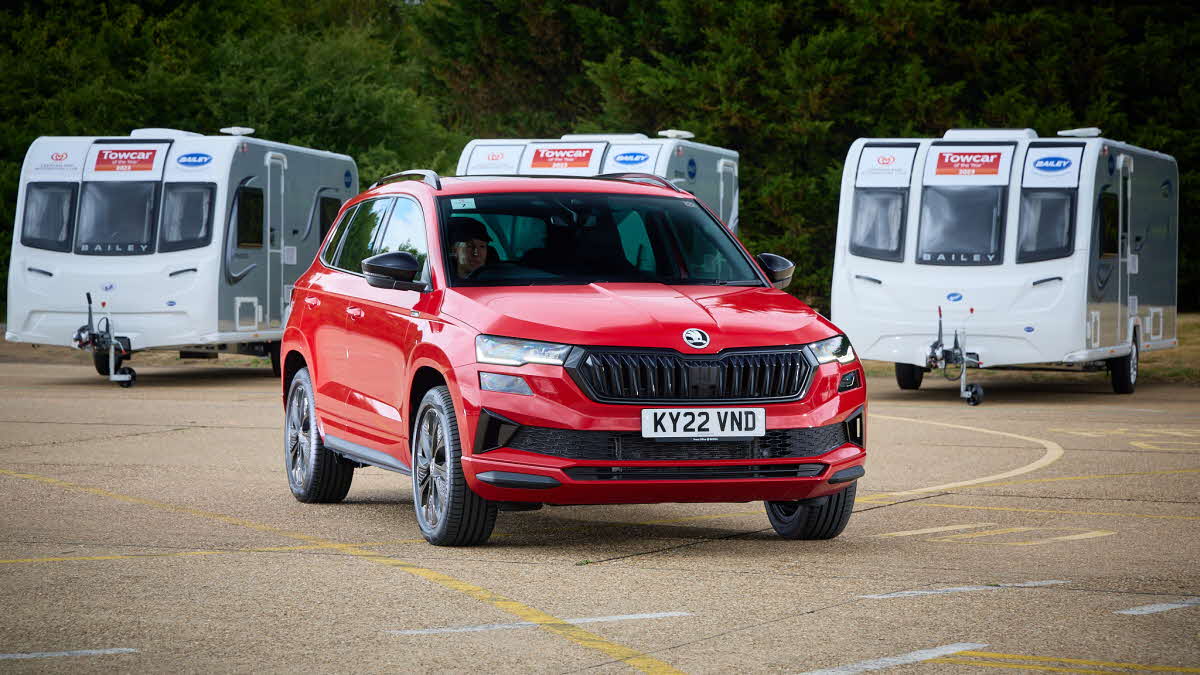 Caravan Weight 1500kg - 1700kg: Volvo XC40 Recharge Twin
The XC40 immediately scores well for being an EV with a high towing weight capability. Sparkling acceleration, tidy driving dynamics, a roomy and well-laid-out interior and a spacious boot, this is a worthy class winner.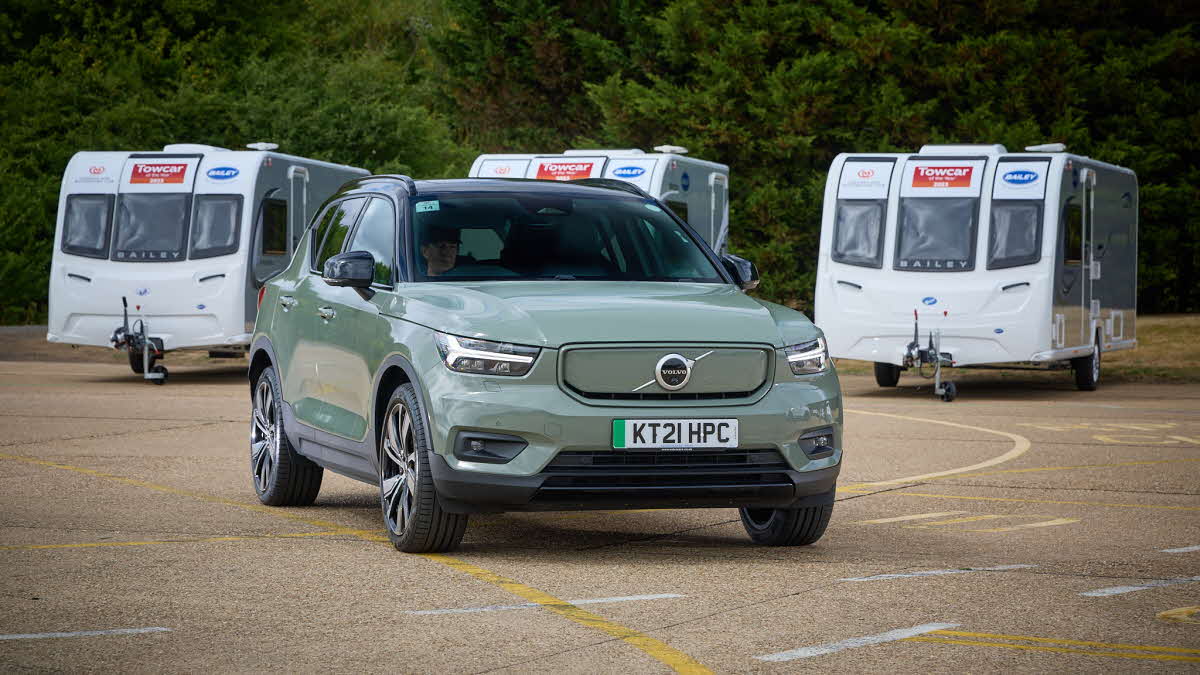 Caravan Weight over 1700kg: Porsche Cayenne E-Hybrid 8-Speed Tiptronic S
The Porsche Cayenne scored high marks in virtually every area - including interior comfort, technology, practicality and boot space. In the driving department, the E-Hybrid uses a 335bhp 3.0-litre turbocharged V6 mated to a 100kW (134bhp) electric motor to give a stunning performance.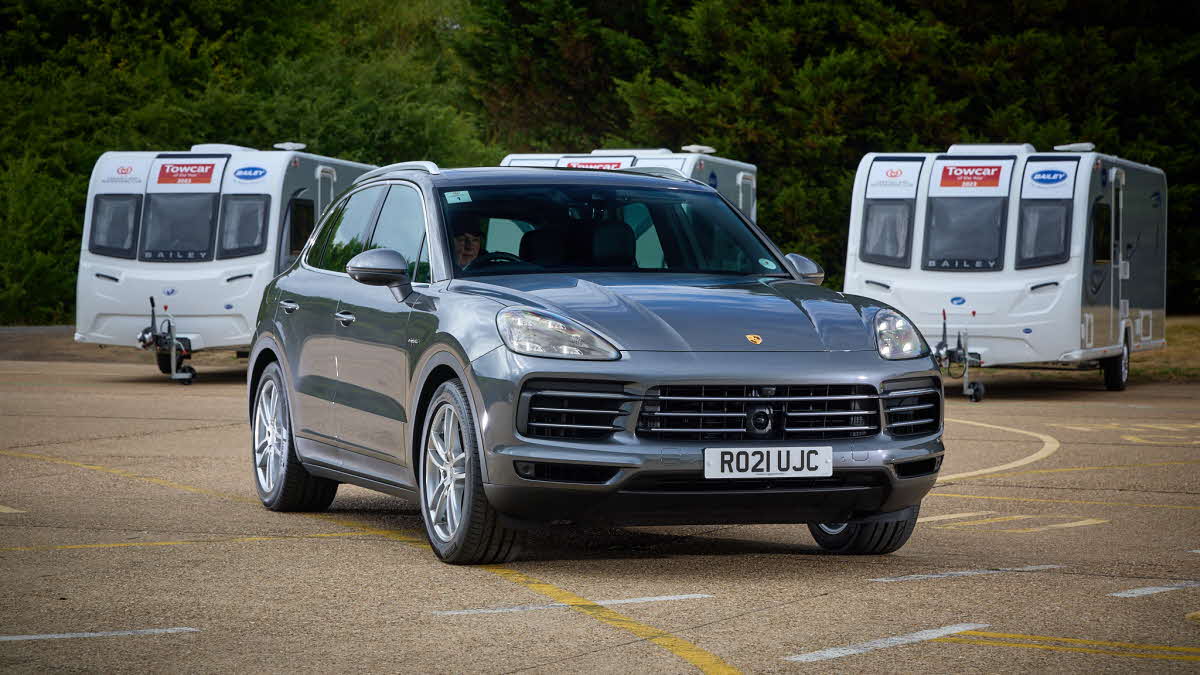 Electric Vehicles: Polestar 2 Long Range Dual Motor
Polestar impressed during its first-ever appearance at this competition. Its interior is a delight to sit in, while the Google-based information system is simple to use. The Polestar 2 is astonishingly quick even when hitched, it's composed, quiet and razor sharp to drive.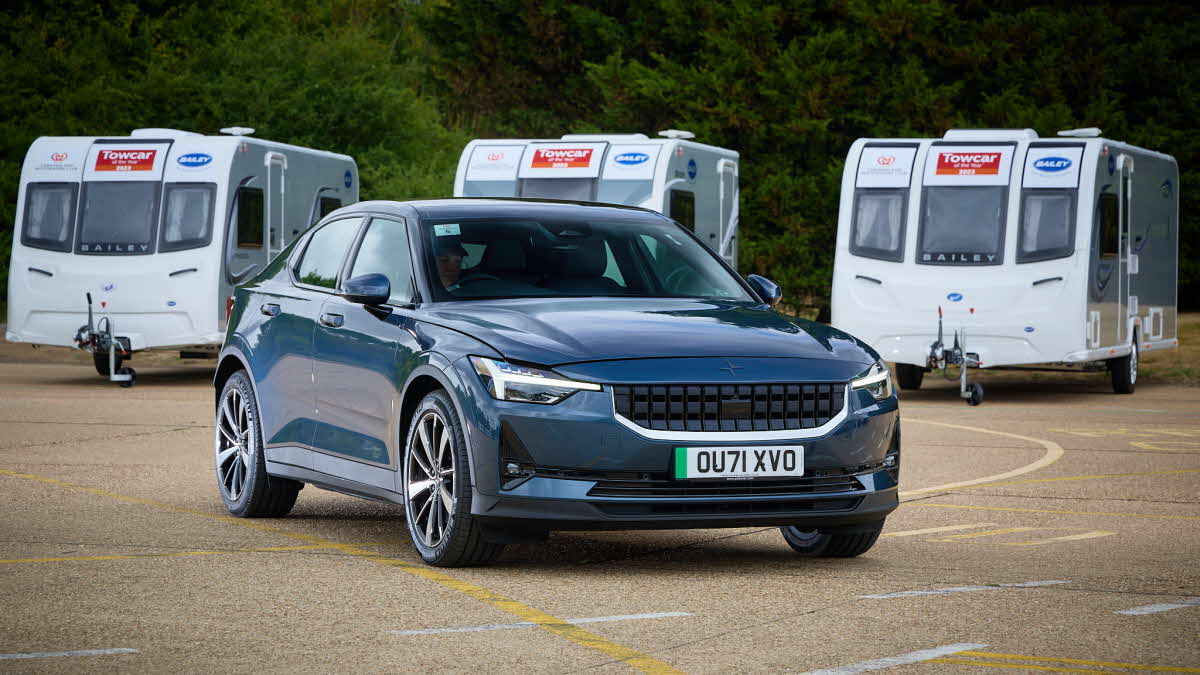 Plug-in Hybrids Vehicles: Volvo V90 Recharge Plug-in Hybrid T6
A supremely comfortable towcar and primed for long journeys. Performance is impressive and the interior is a masterpiece in style, comfort and intuition.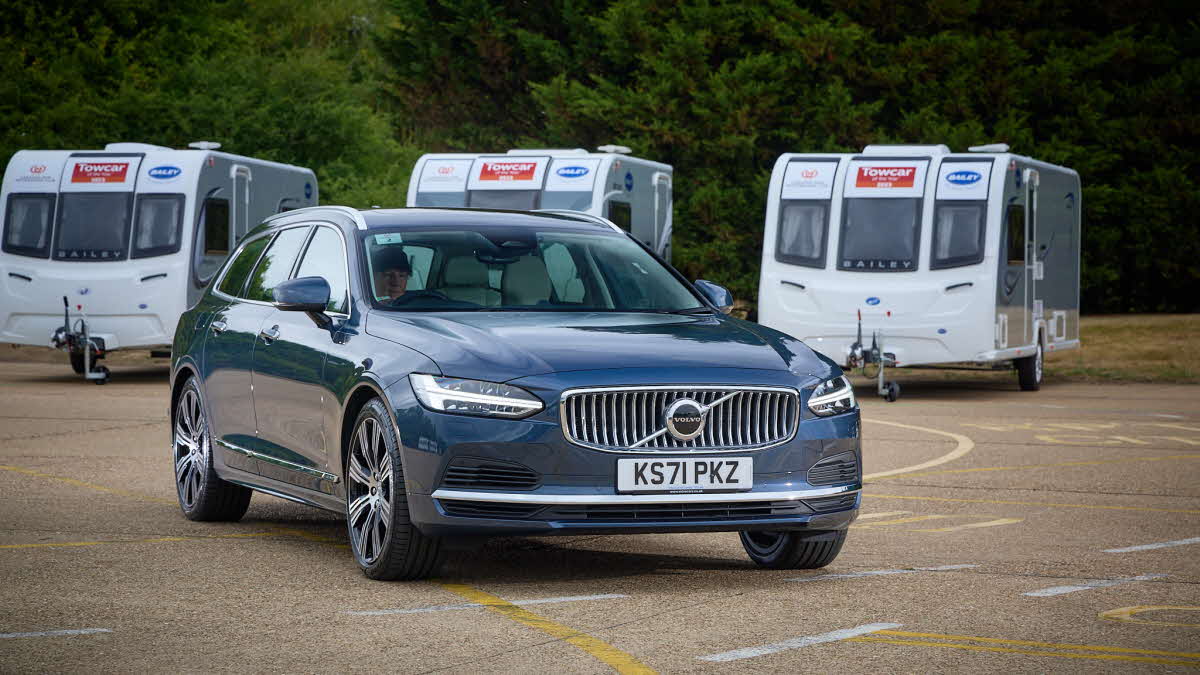 Large Family Towcars: Volkswagen Commercial Vehicles Multivan Style 2.0-litre TSI 204PS 7spd DSG
On the road and hitched up, the front-wheel drive Multivan was impressively well-mannered. It offers van-like space with a car-like driving experience.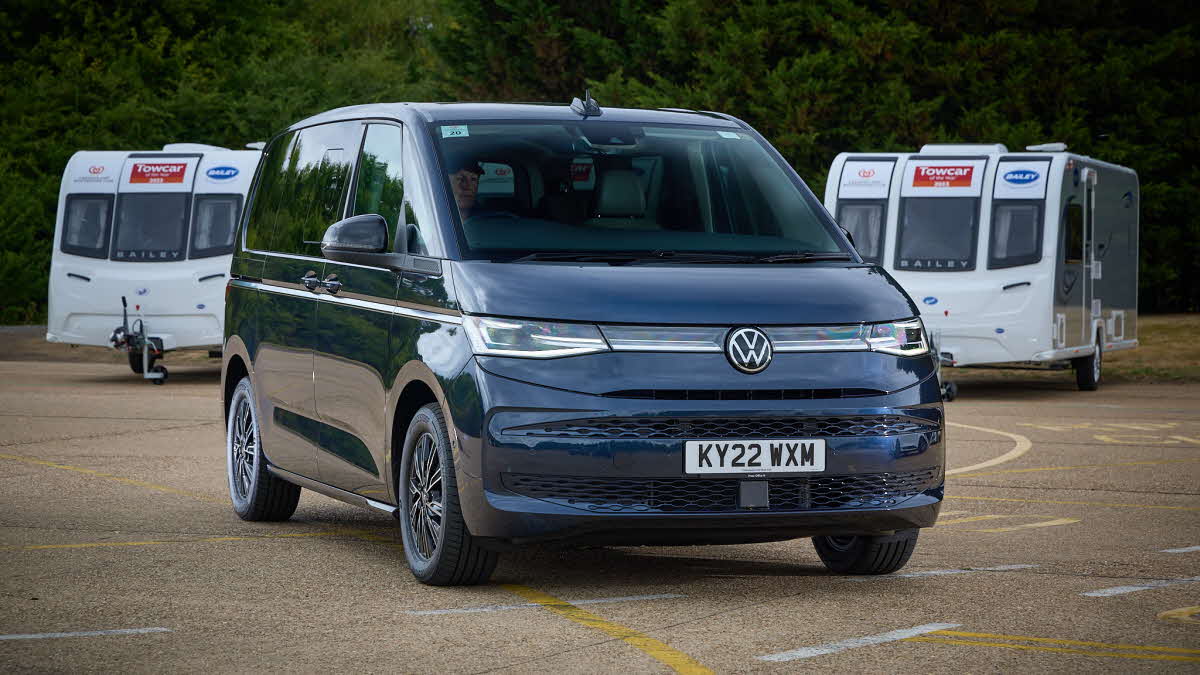 Nick Lomas, Director General of the Caravan and Motorhome Club said, "This year's Caravan and Motorhome Club Towcar of the Year Competition was notable for the number of electric vehicles competing, and the EVs performed well against established petrol and diesel offerings. Meanwhile, SUVs lined up against estates and pick-ups, and even a traditional MPV was fielded. Leisure vehicle holidays are more popular than ever, it's important that the Club continues to provide qualified and unbiased information to help all those who plan to tow to find the right towcar for their needs."
Each car was put through its paces at the UTAC Millbrook Proving Ground near Bedford, which provides a variety of testing driving environments. Manufacturers were invited to submit for testing any vehicle that was capable of towing a trailer over 750kg and on sale on 1 October 2022.
The Club's Scrutiny team thoroughly checked each vehicle before handing it over to the 'caravanability' and driving judges.
Caravanability judges tested whether a car's boot could swallow the bulky accessories normally needed on a caravan trip. They also measured the towball height, both solo and hitched up, and checked the towing information provided in the manufacturer's handbook.
The cars were then hitched up to caravans ballasted to 85% of their kerbweight, or towing limit if lower. Using specialised apparatus the technical judges then measured the cars' acceleration and braking capabilities. The car/caravan combinations were then passed over to the driving judges who set off around the UTAC Millbrook circuit to put the vehicles through their paces.
The cars were tested at speeds of up to 55mph on the 'Alpine route', which featured various gradients culminating in a 17% hill start and a 26% downhill brake test. The ability to join fast traffic from a standstill was also assessed.
Judges then took the vehicles to the high-speed bowl to further assess their capabilities at speeds in excess of UK legal limits. In the safety of a controlled environment, the judges could induce some instability at 60mph to see how the cars reacted. The vehicles were also put through reversing examinations. All-important issues of driver and passenger comfort and visibility were also assessed.
The results of the competition were announced at the Caravan and Motorhome Club Towcar of the Year Awards ceremony, held at the Royal Automobile Club in London on 23 September. The awards were presented by British racing driver Mark Blundell.
Lomas continues, "As the UK's premier event of its type, this competition supplies caravan owners with important information on potential new towcars. During the exhaustive four-day test, the vehicles are taken on several hundred circuits of the Millbrook Proving Ground, consisting of many laps of the high-speed circular track and demanding alpine hill route."
Grenville Chamberlain OBE, Caravan and Motorhome Club Chairman, said: "Our sincere congratulations go to all the worthy winners in the Caravan and Motorhome Club Towcar of the Year 2023. The Club is delighted to be able to share the wealth of data and information about towing vehicles to help both our members and all those who tow."
The judging panel:
James Batchelor: freelance journalist, experienced road tester and presenter; James was previously on AutoExpress magazine, he's also the Club's towcar reviewer.
Dan Cartwright: a passionate caravan advocate since 1989, Dan founded Caravan Times in 2010 and is its chief car tester
Lee Davey: a road tester for numerous motorhome titles, Lee raced nationally before switching to caravanning. He has towed in over thirty countries.
Chris Rosamond: representing Auto Express, Chris is an experienced national motoring journalist
Mark Sutcliffe: a regular Caravan and Motorhome Club Towcar of the year judge and former editor of Which Caravan
Technical judges: Deborah Black and Greg Potter from the Club's Events Committee measured the cars' acceleration and braking capabilities using specialised apparatus.
Caravanability judges: Caroline and Keith Rogers spend hours checking whether each car will accommodate a typical caravanner's kit, as well as access to such things as spare wheels, towing electrics and technical information
Members who own any of the Caravan and Motorhome Club category winners since 2015 are eligible for a 10% discount on the Club's Car Insurance. Visit Car Insurance for more details.
For more information about the Caravan and Motorhome Club's Towcar of the Year competition please visit https://www.camc.com/towcar/
For further information and details about the Caravan and Motorhome Club visit www.camc.com
Media enquiries
Nikki Nichol, External Communications and Sponsorship Manager at the Caravan and Motorhome Club on 07771 834443 or email nikki.nichol@camc.com
Notes to editors
Champion of the great outdoors, the Caravan and Motorhome Club represents the interests of over one million caravan, motorhome and trailer tent owners across the UK. Founded in 1907, the Caravan and Motorhome Club has 115 years' experience and prides itself on offering great value and high-quality sites for caravanners and motorhomers.
For further information about becoming a member of the Caravan and Motorhome Club please visit www.camc.com or call 01342 318813.
Thanks: The Caravan and Motorhome Club would like to thank Bailey of Bristol for supplying all the caravans used in the competition, and for providing staff on-site throughout the event. The Bailey team ensured the caravans were correctly ballasted, that their noseweights were kept in trim and that they were in general good working order. Thanks also to AL-KO who ensured brakes were adjusted, wheels were kept tight and all undergear was properly fettled.