Bailey Unicorn flies over London to celebrate staycations and caravanning
15/10/2021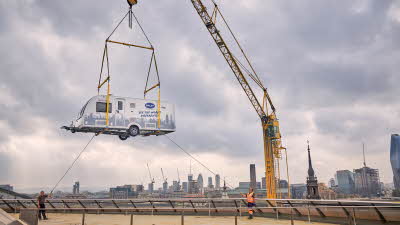 A high-flying, new Bailey Unicorn Vigo gave surprised tourists and Londoners a new perspective on caravanning as it was craned into the skies above London and carefully placed on the rooftop terrace of the One New Change shopping centre, overlooking St Paul's Cathedral and the City skyline.
The Club was proud to support this incredible Bailey initiative to promote caravanning – a pop-up city campsite to celebrate the boom in staycations and caravan sales during the COVID pandemic.
Bailey used the unique location to invite the public to see the all-new, 2022 Unicorn Vigo at what is possibly the most exclusive pitch in the world.
The Club and Bailey held a busy day of radio interviews from the caravan and also used the unusual venue to host media events with TV presenters, Olympians, Paralympians, athletes and other celebrity guests, including Matt Allwright, Gary Mabbutt MBE, Peter Shilton OBE, Tony Cottee, Mallory Franklin, Emma Wiggs MBE, Rowland Rivron, Andy Torbet, Julie Peasgood, Debbie Arnold and Dee Anderson.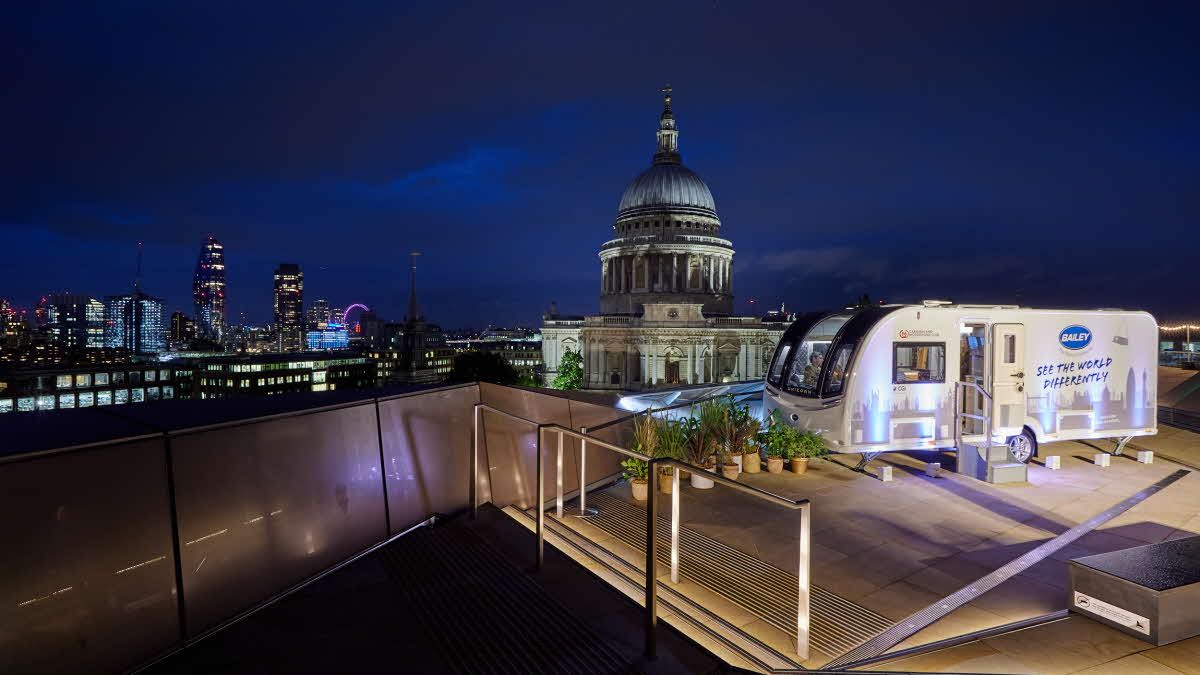 As the sun set, the celebrity guests enjoyed stunning views across London from the pop-up campsite. Some also had the opportunity to stay overnight in the luxurious and elegant fifth-generation Unicorn to get the unmissable experience of waking the next morning to an unbeatable view of St Paul's cathedral.
Craning the new Bailey Unicorn Vigo, weighing 1430kg, onto the rooftop required the expertise of highly experienced crane operators and had required many months of planning. This included arranging temporary road closures and closely monitoring weather forecasts, as windy conditions could have made it too risky to lift the caravan that high.
Before being craned into the sky, the new Bailey Unicorn Vigo had been towed by a Porsche Cayenne E-Hybrid from the Club's Crystal Palace site to several iconic London landmarks, including Tower Bridge, Trafalgar Square, Buckingham Palace, St Paul's Cathedral and Big Ben.
"Craning the caravan onto a London rooftop has been a great way to celebrate an exceptionally busy and challenging year for us all." said Nick Howard, Managing Director of Bailey of Bristol. "We love doing events like this to challenge people's perceptions of caravans and caravan holidays. Previously, we've towed caravans across Australia, done a winter trip above the Arctic Circle to see Santa in Lapland, and seen 21 countries in 21 days on an epic road trip to Istanbul and back!", he added.