Save money on motorhome and campervan hire
09/07/2021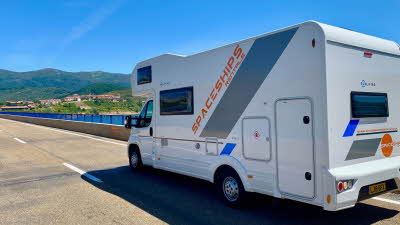 Club members – and their friends and families – can now take advantage of 5% off campervan or motorhome hire plus a free Caravan and Motorhome Club bundle (worth more than £50) with Spaceships Rentals.
Spaceships Rentals offers a fantastic rental package that includes unlimited mileage, free additional drivers and 24/7 free roadside assistance. In addition, it has a dedicated, in-house customer support team and offers safe, contactless 24/7 pick-up and drop-off plus numerous optional extras including use of camping tables and chairs, airport transfers, etc.
All vehicles can be driven on a standard licence and the fleet consists of a range of campervans and motorhomes across three branches (located in London, Edinburgh and Dublin). One-way adventurers are also welcome so you don't have to loop back to your pick-up branch.
With motorhome hire it's easy for your friends and family members to join you on your adventures. Head to caravanclub.co.uk/membership/member-offers/spaceships-rentals to find out more... and spread the word!