The improved UK Sites App
21/02/2017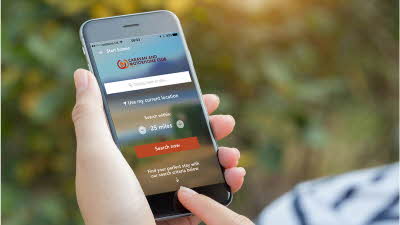 Available now
The Caravan and Motorhome Club UK Sites App is available to download for FREE via the Android Google Play Store and the Apple App Store. Use it to browse our network of Club Sites, Affiliated Sites and CLs (Certificated Locations) across the United Kingdom.
By making the app easier to use and smaller in size, it's now even faster to search for sites in specific locations while you're on the move. We've worked hard to refine the app and fix some minor defects and we hope that you enjoy what the improved app has to offer.
Don't forget, anyone can use the UK Sites App to access information about our sites. If you are a Club member, you can book sites via the app as well - this is one of the many member benefits the Club has to offer.
Since the app was launched earlier this year we have been listening to your feedback, and your ideas and suggestions have helped us to develop the app further
We are pleased to report that your main concerns have been addressed in this latest update. Plus, we've also made some additional improvements which we're confident you'll like.
If you haven't already, you can upgrade your UK Sites App today - available to download in the Google Play Store for Android or the App Store for iOs.


What's new?
Reduced app size
The size of the app is significantly smaller than the previous version, taking up less storage space on your device. This is because the app now uses the maps that are already built into your phone or tablet. Before the update, the app came with Caravan and Motorhome Club maps that were installed on your device, making its overall size much larger.
By using the built-in maps (also known as 'native' maps), we have also been able to iron out some bugs that were being experienced with the previous version.
Search function improvement
When searching for sites using the app, a search radius is now shown when viewing the results on the map tab, making it clear exactly which area you're searching in. If you need quick access to sites nearby, simply use the + and – buttons on the map tab to increase or decrease the radius distance and hit 'done'. To refine your search result, you can still filter by your preferences such as site type, facilities and other criteria.
Filter improvement
As you browse through your search results, you'll notice on the map tab a filter button has been added. This will allow you to adjust your search results without the need to return to the initial search screen.
Bug fixes
General improvements and adjustments have been made, particularly focusing on issues that were intermittently preventing search results from displaying correctly.