Your Membership Card is now available digitally
14/07/2021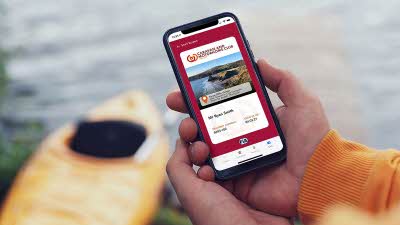 Inspired by our members' feedback, you can now access your Membership Card on your smartphone or tablet. The card will be stored securely within the UK Sites App offering you instant access, convenience and ease of use!
This brand new initiative means you'll no longer need to wait for your card to arrive in the post (although you will still be sent one). The App also makes it more secure as it requires a login to download and can't be lost, stolen or damaged.

Your membership is in your hand, at the touch of a button and you can use it in the usual way, when staying at campsites or visiting Great Savings Guide attractions.
This follows on from other developments we have made to the UK Sites App including reducing the app size so it'll take up less storage on your device. We've made improvements to the Search function and upgraded the filters, allowing you to adjust your search results without having the frustration of starting from the beginning! We're making your whole booking process even easier.
Image by @m.and.s_caravan_adventure
All you need to do is download the Club's UK Sites App for FREE via the Android Google Play Store or the Apple App Store.
Then just log in and click 'Membership Card' and it'll be all there ready for you at the touch of a button. When you need to use your Digital Membership Card at campsites or attractions, you'll need to reopen the App to show your valid membership for the day you're using it.
Remember, on our UK Sites App you can also browse, search and book our UK Club campsites, plus view and call Affiliated Sites and Certificated Locations across the UK.
If you have already previously downloaded the UK Sites App, make sure it's been updated to the latest version, so that you can access your Digital Membership Card.
Everything you need, in one place. Simply download or update our UK Sites App to access your new Digital Membership Card and head off on your next adventure. Now you just need to decide where you want to go!