Murvi Pimento XL review
Nick Harding casts his expert eye over the Pimento XL campervan from award-winning van conversion specialists Murvi. New sleeping arrangements allow you to choose between two singles or a double with prices starting at less than £60,000.
Although independent van conversion specialist Murvi has a trophy cabinet that's close to bursting, it's been some time since we reviewed one of its vehicles. Our test camper – Pimento XL – has actually been around for a while but there's been a change to the sleeping arrangements in that you can now opt for two single beds or a double. Prices start at well under £60,000 but you will almost certainly be prepared to spend extra on some of the goodies.
Build quality – 90%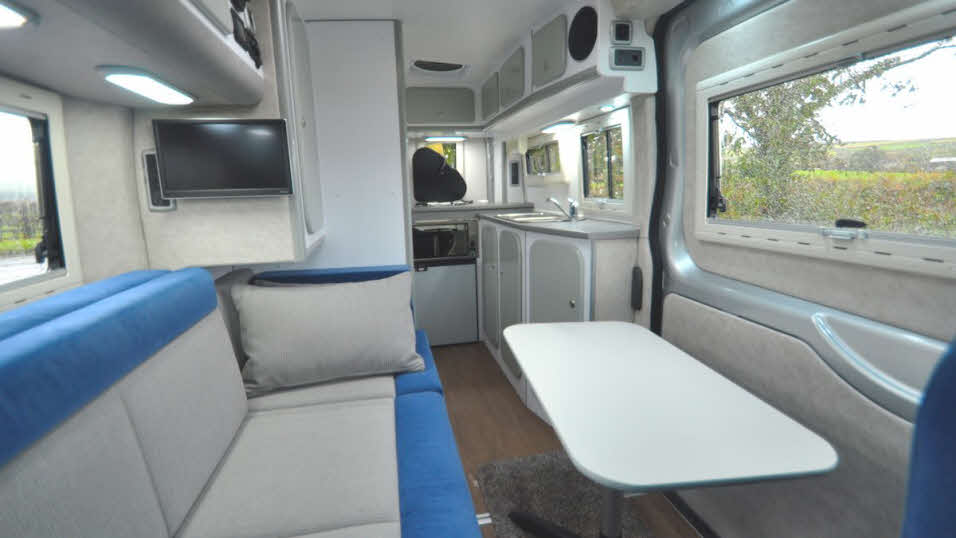 Murvi has long been renowned as a builder of top quality van conversions. There's a high standard of engineering behind its work and there's a certain 'Murvi style' that few others get close to emulating. Features such as the underslung gas tank (which saves you money on your gas, and frees up internal storage space) are always appreciated, while, inside, the trimwork is exemplary. Also featured on our test vehicle were: metallic paintwork (£780), an Avtex L168DRS 16-in LCD TV/DVD (£660), a Teleco directional TV aerial (£234) and a Smev 20l oven/grill (£420).
Driving – 83%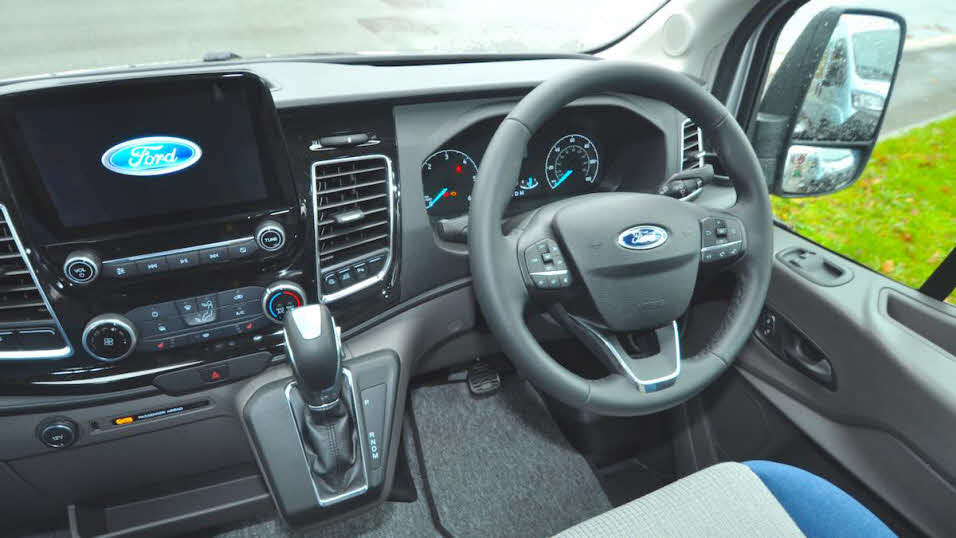 The base vehicle for the Pimento XL is Ford's Transit, which sits higher than rivals and offers a forgiving ride courtesy of softly-sprung suspension. There are three drive options (the front-wheel-drive version features here). while different trim levels are available, starting with the basic, yet surprisingly well equipped, 'Leader'. Our test vehicle, though, is the top-level 'Limited' variant, with 130bhp engine and automatic transmission. This configuration, which also includes the likes of cruise control with adjustable speed limiter, Ford SYNC infotainment system with 8-in touchscreen, leather padded steering wheel and cab air conditioning, will set you back an extra £6,546, which may sound a lot – but kit out other base vehicles to a similar specification and you'll be looking at a whole lot more.
In terms of economy, relaxed driving should earn you mpg figures in the early-30s. Is it good to drive? In a word, yes.
Daytime – 80%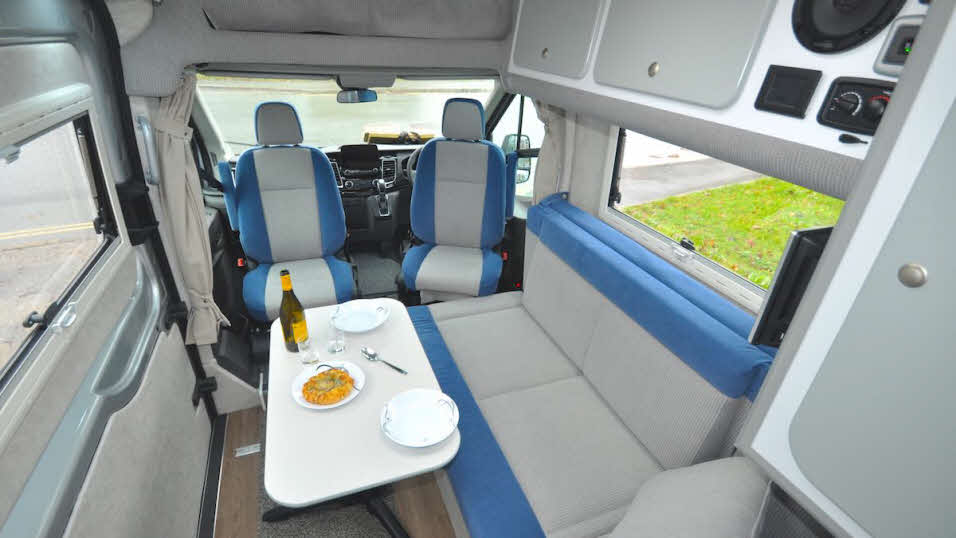 The lounge is brilliant, offering a settee that is more comfortable than most, thanks largely to its high backrest. Slide back the side door and you can bring the whole world into your front room. There's also a lot of uncluttered floor space – a boon for pet owners, in particular. Both cab seats are on swivels and there's a small table to go between them. Or, more likely, you'll use the pedestal leg table with tripod.
Mains sockets are complemented by USBs in convenient places, while Kenwood speakers, a wind-up sunroof, ceiling lamp and upper-level padding (so you won't hurt your head if you bump it) are nice touches.
Heating and hot water are courtesy of Webasto's Thermo Top Evo 7 system, operating from the vehicle's diesel supply or mains electricity; it can also be used while on the move.
Note that you can also tailor your Pimento XL to your tastes with a huge choice of soft furnishings and furniture finishes.
Night-time – 76%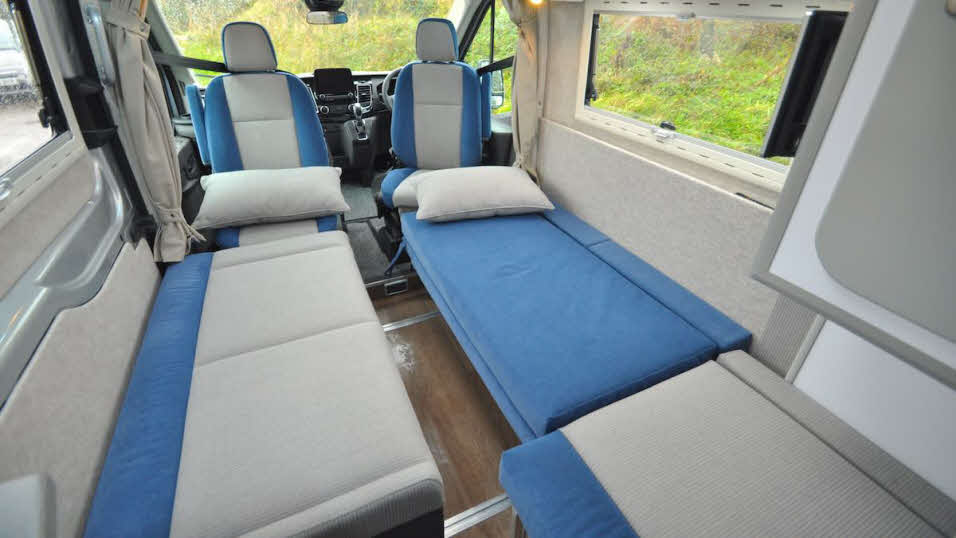 At night you have the choice between staggered singles and a large double, around which there is space to walk. Somewhat unusually, you sleep with your heads towards the cab. Whichever arrangement you go for, bed making is pretty straightforward thanks to the smooth action of the seat bases.
There are plenty of LED lighting options – adjustable reading lamps, touch on/off downlighters and individually switched strip lights (which also have a night-time blue setting).
Whereas many manufacturers have switched to concertina blinds, these days, the side windows here are fitted with cassette blinds and flyscreens (Murvi stresses it prefers to stick with what's tried and tested). There are thermal-lined curtains around the cab.
Kitchen – 79%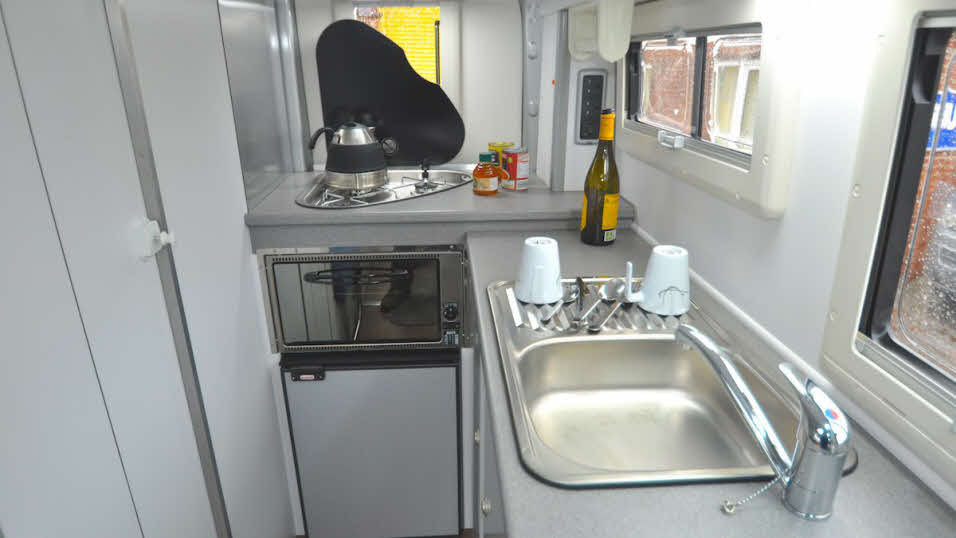 Murvi has honed this kitchen design over many years (and indeed many models). Nevertheless, you have a choice of facilities. This example has the 85-litre compressor fridge and Thetford three-ring triangular hob, along with the Smev oven/grill option, all set across the back. Check with Murvi, because other configurations are available. Plus, the rearmost overhead locker is designed to take a microwave oven.
Along the nearside, you'll find a stainless steel sink with permanent drainer as well as permanent worktop on either side. Three windows, all opening, plus a rooflight with electric fan overhead, mean ventilation won't be a problem. There are three more overhead lockers, the furthest forward of which houses mugs and glasses supplied as standard by Murvi (a full set of crockery is kept in one of the three lockers below).
Washroom – 74%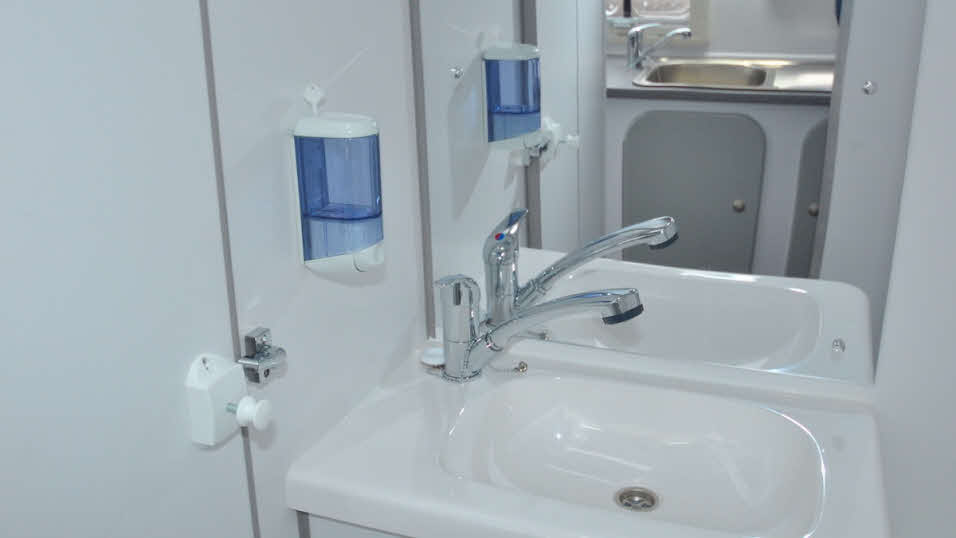 Folding doors make for easy access to the washroom, where there's a Dometic swivel-bowl toilet. The GRP-moulded fixed basin and shower tray are Murvi's own designs, while the shower itself is via extended tap, with a curtain for added protection.
Nice touches in here include a soap dispenser, two mirrors, a rooflight, toilet roll holder and toothbrush mug, while the rail for the shower curtain could be used for hanging wet clothing etc.
There's upper and lower level locker storage, plus a hatch to get into the full-height locker at the very back.
Details – 83%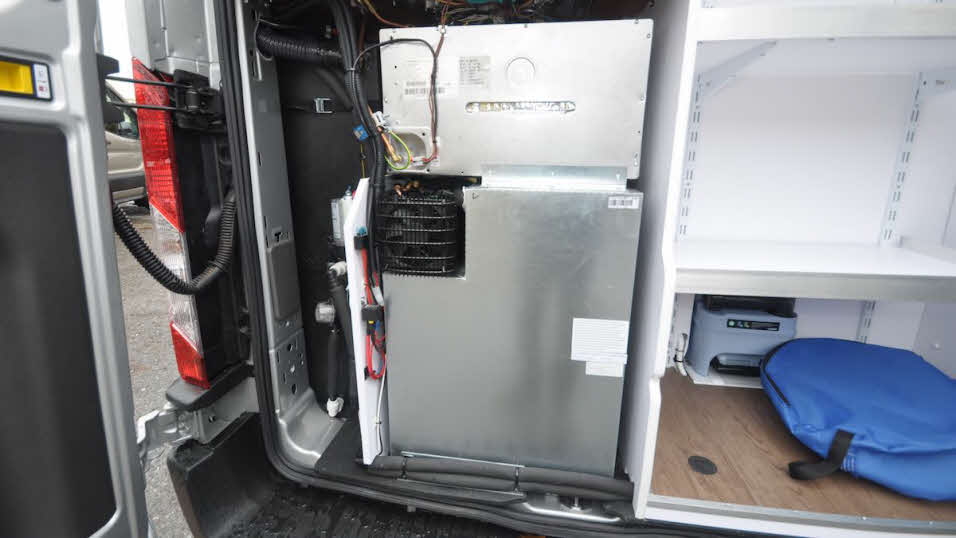 One detail is not to be missed – the huge storage locker just inside the offside rear door. This contains adjustable, removable shelves – there's a bit of a home-made look to them, but there's no doubting their sturdiness. There's service access to the fridge, water pump and more inside the other door.
Murvi is perhaps the only manufacturer that provides a proper, heavy-duty bag for its mains lead, and another neat signature touch is the two scatter cushions in the lounge that double up as full-size pillows at night.
The wardrobe is also home to a first aid kit, the legs for both tables, fuses, circuit breakers, a set of replacement lights for the base vehicle, mains and double USB sockets, and more. And there's still hanging space for clothing – if you want more, an extended wardrobe is another offering.
Verdict – 81%
A super-quality package that showcases Murvi's excellence at van conversions.
It's the quality of engineering that shines through here, along with a dash of individual style. Ford's Transit base is mighty impressive, too.
More like this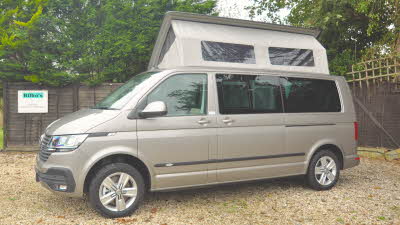 By Nick Harding
05/12/2021
Size isn't everything but the extra room the long wheelbase version of the Celex VW campervan conversion from Bilbo's certainly makes a lot of difference, as Nick Harding found out.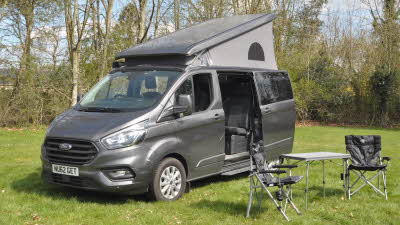 By Nick Harding
11/07/2021
The Ford Nugget could appeal to those who want to a campervan to double-up as a main means of transport as it has five travel berths and is excellent to drive. Nick Harding assesses its other qualities.