What to look out for in a used caravan
What to look out for in a used caravan
Despite demand for used caravans being at an all-time high it is still possible to unearth a bargain if you know what to look for. Rob McCabe casts his eye over three potential second-hand gems.
The dramatic increase in demand for used caravans shows no signs of abating. Even though travel restrictions have eased, UK holidays remain the priority for a lot of people, and the self-contained nature of caravanning has led many to make an investment. As a result caravan dealers find demand outstripping supply. Despite the shortage, there are still some gems waiting to be discovered as I found on a visit to a dealership in Peterborough. This is the full version of a truncated article that appeared in the December issue of the print magazine.
2014 Sterling Eccles Topaz, £14,995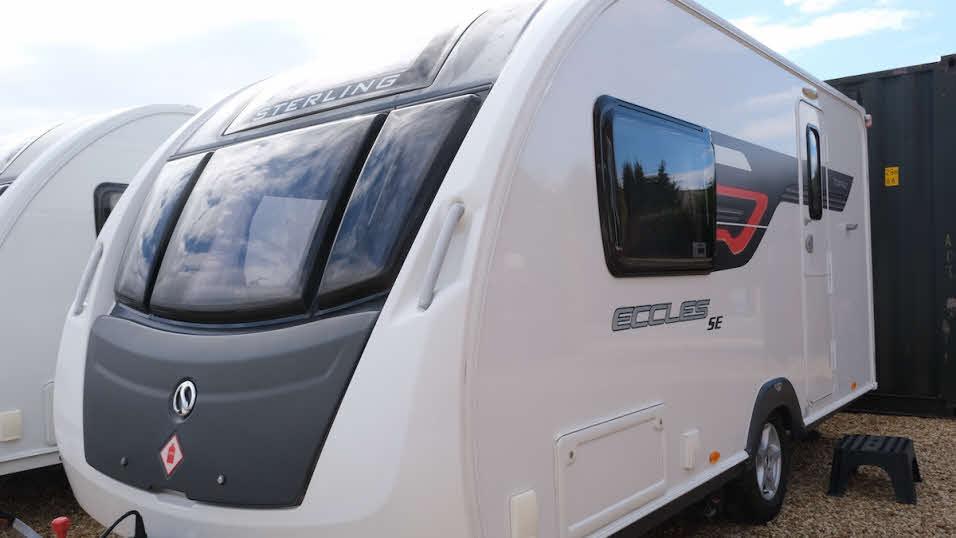 This smartly presented end-washroom two-berther has an awful lot going for it. It looks more like eight months old than eight years, with an equipment roster and fresh, youthful ambience that wouldn't look out of place on a 2022 caravan. Highlights are Al-Ko ATC, exterior gas and mains sockets, Alde heating, dual-fuel hob, Omnivent roof fan and a big sunroof above the lounge.
There's a motorised mover, which you won't find on a brand-new caravan, but is increasingly common on second-hand models. All three of the caravans we're reviewing here have one fitted. You should always ask for a demo to ensure it works properly.
There are a couple of very minor flaws on the Sterling that will need to be dealt with in its pre-delivery inspection: the entrance door window blind is stuck and some of the beading on the wardrobe door is loose. But all the important things can be ticked off: gleaming kitchen appliances (as good as new!), unblemished surfaces and a pristine shower cubicle.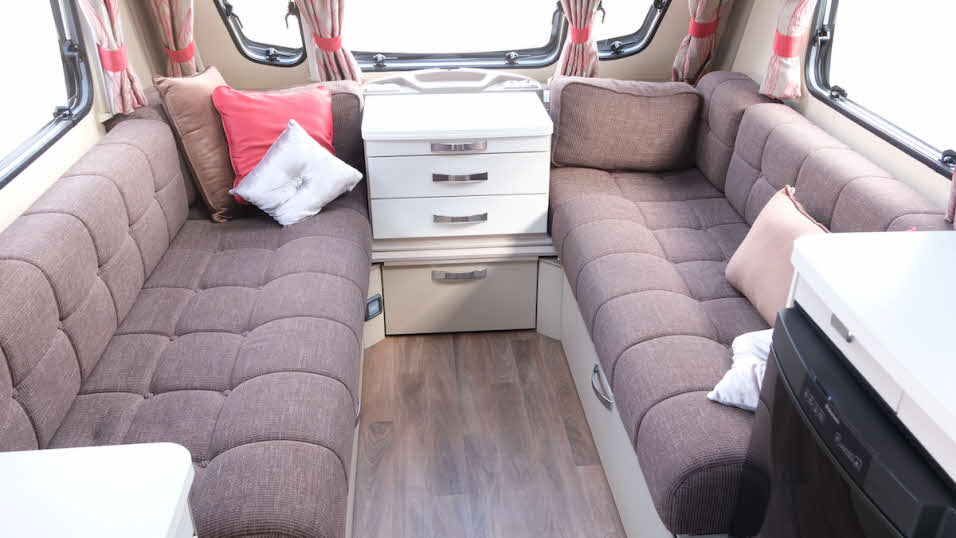 The lounge is easy on the eye, and very comfy with its immaculate, still-plump upholstery. And it's very practical too: with four comfy corners, it makes a great entertaining space, with convenient surfaces for everyone to plonk their drinks on.
Verdict
Under 15k, in this condition, with a mover and a year's warranty? Silly not to.
2011 Lunar Clubman ES, £11,995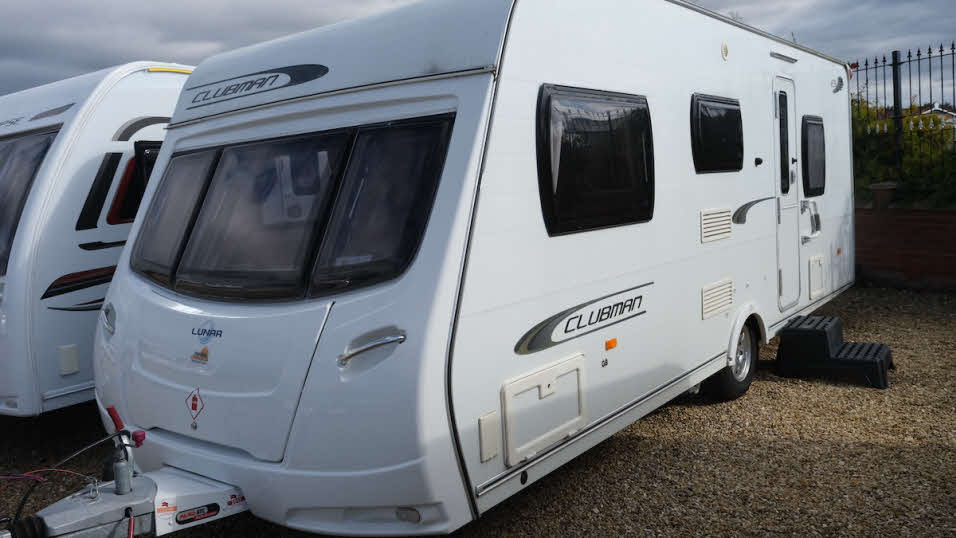 This cracking example is a poignant reminder of what a fine, well-equipped caravan the Lunar Clubman was as well as being a credit to its previous owner for ensuring it enters its second decade in such fabulous condition. A bank of Approved Workshop service stickers confirms it has been conscientiously looked after, as does the general spick-and span-ness of the interior.
The huge, impressive end washroom/changing room with a walk-in shower cubicle (where the included Aquaroll and Wastemaster containers are currently stowed) will find favour with caravanners who frequent CLs and rally fields, where self- contained facilities are a must, while the side dinette offers two good beds (the full-length privacy curtain is present and correct) or a breakfast bar for those using it as two-berth.
The country cottage-style upholstery may look a little dated but there's a hint of restrained elegance to it, and with a generous selection of scatter cushions and bolsters, the lounge is one in which you'd be happy to spend a lot of time. Just pour yourself a drink from the glass-fronted, illuminated wine cabinet – a familiar Clubman feature – and put your feet up!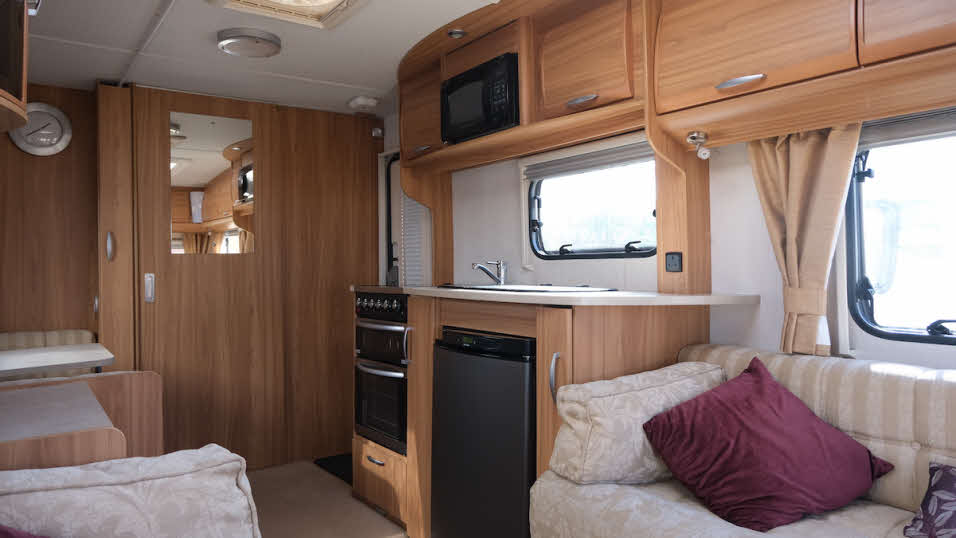 For your 12 grand, you get pretty much everything that a newer caravan would give you: ATC, Alde heating, exterior gas and mains sockets, Omnivent, microwave, electric hotplate, two TV viewing locations, fitted stereo, pleated blinds and removable carpet sections.
Verdict
A superb, age-defying tourer that's well- priced – especially if you can negotiate a 12-month warranty.
2009 Bailey Pageant Series 7 Monarch, £9,995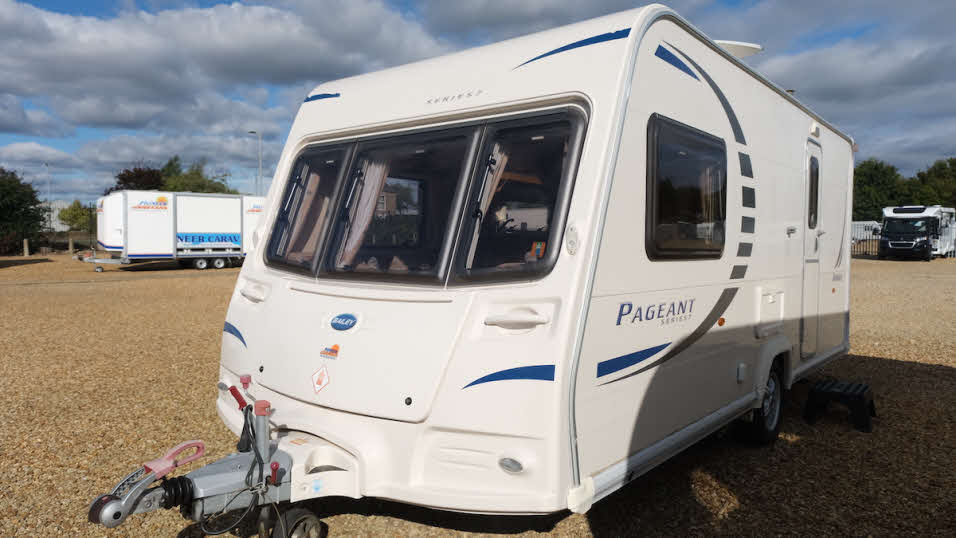 This one's a bit of a wild card. Fundamentally, the end-washroom, two-berth Monarch is a reassuringly clean, nice-looking caravan, with all the creature comforts that made the Pageant such a success during its long, distinguished production run.
However, a previous owner's DIY add-ons are bound to raise eyebrows. The most prominent are a hefty wooden surround for a stereo head unit, a satellite receiver box that Heath Robinson himself would have been proud of and a similarly sturdy shelf which would come equal-last in any beauty contest. On the other hand, the banks of LED downlighters under the lounge's overhead lockers are a much more pleasing and subtle addition to the Monarch's equipment roster.
The upholstery and woodwork are in very fine condition. The use of concealed latches on the overhead lockers gives the whole interior a smart, modern feel. And while I wouldn't choose the upholstery pattern for my own home, agreeably plush lounges are what Pageants did very well, and this example has still got it.
All the surfaces are unblemished and the kitchen fitments are reassuringly clean. Indeed, I'd hazard a guess that the four-burner gas hob is a replacement – it looks like it was fitted yesterday. Like the Lunar, this one has an end washroom in which you could swing multiple cats to your heart's content.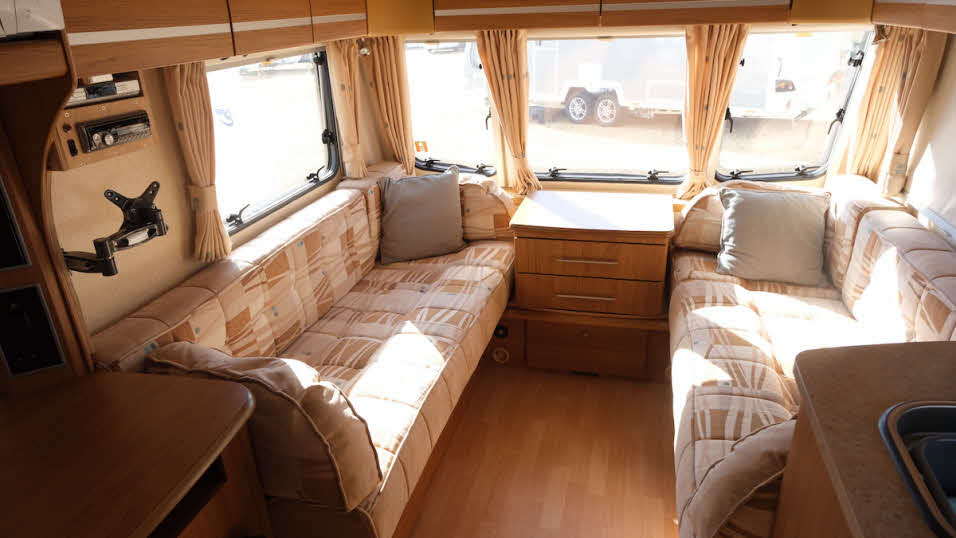 The Pageant makes it a clean sweep of caravans equipped with Al-Ko ATC and a motorised mover – both very desirable fitments that would be very expensive to specify as extras when buying new.
Verdict
Beauty is in the eye of the beholder, but this one wouldn't be for me. If you can see beyond the clunky DIY add-ons, it's otherwise really nice.