Towcar review: Hyundai Santa Fe
Towcar review: Hyundai Santa Fe
Lesley Harris is pleasantly surprised by the overall performance and build quality of the Hyundai Santa Fe. Bit did it score highly as a towcar?
The Hyundai Santa Fe – now in its fourth generation – offers not only great practicality (with seven seats as standard) but also more technology and safety features than ever before. Let's take a closer look at this impressive family towcar.
Adopting the new Hyundai SUV family face, the Santa Fe now has a bolder look. The 'Cascading Grille' is complemented by slim LED daytime running lights that sit above the deep headlight cluster, and a longer bonnet adds to the car's appeal.
The rear has been simplified too. Reversing, indicator and fog lights are now incorporated into the bumper, while main tail lights have been given a sleeker look. Chrome trim runs along the door bottoms, adding a touch of panache.
COMFORT – 90%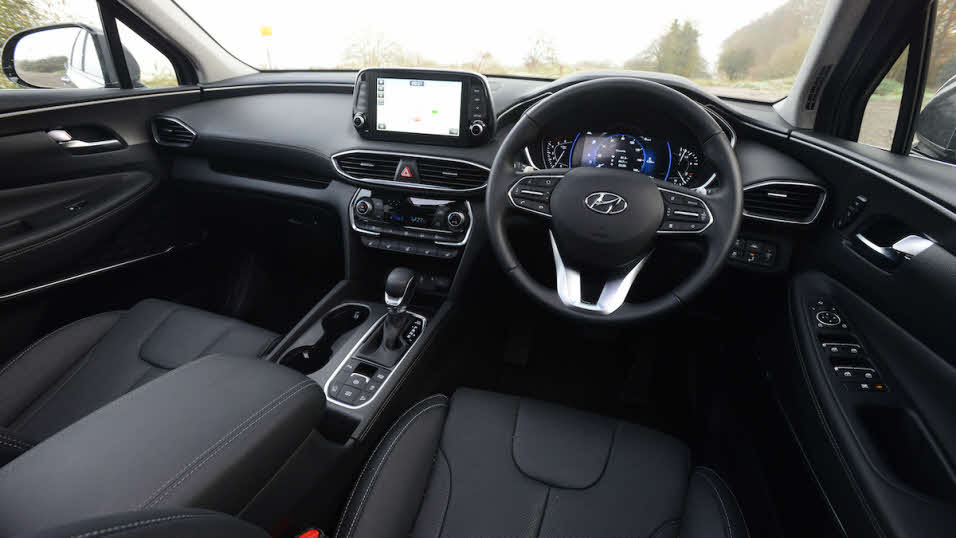 The makeover continues inside, the cabin feeling robust and featuring swathes of good-quality materials. Cloth is used in the lower-spec SE, while Premium and Premium SE – tested here – receive leather as standard. A deep, curved dashboard and chrome trim contribute an extra dash of luxury.
There is a decent amount of stowage space up front, while the 8in touchscreen infotainment system is easy to use. Lower down, there are chunky dials for the dual-zone climate control system and piano-style keys for the heated/ ventilated seats and heated steering wheel.
There are plenty of charging and connectivity points up-front – a 12V socket, aux-in and USB port – as well as wireless charging.
The full head-up display is very useful, as are the panoramic tilt and slide sunroof, cornering lights, blind-spot mirrors and keyless entry system with engine start/stop button, as well as technical safety functions including Rear Cross Traffic Alert and Lane Keeping Assist System.
The Santa Fe is now 65mm longer, so passengers receive a huge amount of legroom, and there's generous headroom too. The rear seats are comfortable and will easily accommodate three adults abreast, aided by the flat floor. Even when the third-row seats are employed there's still a fairly generous amount of space.
Deploying those two extra seats couldn't be simpler – the manual operation is quick and easy. Once in place they are fairly comfortable – an adult would be fine on a short trip, for instance – but they are certainly more suited to younger occupants on long journeys.
DRIVING – 90%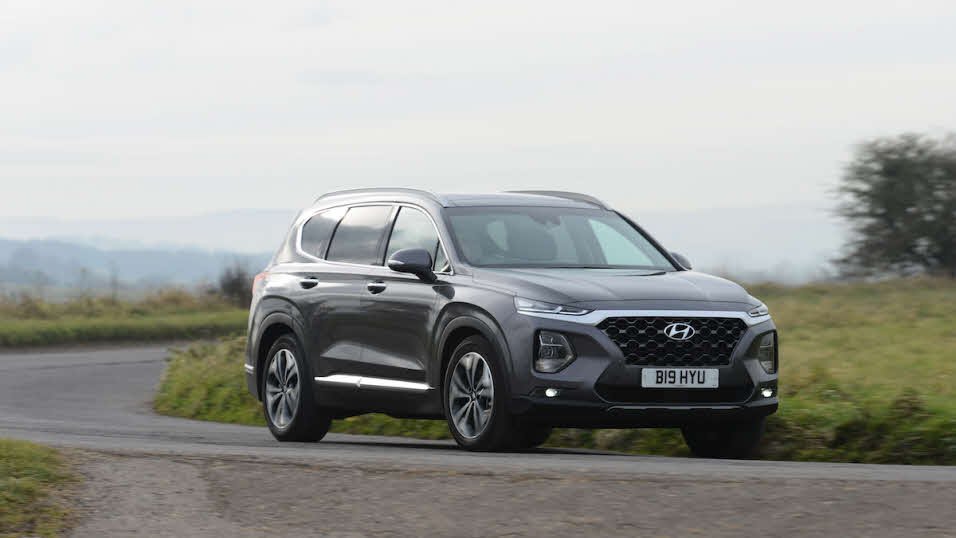 Hyundai has made choosing your Santa Fe a doddle. There are just three trim levels and two gearbox options (six-speed manual or eight-speed automatic), while the only engine is a turbocharged 2.2-litre CRDi diesel with 197bhp and 325lb ft (440Nm) of torque. Oh, and there's two- or four-wheel drive too.
The flagship Premium SE 4WD, which comes with the eight-speed automatic as standard, is a delight to drive. The ride is comfortable, even with large 19in alloys, and the self-levelling suspension does a great job of soaking up all the road imperfections.
For a car of its size, there's little body roll in corners and the Santa Fe feels composed and reassuringly controlled at all times. The engine is refined and very hushed at speed and has all the low-down grunt that you'll need when towing. Steering is heavier than expected – but it's only a small gripe.
Hyundai's four-wheel drive system – HTRAC – features sport, comfort, eco and smart modes, the digital dashboard cleverly changing colour to denote which one of these you're in.
TOWING – 88%
The Santa Fe proved itself to be a very competent towcar when hitched up to a large twin-axle Bailey Unicorn Barcelona. There wasn't the slightest hint of movement from the van, which felt stable even in poor driving conditions.
Storming up the steep inclines on my test route, the Hyundai took it all in its stride, delivering a relaxing and comfortable ride. The eight-speed gearbox was smooth and town driving was made simple by the surround-view monitor, which allows you to see around the whole car.
The boot is certainly large enough to take all your family holiday paraphernalia, offering 625 litres in five-seat mode, rising to 1,625 with all the seats folded. Even in seven-seat mode there's enough room for a couple of small suitcases.
VERDICT – 89%
I enjoyed the Santa Fe much more than I expected I would – it drives really well in all conditions and I loved towing with it. It now has a more 'premium' look and feel about it, and its certainly worth popping on your next towcar shortlist.