Towcar review: Nissan Qashqai Tekna+ 158PS Xtronic
Trend setter
James Batchelor takes a close look at one of the most popular SUVs on the market
The Qashqai wasn't the first family crossover-cum-SUV, but it did help kickstart a trend – seemingly every car manufacturer has an equivalent model in its line-up these days. Nissan has built more than three million Qashqais at its Sunderland factory since launch in 2007, and the car is routinely high in the sales charts; it was the seventh best-selling new car of 2021 in the UK for example, and the top SUV.
So, when Nissan decides to update a hit model, it's big news. With a huge choice of family SUVs on sale for the caravan owner, the third-generation Qashqai needs to appeal across a number of areas, most importantly technology, on-road handling and interior fit and finish.
We were keen to spend some more time with the Qashqai to see why it's so popular.
Comfort – 75%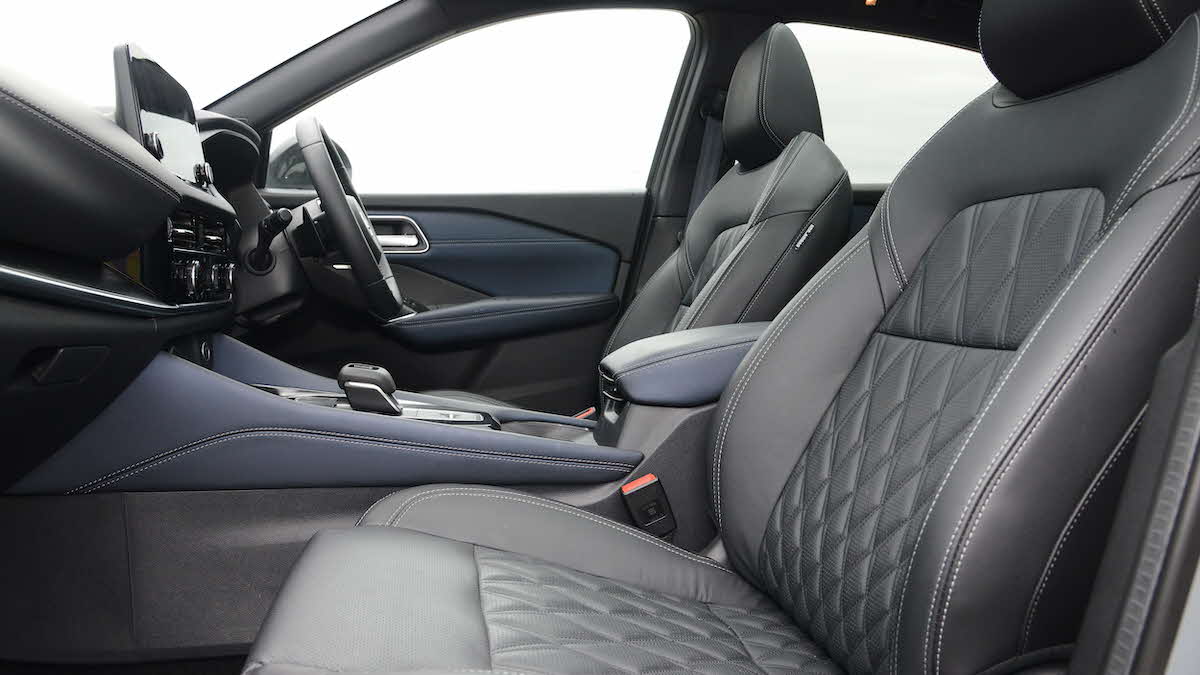 The first generation Qashqai offered all the advantages of a hatchback with the fashion sense of an off-roader in one, relatively affordable package. While the second generation car of 2013 erred on the side of caution, the new one is almost as radical as the first.
The new Qashqai sits on an updated platform and Nissan's engineers have been able to stiffen the body by nearly 50%, boding well for an improved drive. More than that, though, the Japanese carmaker has devoted just as much attention to the areas that people notice the most.
The latest car represents, in my eyes, a far more satisfying piece of design than its predecessor. It clearly takes key styling cues from those earlier versions – at the rear, in particular – but is updated with more modern, even audacious features.
The front-end has a confident air about it and includes a block of LEDs for the headlights, a curved LED strake for the daytime-running lights and indicators, and vertical air intakes in the bumper. The Qashqai also comes with massive 20in alloy wheels for the first time and a bold colour palette (there's also the option to have a contrasting black roof).
So, the exterior redesign is a success but what about the interior? The previous Qashqai never particularly excelled in this area and was beginning to look dated. The new car offers an enormous improvement, with a slick, swooping dashboard design and acres of soft-touch plastic. The switchgear deserves a special mention as, not only does it feel good to touch, but Nissan has included a raft of buttons and knobs which make twiddling with things like the air conditioning and the touchscreen easier and safer on the move.
Our top-of-the-range Tekna+ model bordered on luxurious with its leather-covered dashboard, quilted leather seats (with a massaging function up front), and a head-up display. But even without these luxuries the interior is a quality place to be. The entry-level Visia has a slightly less-impressive spec, but all other models get alloy wheels, a rear-view camera, dual-zone climate control and a touchscreen with Apple CarPlay and Android Auto connectivity.
With all of these improvements, it's a shame Nissan hasn't also overhauled its infotainment system as it relies on slightly laggy software and a dated design – that's why having smartphone connectivity as a standard feature on all but the Visia is such a boon.
The new Qashqai is 35mm longer, 25mm taller and 32mm wider than before but, crucially, it's 20mm longer between the wheels. This really aids rear space with there being plenty of room for a couple of six-feet-tall passengers – even with the glass panoramic roof our car had – and doors that open wider than any other family SUV (by 85˚ if you really need to know), which makes loading and unloading child seats or large items very easy.
The rear seats fold in a 60/40 split but sadly they don't recline or slide forwards. However, the boot is of a good size, being only slightly smaller than a SEAT Ateca's. Mid-spec models and above get a nifty 'luggage board' feature that allows not only underfloor storage, but also the ability to divide the boot to stop items rolling around.
Driving – 71%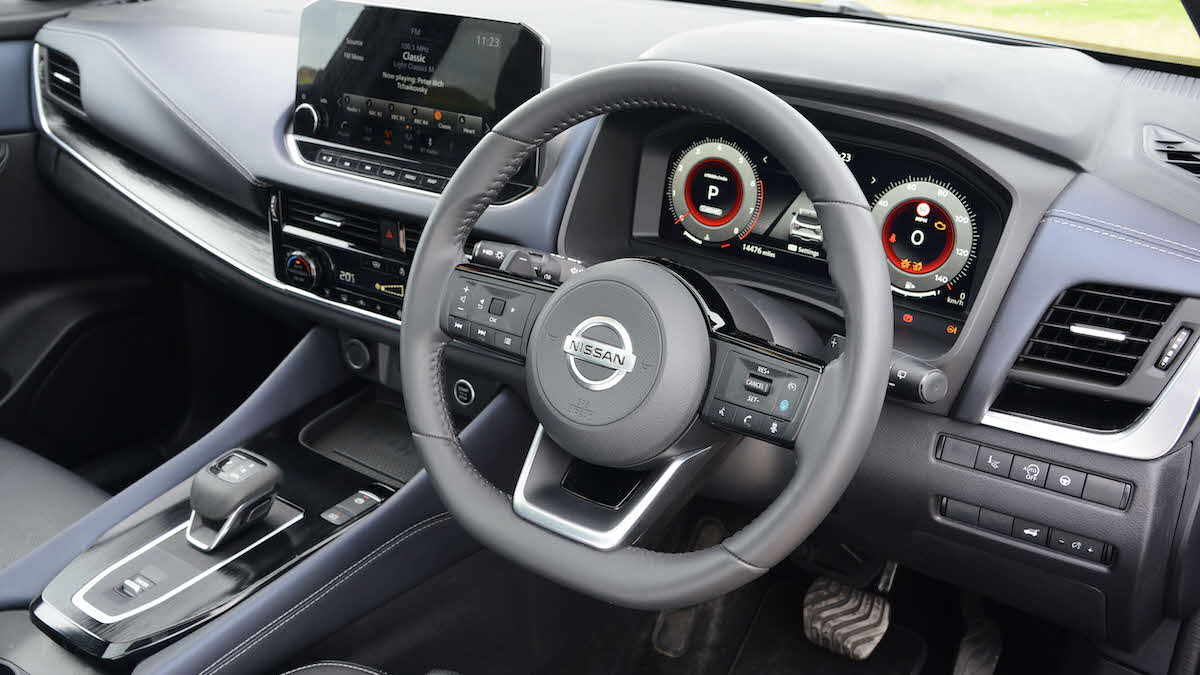 Nissan has ditched diesel for the new Qashqai, which comes in mild-hybrid petrol and full-hybrid guises. The latter, called E-Power, is a series hybrid which means the 1.5-litre petrol engine doesn't power the front wheels but instead a generator, which in turn powers an electric motor which then sends drive to the wheels. While it'll likely appeal to some family buyers, the E-Power won't suit many caravan owners due to its low braked towing capacity of just 750kg, compared to the mild-hybrid petrol's 1,040-1,800kg (depending on engine and drivetrain specification). Be aware that the caravan's weight should never exceed the towcar's kerbweight. The mild-hybrid petrol comprises a 1.3-litre engine in either 138bhp or 156bhp versions, both of which perform similarly. If you want four-wheel drive then the higher-powered unit is your only choice, as is a CVT automatic gearbox; in fact, that's a good thing, as the CVT with its 'steps' that imitate separate gears is smooth, while the six-speed manual is notchy and suffers from a springy-feeling clutch.
The new Qashqai is significantly stiffer and a touch lighter than its predecessor and that really benefits the handling. While it certainly isn't thrilling to drive – you can mostly blame the overly light and assisted steering for this – the Qashqai turns direction quickly and feels planted. The ride comfort is polished too, even with our car's 20in wheels, and road noise is well suppressed, giving a refined and relaxing feeling on long journeys.
Towing – 78%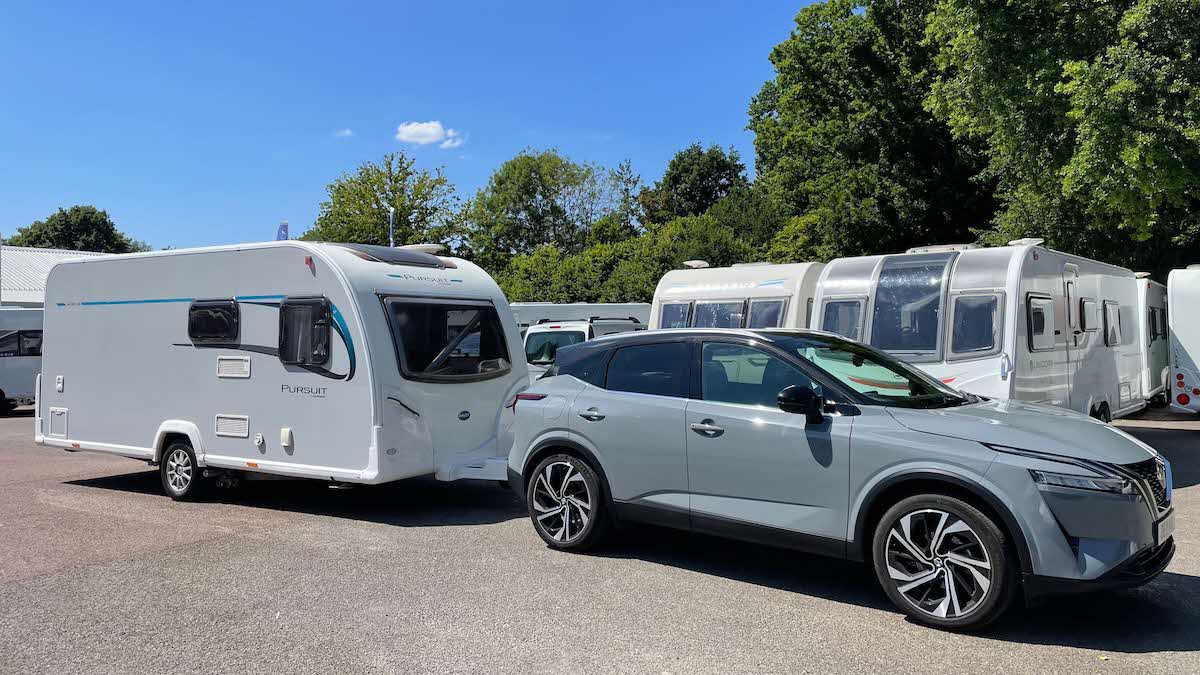 Nissan only offers a fixed or a detachable towbar with the Qashqai, and we hitched up to a Bailey Pursuit 430-4. Solo, the Qashqai's engine felt a little lethargic at low revs, which we expected to be exacerbated towing, but this wasn't the case. Acceleration is smooth and the gearbox is well matched to the engine, performing particularly well between 30mph and 50mph, and when pulling away from a standstill that extra slug of electric power can be felt. Consumption when hitched was an unremarkable 23mpg. Once up to cruising speeds we were amazed at how stable and well planted the outfit was – even with some crosswinds – with hardly any lateral movement.
Verdict – 75%
The Nissan Qashqai has long been a favourite among families and caravan owners, and the latest car will likely be no different. Plusher and roomier than before, the new Qashqai is a competent towcar.