Gloucestershire and Herefordshire sites win the Caravan and Motorhome Club's 'Sites in Bloom' 2017 Awards
06/11/2017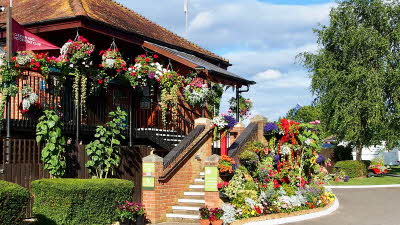 Located just a short walk from the charming town of Tewkesbury, the Tewkesbury Abbey site is said to be one of the most impressive on the Caravan and Motorhome Club network. The Gloucestershire site took the prestigious Sites in Bloom award in the 'multi-couple' category (a set of site staff and two sets of assistant site staff).
The site is within easy access of the Wars of the Roses Battle Trail and boat trips on the river. With the famous Abbey towering above, the site is surrounded by greenery and lined by mature trees making it the perfect escape away from the hustle and bustle of everyday life.
In first place for the 'single couple' category (one set of site staff), Bromyard Downs is a pretty woodland getaway in Herefordshire. The site is nestled between the cathedral cities of Hereford and Worcester and offers walks with stunning scenery across the Bromyard Downs straight from the site.
Gowerton Club Site near Swansea took second place in the 'multi-couple' category, whilst Kinlochewe Club Site in the Scottish Highlands was runner up in the 'single couple' category.
Harvey Alexander, Director of Marketing at the Caravan and Motorhome Club said: "All of the sites across our network have beautiful grounds, thanks to the incredibly high standards and hard work of our dedicated staff, so the competition is fierce. I would like to thank everyone who took part and wish congratulations to the winners and runners up."
The Sites in Bloom Awards were introduced in 2003 by Caravan Club Life Member, the late Alan Payne OBE, who wished to recognise the creative and horticultural skills of site staff and volunteers, and to showcase their success in making their sites colourful and welcoming.
The displays were evaluated using criteria including layout and creative use of space, variety, innovation, flair and colour coordination, with particular attention being paid to economy and low maintenance. The geographical location of the site is also taken into account by the judges and the fact that plant species are chosen to suit the local environment.