Caravan and Motorhome Club and Alan Rogers announce winners of Best European Campsites for 2023
23/02/2023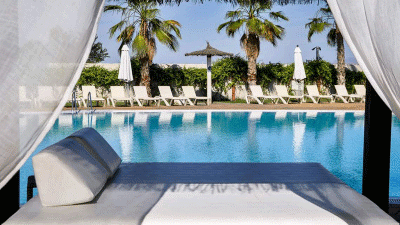 Holidaymakers looking for an award-winning campsite in Europe this summer should head for the riverbanks of L'Homme in Belgium, or poolside near Alicante. La Clusure in Belgium and Alannia Costa Blanca, near Alicante have been recognised as overall winners of the prestigious Caravan and Motorhome Club and Alan Rogers Annual Campsite Awards.
The awards were announced at the Caravan, Camping and Motorhome Show held at the NEC and the winning campsites were recognised for their outstanding quality, fantastic facilities and consistent great service.
The winners of the awards were selected from a shortlist compiled by the Club's experienced campsite teams, members in the camping and caravanning industry and feedback from members over the last year, including consistency of the campsites popularity and comments from campsite assessors. Nick Lomas, director general of the Caravan and Motorhome Club, said: "The awards recognise the quality offered by European campsites with their great service, friendliness and innovation to ensure our members have the best possible choice and to help members and non-members make the best decision of where to travel this year based on their individual travel needs."
The awards had a total of 11 categories including three new awards this year recognising exceptional service and facilities, accessibility and the most attractive campsite.
Winners include:
Winner for Alan Rogers Travel Service – La Clusure, Belgium
La Clusure is situated in lush countryside on the banks of the River L'Homme. It is the first-ever Belgium winner of the overall category. The campsite has undergone a substantial investment including new wheelchair-accessible caravans and its brand new pool complex that includes a water slide and indoor pool, making it a great campsite choice for families. Alternatively, in the summer months, why not enjoy a river walk, a spot of fishing or a dip in the shallow river waters. Other on-campsite activities include hiking, cycling and archery. Prices start from £22.41 per night*.
Winner for Caravan and Motorhome Club – Alannia Costa Blanca, Alicante
Located in sunny Costa Blanca, this complete 5 Star resort offers amazing facilities and services including an onsite hair salon, gym, tropical Tahiti pools and slides and a restaurant offering regional cuisine. Those wishing to get out and about can also enjoy cycling routes around the nearby nature reserve, or take a day trip to the Costa Blanca beaches a short drive away. Prices start from £24.75 per night.
The Exceptional Services and Facilities Award (new category) – Le Domaine de Massereau, Occitanie
Set amidst a family-run olive grove and a vineyard in the sun-soaked region of Occitanie in France, this campsite offers a perfect blend of tradition mixed with sophistication. For the past 10 years, this campsite has received 5 stars from members, boasting exceptional facilities, a new aquatic playground, a restaurant with panoramic views over the waterpark and striking architecture. Prices start from £23.71 per night.
The Most Attractive Campsite Award (new) – Kiko Park, Valencia
Nestled behind protective sand dunes, on a white sandy beach, right next to the Mediterranean Sea, Kiko Park Campsite offers a perfect setting for a relaxing holiday. With direct access to the beach, tourers can enjoy a number of watersports from paddle boarding, windsurfing and jet skiing. Yoga, beach volleyball and aqua fitness are just some of the other sporting activities available. In the summer months, the campsite's Xirikiko Beach Bar opens offering chilled music, cocktails and stunning sea views overlooking the nearby marina. Prices start from £32.93 per night.
The Most Accessible Award (new) – Les Saules, Loire Valley
Situated in the heart of the Loire Valley, Les Saules Campsite is ideal for nature lovers. The campsite's environmentally conscious owners have designed the campsite with wildlife in mind, for 'everyone'. Guests will be able to spot over 50 species of birds on the nature and fitness trail or learn about the bees kept in the onsite hive. The campsite swimming pool has a special lift for access and the adapted facilities for reduced mobility are excellent. Prices start from £21.55 per night.
Nick Lomas continued: "As a Club we have very close relationships with each of our European campsites and have been particularly grateful for their support over the last few years, from flexibility for members that needed to go or stay longer, removing cancellation fees on packaged holidays and discounted nights for many stranded. It is due to their continued support and commitment that has meant our members' overseas touring holidays are the highlight of their time in Europe."

The Caravan and Motorhome Club offers the widest choice of crossings and is an impartial partner of all the major operators, ensuring tourers have the best choice. The Club negotiates great deals with the ferry companies, Eurotunnel and its European campsites, offering members a 'lowest price guarantee'. The online booking system can easily show the best fares and deals when planning a trip, meaning members can save money wherever possible. Tourers are urged to book early to avoid disappointment and if booking a ferry or Eurotunnel trip with a campsite stay, members benefit from packaged travel protection.
Members of the Caravan and Motorhome Club can also benefit from Red Pennant emergency assistance to keep them protected when travelling across Europe. This travel insurance has been specifically designed for touring holidays and includes options of motoring breakdown cover or personal travel insurance for single-trip or annual multi-trip cover. Cover options include European breakdown roadside assistance, vehicle and passenger repatriation, continuation of holiday travel, medical emergency and ski cover. When travelling with one of the Caravan and Motorhome Clubs' European tours, members feel at ease with Red Pennant insurance – which even has access to a 24-hour, multilingual emergency assistance line with all assistance requests managed by Club staff.
For full details on the 11 awards categories, winners and runners-up look out for the May issue of the Caravan and Motorhome Club magazine or visit the blog www.caravanclub.co.uk/blog/.
Notes to Editors
*Prices are based on two adults.
About Caravan and Motorhome Club
Championing and helping its members get more from the great outdoors, whether glamping or touring, the Caravan and Motorhome Club represents the interests of over 1.1 million caravan, motorhome, campervan and trailer tent owners across the UK. With over 115 years of knowledge and expertise, the Club has a wealth of experience and prides itself on offering great value and high quality campsites for tourers and glampers.
Caravan and Motorhome Club membership is just £59 per year and provides members with access to over 2,700 quality campsites across the UK and Europe. As the UK's No. 1 rated touring club* we make sure members get the most from their membership, saving them money with great value offers whether touring or at home. Since 2018, the Club has saved members over £11 million via Member Offers and its Club Shop.
The Club's everyday savings help members get more from the great outdoors while saving money. Members will save £15 per night on UK Club campsites anytime throughout the year – recuperating their membership cost back in only four nights! Members can save on touring essentials with up to 10% off in the Club Shop, deals on caravan cover and five star insurance. They can also take advantage of leisure and family time savings with up to 50% off on days out including award-winning attractions and experiences and with the Club's outdoor partners including the likes of Cotswold Outdoor, Mountain Warehouse, National Tyres and many more.
The Club offers over 300 campsites across 14 countries in Europe including France, Spain and Italy amongst other destinations. Stays at these campsites can be packaged with great offers on Eurotunnel and ferry crossings at the lowest price guaranteed to create holidays that are protected by ABTA. The Club also offers a range of escorted European tours which are protected by ABTA. Plus escorted and independent tours in Australasia, North America and Southern Africa which are also fully protected, either by ABTA or ATOL when a flight is included. All members can take advantage of expert advice, overseas travel services, cover and insurance and exclusive member offers and discounts.
For further information about becoming a member of the Caravan and Motorhome Club, please visit www.camc.com or call 01342 318 813.
*As rated on Trustpilot
About Experience Freedom
Experience Freedom from the Caravan and Motorhome Club provides glamping accommodation in some of the most beautiful locations in the UK. Helping members get more from the great outdoors, Experience Freedom offers a choice of glamping accommodation, motorhome hire and tent camping, all of which are available to non-members. Motorhome hire, including some discounted hire schemes can be found here https://www.experiencefreedom.co.uk/motorhome-hire/
Experience Freedom is operated by the Caravan and Motorhome Club, a membership organisation with a wealth of experience in operating high quality campsites.
Caravan and Motorhome Club members can save up to 10% on glamping accommodation for their friends and family staying at the campsite at the same time, it is automatically applied to the booking when the membership number is used. To book friends and family, simply call on 01342 777533 to make a booking with your Club membership card.
To find out more, visit www.experiencefreedom.co.uk
Media Contacts:
For more press information, please email Nikki Nichol at the Caravan and Motorhome Club on nikki.nichol@camc.com or by calling 07771 834443. Or contact the Four Communications press team, by emailing Victoria Eltis and Fleur van Heusde at camc@fourcommunications.com or call 07891 423322.