The Caravan and Motorhome Club provides Apprentice opportunities
19/07/2023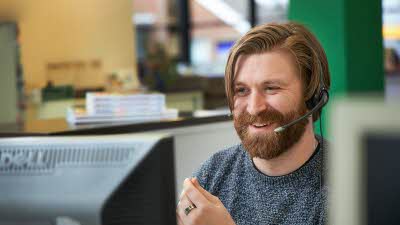 The Caravan and Motorhome Club is the UK's number one rated touring Club and a major UK tourism player representing over 1.1 million members.
The Club believes in delivering exceptional customer service and invests in its 1,300 plus workforce to ensure they have the necessary skills to perform their roles.
Prime Minister, Rishi Sunak, was recently quoted in the press as saying "We need world-class apprenticeships."
In January 2023 the Club was proud to launch its Apprenticeship scheme and welcomed its first cohort of apprentices into the Club's award-winning Contact Centre on 13 March 2023.
The apprentices are an enthusiastic group of people who are enjoying learning about how the Club helps its members to get the best from the great outdoors and developing their professional skills in the process.
The apprentices are working through a 12 month Customer Services Level 2 programme and the Club is supporting them every step of the way, in conjunction with an external training provider.
Due to the popularity and success of the initial apprentice programme, the Club is also currently recruiting for its second apprentice cohort into the Contact Centre which will start on 4th September 2023 for a 15 month period. Further information can be found here.
This is an exciting new venture for the Club which it hopes to build upon and will also look at every opportunity to upskill current employees via an apprentice programme, if it is the appropriate method of training.
The Club, which is a major employer in the local Sussex area, has been delighted to also welcome a number of work experience students through June and July at its offices in East Grinstead. The students have observed and participated in several areas of the business and have found this an invaluable experience to help them decide their future routes of study.
Kerry Upton, Caravan and Motorhome Club Head of HR, said: "A large percentage of our staff stay for many years proving that the Club is a great place to work, surrounded by supportive colleagues and leaders. We believe this is the ideal environment to welcome apprentices and work experience students and help them to develop skills for their future careers. We strive to create a learning culture and have received much positive feedback from our apprentices. As an organisation that was founded in 1907 we believe it is right that we do all we can to create high-quality opportunities for young people to develop."
Notes to Editors
About Caravan and Motorhome Club
Championing and helping its members get more from the great outdoors, whether glamping or touring, the Caravan and Motorhome Club represents the interests of over 1.1 million caravan, motorhome, campervan and trailer tent owners across the UK. With over 116 years of knowledge and expertise, the Club has a wealth of experience and prides itself on offering great value and high quality campsites for tourers and glampers.
Caravan and Motorhome Club membership is just £59 per year and provides members with access to over 2,700 quality campsites across the UK and Europe. As the UK's No. 1 rated touring club* it makes sure members get the most from their membership, saving them money with great value offers whether touring or at home.
The Club also offers a range of escorted European tours which are protected by ABTA. Plus escorted and independent tours in Australasia, North America and Southern Africa which are also fully protected, either by ABTA or ATOL when a flight is included. All members can take advantage of expert advice, overseas travel services, cover and insurance and exclusive member offers and discounts.
For further information about becoming a member of the Caravan and Motorhome Club, please visit www.camc.com or call 01342 318 813.
*As rated on Trustpilot
About Experience Freedom
Experience Freedom from the Caravan and Motorhome Club provides glamping accommodation in some of the most beautiful locations in the UK. Helping members get more from the great outdoors, Experience Freedom offers a choice of glamping accommodation, motorhome hire and tent camping, all of which are available to non-members. Motorhome hire, including some discounted hire schemes can be found here https://www.experiencefreedom.co.uk/motorhome-hire/
Experience Freedom is operated by the Caravan and Motorhome Club, a membership organisation with a wealth of experience in operating high quality campsites.
Caravan and Motorhome Club members can save up to 10% on glamping accommodation for their friends and family staying at the campsite at the same time, it is automatically applied to the booking when the membership number is used. To book friends and family, simply call on 01342 777533 to make a booking with your Club membership card.
To find out more, visit www.experiencefreedom.co.uk
Media Contacts:
For more press information, please email Nikki Nichol at the Caravan and Motorhome Club on nikki.nichol@camc.com or by calling 07771 834443.
Or contact the Four Communications press team, by emailing Victoria Eltis at camc@four.agency or call 07891 423322.