As Nevedas
Rapadoiro, Noicela, 33a, A Coruña, 15105, Spain
View on map
Gallery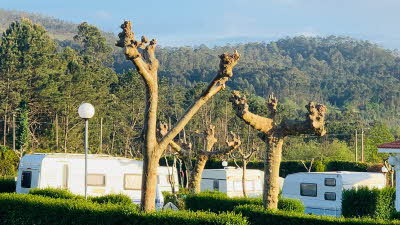 Why stay here ...
Camping As Nevedas is a small cosy family run campsite situated between sea and mountain in the "Costa da Morte" region of the Galician coast.
All pitches are grass and separated by hedges to give a more intimate feeling to your stay. Free WIFI on every pitch, two swimming pools. Terraced bar/cafeteria overlooking the pool area,campsite and the surrounding countryside
As Nevedas is the ideal place for nature lovers, there´s many hiking and cycling routes nearby, such as the "refugio de verdes" the "route of the water" the "route of the lighthouses" just to mention some. A Costa da Morte is also ideal for water sports such as, surfing, diving, fishing, kayaking and many more.
Galicia is also known as the kitchen of Spain and the Costa da Morte is the place for the finest white and red wines, the best fish, seafood, the best meats and the freshest produce from the local orchards and Estrella Galicia, considered the best beer in Spain.
The campsite is ideally situated for visiting the Costa da Morte, the city of A Coruña, the Tower of Hercules and the only Roman lighthouse in the world still used as original intended, A Coruña has one of the two British cemeteries in Galicia and the longest urban seaside promenade (13km) in Europe.
In this spectacular area you can also visit the Cathedral of Santiago, pilgrim's destination from all around the Globe, the historical cities of Betanzos and Lugo, the Ezaro waterfall, the only river in the European mainland that flows into the sea in cascade and Cabo Finisterre, declared the end of the world by the Romans and the final destiny for the pilgrims that do the Camino to Santiago.
Around and About
Baldaio - Surf beaches, Costa da Morte, Route of the lighthouses, Route of the waterfallas, A Coruña - Tower of Hercules, Santiago Compostela, Cape Finisterre.
Prices
Map
Sites key: Overseas Site
Postcode:

15105

Region:

Spain

Distance to Calais: (kms)

0
GPS:

Lat 43.292282813 / Lon -8.623275797

Michelin map no.

0