MP Simon Jupp visits Putts Corner
29/03/2022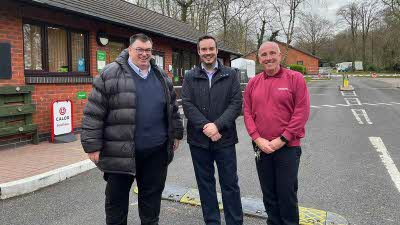 Photo of Wayne Brown, Regional Manager of South West; Simon Jupp, MP; and Peter Wood, Site Manager at Putts Corner Club Campsite
As part of English Tourism Week, on Thursday 17 March, MP and current Chairman of the All-Party Parliamentary Group for Hospitality and Tourism, Simon Jupp visited our stunningly tranquil Putts Corner Club Campsite in Sidmouth, Devon.
Putts Corner Club campsite is situated within Mr Jupp's constituency and he spent the day being shown around the campsite by our helpful and friendly site staff and finding out how the Caravan and Motorhome members support the local community when visiting the South West area of the UK.
Photo of MP Simon Jupp speaking at the reception at Westminster Palace with Tourism Alliance
Having caravanned as a child with his family in the UK, Simon was keen to see how the popular pastime had changed and evolved over the years, as well as what the Club's campsites offer to our members.
The following week, on 24 March, the Club co-hosted a reception with Tourism Alliance in celebration of English Tourism Week at Westminster Palace. We were extremely lucky to have Baroness Doocey and Simon Jupp, MP both speaking about the importance of the tourism industry. Nigel Huddleston, Parliamentary Under-Secretary (Department for Digital, Culture, Media and Sport) also came along to offer his support, as well as our Club Chairman Grenville Chamberlain OBE who spoke at the event.
Photo of Caravan and Motorhome Club Chairman, Grenville Chamberlain OBE
The tourism industry has faced unprecendented challenges over the past two years, and with newer difficulties on the horizon, especially with the rising cost of energy and fuel, the Club is able to support our members, ensuring that we are doing all we can to support our members favourite pastime.