Club supports Queen's Green Canopy initiative
08/03/2022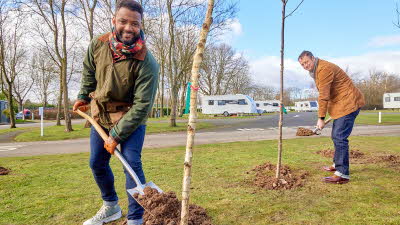 TV presenter and farmer JB Gill and TV presenter and Caravan and Motorhome Club member Matt Allwright (pictured above) joined Club Chairman Grenville Chamberlain OBE, Director General Nick Lomas and Director of Marketing and Membership Services Harvey Alexander at Chapel Lane Club Campsite for a very special tree planting ceremony.
Together, they planted three wild cherries and three silver birches to mark the Club's support for Her Majesty The Queen's Green Canopy initiative.
The Club will be planting a total of 2,022 new trees across the network this year. They will be native trees purchased from suppliers that are certified as 'Plant Healthy' – which means that they have been handled in a manner that promotes plant health and biosecurity.

[Left to right] Harvey Alexander, Grenville Chamberlain, JB Gill, Nick Lomas and Matt Allwright at Chapel Lane Club Campsite
The importance of trees is clearly highlighted by the Woodland Trust in their 'State of the UK's Woods and Trees 2021' report, which explains that "trees are vital for a healthy, happy society". A large number of Caravan and Motorhome Club campsites are located near woodland or have woodland walks nearby. Walking through trees and woodland is also a wonderful way to enhance your mood and improve your mental and physical wellbeing.
Nick Lomas said: "We are proud to pledge our support to The Queen's Green Canopy and plant trees in recognition of Her Majesty's Platinum Jubilee in 2022. Tree planting is one of the most engaging and environmentally friendly activities that people can take part in and help to enrich the planet. The benefits of tree planting and the removal of carbon from the atmosphere benefit the wider population, not just those who live or stay the most locally. The Caravan and Motorhome Club is on a continuous journey of responsible actions to reduce our environmental impact and help our members, guests, and future generations, get more from the great outdoors."