Bailey Adamo 69-4 motorhome review
Bailey Adamo 69-4 motorhome review
Bailey has switched from its usual Peugeot Boxer base vehicle to the Ford Transit for the three-strong Adamo range. Nick Harding tests and rates the four-berth 69-4 which features an end-washroom and drop-down bed.
It's hard to believe that Bailey's first motorhomes made their debuts almost 10 years ago. Up to now, everything has been based on Peugeot's Boxer with an Al-Ko chassis extension. Now, though, it's Ford's turn to get the Bailey treatment with the introduction of a trio of Transit-based coachbuilts that are a bit more continental in their layouts than some rivals. Here we take a look at the end-washroom, drop-down bed, four-berth 69-4.
Build quality – 77%
Bailey's Alu-Tech construction method is used, featuring GRP outer and inner skins, roof and underfloor, along with composite plastic framework. This all comes with a transferable, six-year body integrity warranty. The white bodywork is complemented by metallic silver for the cab. There are mounting points for a bike rack at the back, near-flush-fitting side windows and an 80W solar panel. Brackets can be fitted for an awning. The MTPLM is 3,500kg, with a decent 410kg payload.
Driving – 84%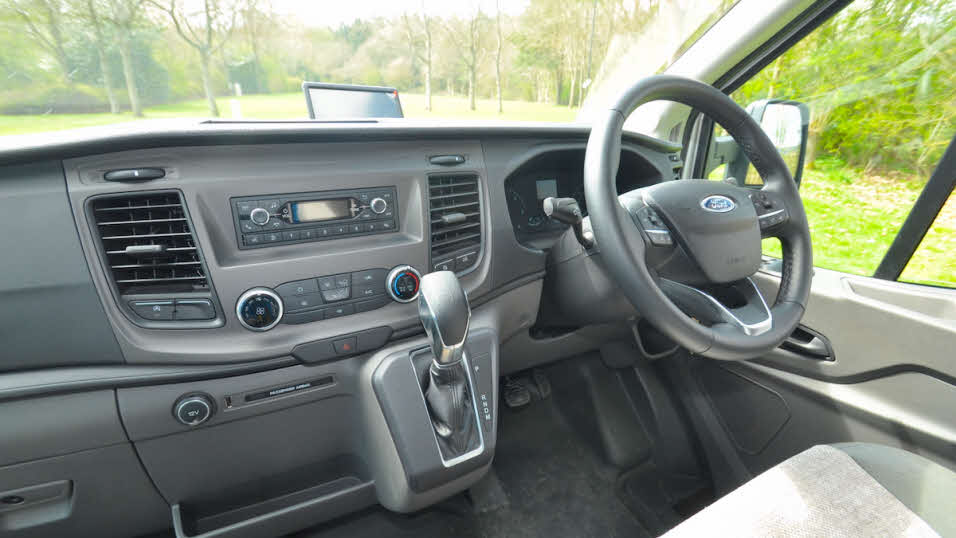 Bailey specifies all its Fords with the 158bhp engine and six-speed automatic transmission. It's a happy combination, making for relaxed driving, and there's no trouble keeping up with other road users. Limited mileage on this test meant it was hard to gauge an accurate miles-per-gallon figure, but 30 or better should be well within reach.
Ford's cab is particularly user-friendly – I like everything from the chunky steering wheel with lots of controls to other car-like features ranging from air conditioning to electric heated door mirrors, rain-sensing windscreen wipers, automatic headlights, USB ports, lots of different storage pockets and more. The central stereo/information system stretches to a rear-view monitor and radio with FM/AM/DAB – but there is no sat-nav.
Overhead is an opening sunroof with open shelving all round. If you want to take a full complement of four on your travels, the two rear seats, which are housed in the settee bases, are easy enough to pull into position.
Daytime – 85%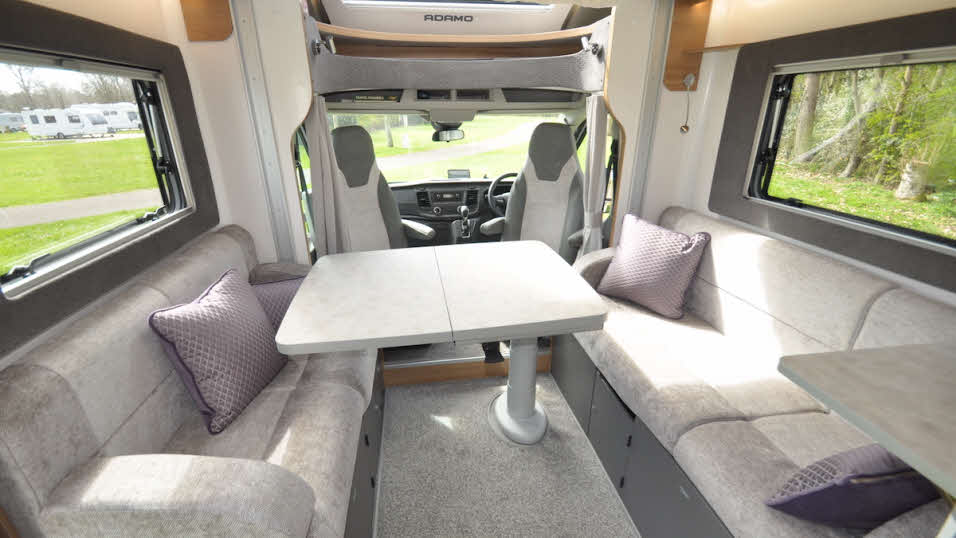 The cab seats are very easy to swivel (the handbrake's drop-down action is a big help), contributing to a generously proportioned lounge.
There's a step down from the cab to the main living quarters, with the settees starting immediately behind the cab area. Another typically continental touch is the fixed pedestal-leg table. The settees aren't the longest – certainly not long enough for adult-length single beds. As for the table, I like its electrical height operation and the fact it can be folded but it's not the sturdiest and, in my opinion, it's a little too big.
Storage space is mixed. There's a sizeable garage accessed from both sides at the back and a massive wardrobe/clothes store in the washroom above this. But elsewhere it's a bit restricted. The drop-down bed precludes any upper lockers in the lounge, and settee storage space is curtailed by the travel seats. In fact, I do wonder if this vehicle is better as a two-berth – leaving out the rear travel seats (or making them an option) would potentially save pounds and give you more storage space.
Night-time – 80%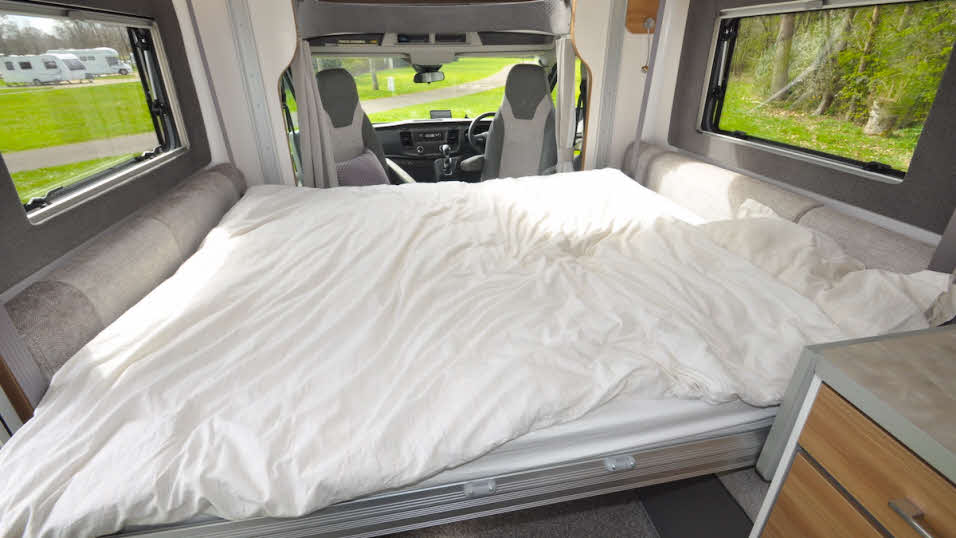 If there's just the two of you, you'll love the fact the main bed can be lowered to a point where it's easy to just hop in. A ladder is supplied if you want it higher, for example if you need to make a second double from the lounge seating (not the easiest of procedures). The main bed doesn't obstruct access to the habitation door, plus it's possible to leave your duvet on it when it glides back up to its daytime position. There's also a manual override should you have an electrical problem.
The six lights on the underside of the bed were very bright so a dimmer function would have been great. There's lots of ambient lighting elsewhere, plus reading lamps. Heating is via Truma's trusty Combi 4 system.
Kitchen – 74%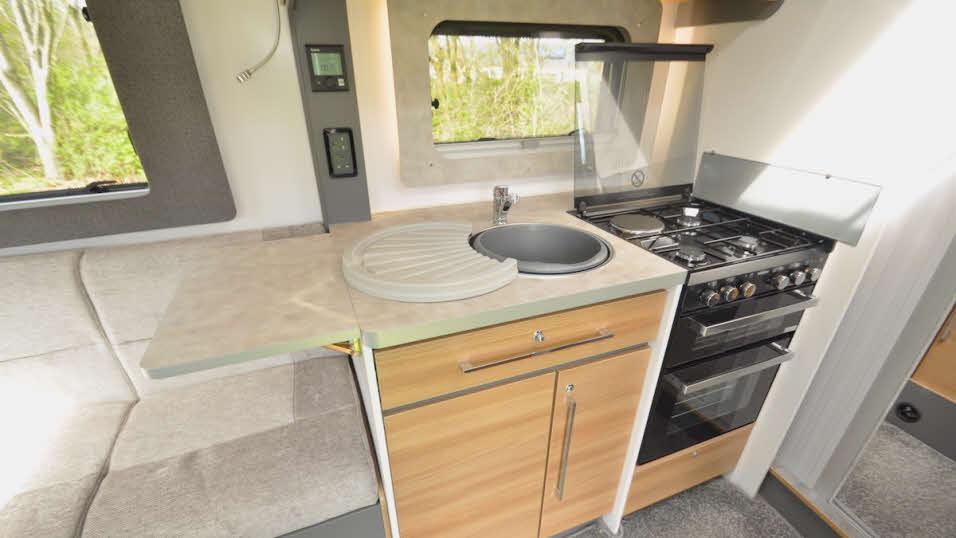 Cooking facilities are covered by a Thetford full cooker – three gas rings, electric hotplate, separate grill and oven. A microwave is a popular option but think carefully about the locker space you lose. There's a handy worktop extension, and a large cutlery drawer as well as a decent amount of locker space (although the gas locker impinges on the room under the worktop).
Two mains sockets are close by, with one at right angles to the other – a clever touch –while the fridge is a slimline 142-litre Thetford model with automatic energy selection.
Washroom – 74%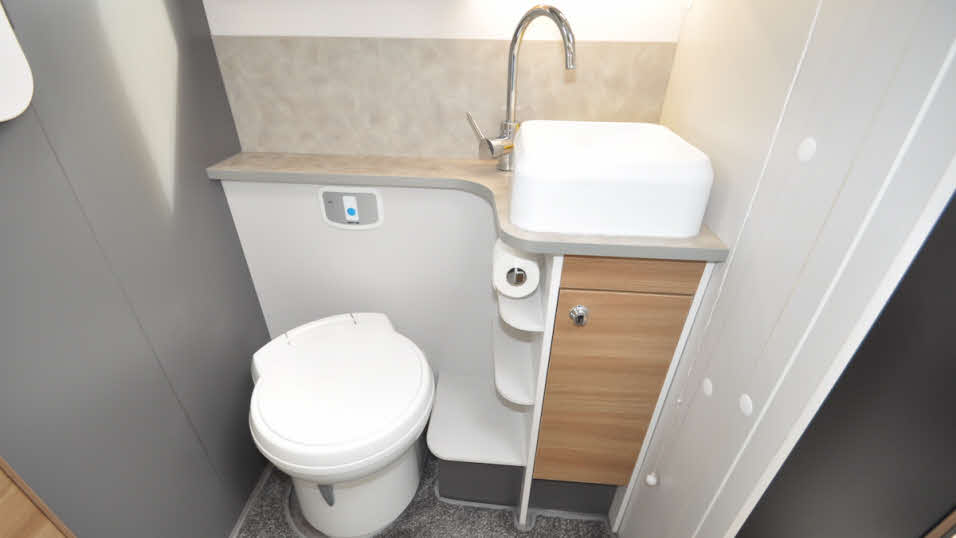 There's a small step up from the kitchen to the washroom, accessed via a tambour door that's an effective space-saver. The shower cubicle is plastic lined, with two plugholes and an Ecocamel water-saving showerhead. I'd have preferred a deeper shower tray.
On the nearside is a Thetford swivel-bowl toilet and countertop basin, while the rest of the room is taken up by the wardrobe, which is one of the biggest you'll ever get in a motorhome. The hanging space might not provide a full drop but there's extensive shelving to three sides.
Details – 84%
There's an extensive list of features in the Adamo. The reading lamps on stalks in the lounge have USB ports and two levels of illumination. There's a television holder just inside the habitation door (which has a flush-fitting window and flyscreen), along with open shelving and coat hooks. All three doors feature central locking.
The garage area can be accessed via a sliding door in the washroom and features lashing points, a strip light and 230V and 12V sockets.
Despite the 69-4's competitive price there are plenty of luxury touches including concertina blinds and flyscreens and a Status 550 TV aerial.
On the negative side, the gas locker set-up doesn't make it easy to change cylinders while a heating outlet in the step between the kitchen and washroom would have been ideal for instant warmth when you get out of bed.
Verdict – 80%
This is far better as a two-berth than a four as the travel seats steal vital storage space and the second double bed isn't that easy to make. Apart from that, this motorhome works on so many levels, with a decent specification at the right price. Added to that, the Ford Transit base is certainly impressive.
More like this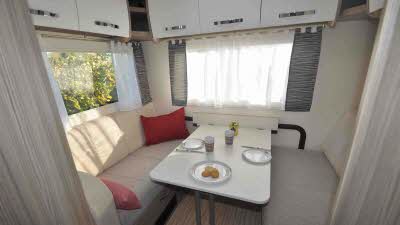 By Nick Harding
04/01/2019
Nick Harding checks out a competitively priced option from Spanish brand Benimar