Parchfields Farm
Trent Valley, Colton Road, Rugeley, Staffordshire, WS15 3HB
View on map
Gallery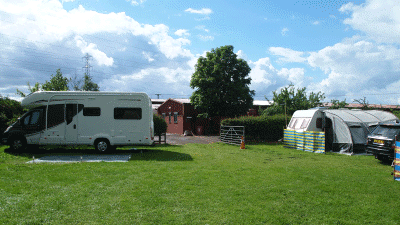 Prices
Map
Directions
You need to be a Club member to view directions to this Certificated Location. Log in
Sites key: Certificated Location
GPS:

Lat 52.769962 / Lon -1.926891

OS field ref:

SK052194

OS map ref:

128
Transport links
Nearest train station: Rugely Trent Valley
Reviews
close panel
Parchfields Farm
We have just stayed at this lovely site for 4 nights. Yesterday we attended a wedding at Hawkesyard Estate, Rugeley and this was the main reason for choosing this site - perfect for this. Also perfect for visiting surrounding towns/shopping. Both McArthur Glen Outlet and Stafford were 20 mins away from the site. Also noticed there was a large reservoir not too far away, that we didn't manage to visit. Note on previous review, first gate with access to the field is now closed and locked. So it is easier to get into the field, in the second gate, in the yard by the units. The field is not the biggest so it would be tight to fit five vans on (without awnings), but it is flat and depending on where you pitch, you may need extra electrical cables. (Electrical points are located in the telephone box) There are also two hardstanding pitches just outside the gates, but they are closer to the work units and there is no separation between the hardstanding pitches and yard/work units. You can hear the trains, but they are not loud and of course those visiting the work units. Overall lovely site, ideal overnight stay/weekend getaway/ location if you have an event locally. But, would probably not stay for a longer amount of time. Site fees have increased to £15 a night, which is still very reasonable.
Parchfields Farm
Site easy to find. Owners very friendly and accommodating. One comment we would make is don't use first entrance on right when approaching field - this is very tight, go straight on and turn back on yourself in yard to use top gateway to site. Weather was very kind to us and plenty of places to see in area. Check with owners if it has rained heavy as it could be rather muddy. You may need two electric cables depending on how far away from electric hook-up you park.
Parchfields Farm
Directions to site good, but on arrival found that gate very tight to enter field, which was quite small and very wet and muddy.  Chose the site as it had hard standing and when booking requested hard standing and was told it would be sorted on arrival. However, on arrival found just 5 pitches on the field and no sign of landowner. Unable to back up to post as requested due to overhanging trees, which could easily have been trimmed back. After our arrival two motorhomes appeared and parked on the concrete outside the field. Obviously they knew they could do this. The games room appeared to be just a small shed with a football game inside and a few books. Don't know where the tennis was, not that we would have wanted to play. Did not see the landowners at all and when we left on the Friday morning we put payment through their door. Were told by somebody working in some buildings that they had gone away for the weekend. Not wanting to risk the tight gate to exit we requested a motorhome to move on the concrete so that we could exit that way and double back on to the drive. Overall, the CL was in need of some TLC as it seemed uncared-for. We won't be using it again.