Chris Froome
Takethedogalong replied on 12/06/2019 15:21
Wherenext replied on 12/06/2019 19:04
Takethedogalong replied on 12/06/2019 22:59
ABM replied on 12/06/2019 23:26
Posted on 12/06/2019 23:26
Elbows and ribs can normally be strapped up if clean breaks, but the femur is where cyclists power is generated
. I can only wish him the best for a speedy recovery.
Mark well the date -- Wednesday June 12th -- now start counting until he's back in the saddle again ( oops that's a Gene Autry Song I think )
ABM replied on 13/06/2019 22:55
BJL replied on 14/06/2019 11:57
Posted on 14/06/2019 11:57
Very nasty accident, especially given that Chris was going for his 5th win in the TDF. We wish him and his family all the very best and hope Chris is able to make a full recovery from this; hitting a wall at 54kph would be bad enough in a motor, but so very much worse on a bike! All the best Chris and we hope you are turning the pedals again very soon.
Takethedogalong replied on 15/06/2019 10:19
ABM replied on 15/06/2019 15:48
Posted on 15/06/2019 15:48
It seems he's done a right good job on his body, TDA !
They say he's damaged his lungs and another bone in that area. I cannot remember if it was Scapula or Sternum but he'll be able to do an indepth report on pre- Brexit hospitals in Europe as well as get the latest biography moving !
JVB66 replied on 15/06/2019 15:50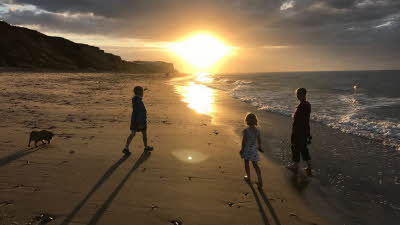 Image: Cromer beach, near Seacroft Club Campsite, Photo by Julie and Lee Weatherill
Find late availability on our UK Club campsites over the next eight weeks!