The Caravan and Motorhome Club launches its 2018 professional driving courses
17/10/2017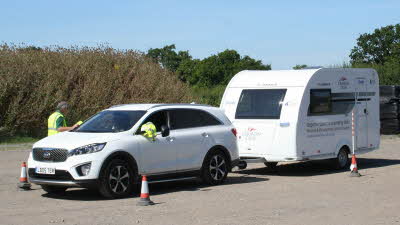 For new caravanners and motorhomers, or those that feel they need a refresher in driving their leisure vehicles, the Caravan and Motorhome Club has launched its 2018 practical training courses across 14 locations in the UK. The courses have been designed specifically to give members additional peace of mind before they head off on their touring adventure.
Running from February through to October next year, each training course provides professional safety instructions and caravanning techniques. Sessions include:
- Manoeuvring advice
- Hitching and towing safely
- Straightforward safety checks
- Understanding the laws that affect caravanning
- Practice in manoeuvring an outfit forwards and backwards
- Understanding loading and how it affects towing
The training courses are split into: Practical Caravan Manoeuvring; Caravan Manoeuvring; Motorhome Manoeuvring. The training can be completed within seven hours, whilst those who are completely new to caravanning can choose the Practical Caravan Manoeuvring course which offers 10 hours of professional instruction split over a day and a half.
The Practical Caravanning Course was devised in co-operation with the Road Transport Industry Training Board. Each Training Centre is staffed by professional Instructors – the majority being experienced caravanners and the courses are designed to be as enjoyable as they are informative.
Harvey Alexander, director of marketing at the Caravan and Motorhome Club said; "We have been providing members with 110 years of enjoyment in the great outdoors, offering expert advice and inspiration for caravanners and motorhomers of varying levels and experience. The aim at the end of this is to encourage the driver's confidence and peace of mind on the road. The courses provide excellent value for money and mean that members have the confidence to relax and enjoy their touring adventure."
The courses cost:
- Practical Caravanning Course - £175.00
- Caravan Manoeuvring Course - £150.00
- Motorhome Manoeuvring Course - £175.00
Participants also benefit from the opportunity to save a 5% discount on Club caravan, motorhome and car insurance for a new policy or at the next renewal. Evidence of course completion is required.
The courses operate in the following locations, * mark the locations that offer motorhome courses:
SRUC Oatridge Campus, Broxburn; Carole's Driver Training, Finedon, Elddis, Consett; P Vowles Training, Devizes; Evesham College, Evesham; L Busters Towing Training, Hassocks; Road Safe Wales, Llanelli; Towing Solutions, Macclesfield; Diamond Driver Training, Newark; Myerscough College, Preston*; Duchy College, Stoke Climsland*; Sparsholt College, Winchester; Tilston Training, Wrexham; Askham Bryan College, York