Free family fun throughout the school holidays with the Big Little Tent Festival
24/06/2016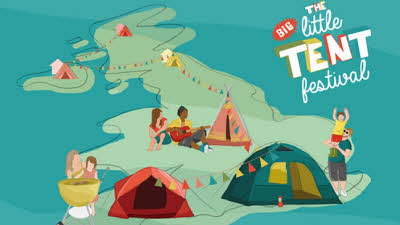 The Big Little Tent Festival will focus on pitching a tent in your own back garden, making memories together and exploring the nearby wildlife whilst being close to home comforts.
The Caravan Club's very own Big Little Tent Festival will commence on the weekend of 16 and 17 July, but, if you can't make that, families are also being encouraged to join in the fun throughout the summer holidays on a day that works best for them, right up until 19 September. Those wanting to 'pitch-up' and get involved for the first time should sign up to the festival experience and order their free festival pack at caravanclub.co.uk/BLTF. The packs include wristbands, bunting to help transform the garden, recipe suggestions to be cooked over a campfire (or barbecue), festival flags and invitations for little ones keen to get their friends involved in the garden camp out.
There are plenty of chances to win prizes too – every family who signs up will be entered into a prize draw to win a European camping holiday. There are BBQ prizes across the social media platforms live from now until 19 September 2016 along with Keela outdoor clothing and Dometic cool bags. Simply share your photos and videos of you showing off your outdoor cooking skills during the Big Little Tent Festival using #BigLittleTentfest16 to be in with a chance of winning.
Harvey Alexander, director of marketing, The Caravan Club says:
"The Big Little Tent Festival is back for another year to encourage the next generation of outdoor lovers to embrace the summer festival season and get up close to British wildlife in their own gardens for the very first time. Plus, mum and dad can relax in the knowledge that the kettle and other home comforts are just a few metres away! We know from talking to our members that for many of them, their love affair with the great outdoors started with camping and at over 40 of our Club Sites across the UK, families can do just that."
For great offers from Keela and Capital Outdoors, exclusive to The Big Little Tent Festival, visit The Caravan Club's website. Offers include the Ultimate Camping Combo kit for just £45.95 and other exclusive deals.
Families can follow the fun on Facebook Big Little Tent Festival, Twitter: @BigLittleTent and Instagram @BigLittleTentFestival, and join in the festival feeling with the hashtag #BigLittleTentFest16.
For further information and details on The Caravan Club's Little Big Tent Festival visit:www.caravanclub.co.uk/BLTF
---
Contact Gigi Mann, Kelly Adams or Kate O'Brien at Siren Communications on 020 7759 1150 or email caravanclub@sirencomms.com
Nikki Nichol
External Communications and Sponsorship Manager
The Caravan Club
01342 336 797 / 07771 834443
nikki.nichol@caravanclub.co.uk
Notes to editor
The Big Little Tent Festival was launched by The Caravan Club in 2015. Back for its second year, the festival aims to inspire families to get outside this summer and spend more time together exploring nature and the world around them.
Champions of the great outdoors, The Caravan Club represents the interests of over one million campers, caravanners and motorhomers across the UK. The Caravan Club has over 40 Club Sites across the UK which offer camping facilities with no membership requirement. To book a tent pitch online visit www.caravanclub.co.uk/camping.
Members of The Caravan Club have access to over 200 Club Sites and 2,500 privately owned places to stay. The Club provides all members with expert advice, overseas travel services, financial services and exclusive member offers and discounts.
Big Little Tent Festival headline sponsors
Keela
Keela provides quality outdoor clothing packed with innovation and technology. The range includes waterproof, lightweight and thermal jackets and trousers as well as fleeces, base layers, tops, shirts, trousers and accessories
Capital Outdoors
Capital Outdoors offers the latest leisure technology on the market alongside everyday outdoor staples. Their range has everything needed to make the most of the next adventure, from a scenic stop in a cosy caravan or a challenging all-weather tent and hiking trip.