Have an inspiring European adventure in 2018 Caravan and Motorhome Club adds new overseas sites
17/10/2017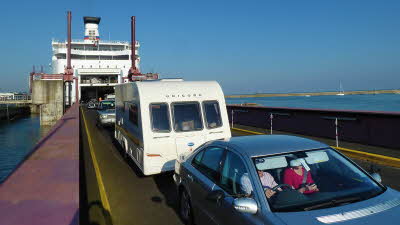 The Caravan and Motorhome Club offers its members more adventures than ever before with the addition of over 20 new sites and eight new ski sites for 2018, taking the total number of its European sites to more than 300.
The new sites are located in France, Spain, Italy, the Netherlands, Ireland, Belgium, Luxembourg, Austria, Switzerland and Germany, meaning no matter what adventure you're looking to have, the Caravan and Motorhome Club has the right site from you.
Why not go wine tasting in France, relax on a Spanish beach, or how about soaking up some culture in the Netherlands? Alternatively, you could explore the natural beauty of the Emerald Isle, enjoy Italy's excellent cuisine, indulge in the best beer and chocolate in Belgium or discover the delights of Luxembourg.
Travellers looking to ski or try out other winter sports are spoilt for choice with ski sites in Austria, France, Germany, Italy and Switzerland.
Harvey Alexander, director of marketing at the Caravan and Motorhome Club, said: "Our members are becoming increasingly adventurous and we are really excited to be able to offer them even more inspiring adventures in such a wide variety of new sites across Europe – both for ski and summer holidays. All of the sites have been inspected by us, so our members can expect the Club's usual high standards."
Members travelling to the Club's European sites can also take advantage of some great ferry offers. The Club works with all major ferry operators – Brittany Ferries, Stena Line, DFDS and P&O – to bring its members discounts throughout the year and great value rates across popular holiday sailings including Dover to Calais, Hull to Rotterdam and Portsmouth to Fishbourne. Members can even take advantage of discounts of 10% off fares from Folkestone to Calais with Eurotunnel. Ferry crossing savings include taking caravans for free on selected crossings and reduced rates for motorhomes.
For members who haven't ventured across the channel in their leisure vehicle before, the Club will give them confidence to become real pioneers with its 'First Time Abroad' guide which includes a three-step process for planning an overseas trip with a caravan or motorhome including where to stay, booking a ferry and getting insurance.
Tips include scheduling your arrival time to be before or after lunchtime, as many campsite receptions shut for two hours from midday. Other advice includes packing toilet roll, as some campsites don't supply it, and bringing extra cash as many campsites won't have an ATM.
Members of the Club (membership costs £49 per year) can also purchase a range of quality insurance policies designed with touring in mind including motoring and personal, single-trip, annual multi-trip and long-stay cover options, as well as breakdown roadside assistance, vehicle and passenger repatriation, continuation of holiday travel and/or accommodation, medical and ski cover.
For more information on the Caravan and Motorhome Club, please visit www.camc.com
Ends
Notes to editors
New sites:
France:
Le Paradis in Aquitaine
Le Cabellou Plage in Brittany
Huttopia Versailles and Camping de Paris in the Picardy/Ile de France region
Le Lac de Panthier in Burgundy
Huttopia Ile de Re in Poitou Charentes
Camping l'Ill in Alsace Lorraine
Spain:
Parque Tropical, Val de Vaqueros and Playa Almayate in Andalucia
Alicante Imperium in Valencia
Villasol in Benidorm
Ariztigain in Navarra
Netherlands:
Camping de Papillon in Denekamp-Overijssel
Gulperberg in Gulpen
Italy:
Villagio de Fiori in Sanremo
Ireland:
Eagle Point at Bantry Bay
Belgium:
Kompas Camping in Nieuwpoort
Luxembourg:
Nommerlayen near the Nommerlayen forest
Ski sites:
Grubhof and Natterer See in Austria
Jungfrau in Switzerland
Le Champ du Moulin, L'Escale and Huttopia Bourg St Maurice in France
Belchenblick in Germany
Caravan Park Sexten in Italy
About the Caravan and Motorhome Club
Champions of the great outdoors, the Caravan and Motorhome Club represents the interests of over one million caravanners, motorhomers and trailer tent owners across the UK. Founded in 1907, the Caravan and Motorhome Club has 110 years' experience and prides itself on offering great value and high quality sites for caravanners and motorhomers.
Caravan and Motorhome Club membership is just £49 per year and provides members with access to over 200 Club sites and 2,500 privately owned places to stay in the UK. The Club is investing £300,000 upgrading its Wi-Fi service across the network, installing the service to as many sites currently without Wi-Fi as possible.
The Club also offers a choice of 300 sites across Europe including France, Spain and Germany amongst other destinations. All members can take advantage of expert advice, overseas travel services, insurance services and exclusive member offers and discounts. There is no membership requirement for campers who want to pitch up at over 40 Caravan and Motorhome Club sites.
For further information about becoming a member of the Caravan and Motorhome Club please visit www.camc.com or call 01342 318 813.