A campsite cooking journey
05/09/2023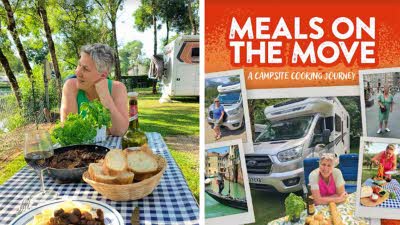 Karen Wright, Caravan and Motorhome Club member and Great British Bake Off contestant has written a cookbook travelogue which will be on sale from 12 September 2023.
Karen is a familiar face on campsites across the UK and Europe and at Club events. Her love of cooking and caravanning is legendary and while she might predominantly be known for baking, Karen is a highly skilled and imaginative cook.
Earlier in the year Karen and her husband John embarked on a month-long European trip with the Caravan and Motorhome Club and Karen had the idea to write a cookbook as a journal, paying homage to each region she visited through cooking recipes typical to the locale.
Travelling through France into Italy and back via Switzerland and North Eastern France, their first stop was near the historic forest of Fontainebleau, where the humble French onion soup was born. Then moving onto Burgundy, the home of rich wine based meals and onwards south they stopped at the rugged Ardèche gorge and then into Provence where they dined on simple locally bought vegetables which Karen cooked under the shade of ancient olive trees.
In Italy, Karen and John stayed in four different regions taking in the delights of places like Florence and Venice. Karen cooked all the Italian staples, pasta, pizza, risotto and more, dining al fresco under a setting sun. In Switzerland, they dined on grilled vegetables and meat, served with potatoes covered in melted cheese all cooked raclette style whilst in view of snow capped mountains. Back in France and pastures new they stayed in four different campsites, and Karen was inspired to make the heartier and comforting foods of this fabulous area of France like creamy pork and apples in cider.
Karen Wright said, "I was inspired to write the book when I was planning a motorhome trip in Europe. The trip was for a whole month and my budget would not stretch to dining out every day for that long. I wanted to eat well, like you would in a restaurant or hotel, and I also wanted to eat meals that were in keeping with the regions we were travelling in. The seeds of this book were sown then, easy meals with style that were suitable for both home and away."
Karen will be on the Caravan and Motorhome Club stand (7.12) at the Motorhome & Caravan Show at the NEC between 17-22 October. Club Day is Tuesday 17 October and Karen will be unveiling a cake, specially made for the Club and members on Club Day.
Meals on the Move: A Campsite Cooking Journal is available from 12 September 2023 at:
Alan Rogers http://ar.camp/motm
www.karenwrightbakes.co.uk
Amazon
Karen's Favourite Recipe
Karen said, "Mushroom bourguignon is so special to me as it was developed after spending a whole summer working on a campsite in Burgundy back in 2009. We revisited the campsite on this trip and found it to be just the same, perfect! The campsite restaurant serves classic beef bourguignon and I sampled it over and over whilst working on the site. I made the mushroom version as it is so much quicker and more suitable for cooking in a non-domestic setting, it is also vegan too. Every mouthful takes me back in time and brings forth all the special memories from a very wonderful place and time."
Mushroom Bourguignon
Ingredients (serves 2)
2 tablespoons oil (I used garlic infused)
1 onion, finely chopped
1 carrot, chopped into small dice
4 handfuls of mixed variety mushrooms chopped chunkily (at least 15)
4 large garlic cloves, crushed
2 tablespoons tomato purée
2 tablespoons plain flour
1 tablespoon dried thyme
1 tablespoon Dijon mustard
8 (or more) small shallots (ideally the size of a small pickled onion)
Half a bottle (or more) red wine (Burgundy preferably)
250ml vegetable stock
Salt and pepper to taste
Large handful chopped parsley to garnish
Method
Heat the oil in a large, lidded frying pan. Cook the onion on a gentle heat for about five minutes to allow the sweetness to develop and become caramelised slightly.

Add the carrots, garlic, mushrooms, purée, thyme, mustard and the shallots and cook for a few minutes to allow the mushrooms to release their juices and then sprinkle over the flour (which will thicken the sauce).

Continue to cook until the mushrooms have wilted a bit then add the wine and stock. Bring to the boil and then reduce to a simmer with the lid partially on.

When everything is starting to become very saucy, remove the lid and continue to cook gently to reduce the consistency to a glossy thick sauce. When the shallots and carrots are tender, season to taste with salt and pepper and scatter over the chopped parsley.
This goes well with pasta, rice mash or gratin potatoes, or of course a lovely crusty baguette!
Notes to Editors
About Caravan and Motorhome Club
Championing and helping its members get more from the great outdoors, whether glamping or touring, the Caravan and Motorhome Club represents the interests of over 1.1 million caravan, motorhome, campervan and trailer tent owners across the UK. With over 116 years of knowledge and expertise, the Club has a wealth of experience and prides itself on offering great value and high quality campsites for tourers and glampers.
Caravan and Motorhome Club membership is just £59 per year and provides members with access to over 2,700 quality campsites across the UK and Europe. As the UK's No. 1 rated touring club* it makes sure members get the most from their membership, saving them money with great value offers whether touring or at home.
The Club also offers a range of escorted European tours which are protected by ABTA. Plus escorted and independent tours in Australasia, North America and Southern Africa which are also fully protected, either by ABTA or ATOL when a flight is included. All members can take advantage of expert advice, overseas travel services, cover and insurance and exclusive member offers and discounts.
For further information about becoming a member of the Caravan and Motorhome Club, please visit www.camc.com or call 01342 318 813.
*As rated on Trustpilot
About Alan Rogers Travel Limited
Alan Rogers Travel Limited (ARTL) first published the Alan Rogers Travel Guides in 1968 with the specific aim of providing holiday makers with the necessary information to make an informed decision about their holiday destination. For over five decades, ARTL have been the trusted experts in travel guides and campsite inspections.
Media Contacts:
For more press information, please email Nikki Nichol at the Caravan and Motorhome Club on nikki.nichol@camc.com or by calling 07771 834443.