Award-winning protection for the road ahead
19/05/2020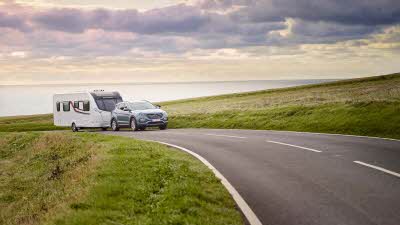 The Caravan and Motorhome Club offers a whole range of tailor-made, award-winning* products - exclusive for members - for vehicles and home.

Even when not in use, your vehicles need to be covered as insurance and cover offer protection against loss, theft and damage; so while staying at home, it's the perfect time to make sure all paperwork is up to date. Call the Club and get a quote on a whole host of insurance and cover products. Visit www.camc.com for more details.

Home insurance: Is your house in order? Our advisors are ready to get you the best price they can on insuring your buildings and contents. Visit camc.com/homeinsurance or call 0345 504 0335 for a quote.
Motorhome, campervan and car insurance: Are you having trouble renewing your policy with your existing insurer? Switch to Club insurance and we'll beat your renewal by £25.** And don't forget, we were voted Best Motorhome Insurance Provider in the 2019 Insurance Choice Awards - visit camc.com/insurance or call 0345 504 0334 for a quote today.
Caravan Cover: We are here for you when you need us, and with over 45 years experience you can relax knowing that you are in reliable hands. Get yourself award-winning cover - visit camc.com/caravancover or call 01342 488 338 for a quote today.
Harvey Alexander, Caravan and Motorhome Club Director of Marketing, said, "We have decades of experience in providing insurance and cover products for our members. We want to make sure our members have the right cover in place, not just for when the touring adventures can begin again, but also while their vehicles are at home or in storage, our products help protect against loss, theft and damage. We're grateful to have such a loyal membership who understand the level of insurance and cover we offer, our renewal figures prove we are providing what they need."
Alexander continues, "And while people have their leisure vehicles at home with them, they can join in with the Big Little TeaTime Festival, every Wednesday. We're encouraging members to have tea in their leisure vehicles and connect with the rest of the touring community through technology and social media, safe in the knowledge their vehicles are covered."
Make sure you renew your cover so you're ready to take to the road again when it's safe to do so.
And don't forget, the Club website and social media platforms have a wealth of hints and tips to help get people through these difficult times and the Club Magazine continues to be packed full of ideas and inspiration for when people are able to begin touring again.
The Club wishes everyone happy touring in the future, until then, please stay home and stay safe.
#WeAreAllInThisTogether

For help and inspiration with future holidays, visit the Club website (www.camc.com) and check out the Club's social media channels @CandMClub.

- Ends -

About the Caravan and Motorhome Club
Champions of the great outdoors – from glamping to touring – the Caravan and Motorhome Club represents the interests of around one million caravan, motorhome, campervan and trailer tent owners across the UK. Founded in 1907, the Caravan and Motorhome Club has a wealth of experience and prides itself on offering great value and high-quality campsites for tourers and glampers. Caravan and Motorhome Club membership is just £54 per year.

For further information about becoming a member of the Caravan and Motorhome Club, please visit www.camc.com or call 01342 318 813.


Media Contacts:
For press information, interview requests and imagery, please contact Nikki Nichol, external communications and sponsorship manager at the Caravan and Motorhome Club on 01342 336 797 / 07771 834 443 or via email: nikki.nichol@camc.com

For press information, please email Zoe Poulton and Helen Coop at camc@fourcommunications.com or call Zoe on 07891 423 440.

* Awarded 'Best Caravan Cover Provider' and 'Best Motorhome Insurance Provider' in the 2019 Insurance Choice Awards
**Terms and conditions apply Premium Saving Guarantee. Offer applies to new customers only and is subject to insurers' acceptance of the risk, their terms and conditions and cover being arranged on a like-for-like basis. To benefit from the price saving guarantee you will need to send us proof of a current renewal quote from your existing insurer, including details of cover and price. Breakdown and Legal cover are excluded and will need to be purchased separately.