Campervan Insurance Promoted to Caravan and Motorhome Club Members
19/02/2019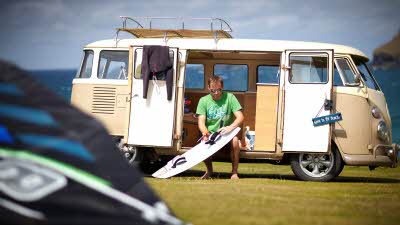 Designed for the more spontaneous habits of many campervanners, the Club's campervan insurance enables them to set off in their beloved vehicle to the UK and Europe for up to 365 days a year, safe in the knowledge they are fully insured.
With around 225,000 campervans and motorhomes in use in the UK, and over 30,000 members owning a campervan, the Club is launching a new web page dedicated to campervanners and their insurance needs, promoting the key benefits of the scheme which retains 9 out of 10 members who renew their policy each year.
The exclusive Premium Saving Guarantee offered by the Caravan and Motorhome Club means that members taking out insurance for the first time will save at least £25 on any existing renewal if they're insured elsewhere*.
New for old cover means if you bought your vehicle from new (and you are the first and only registered keeper and legal owner of the vehicle) and it is stolen or written off while less than 24 months old, the policy will replace the vehicle with a brand new one, subject to availability. And for those that don't get to go away in their campervan as often as they would like, the Caravan and Motorhome Club offers a premium discount for low mileage.
Harvey Alexander, Marketing Director at the Caravan and Motorhome Club said: "We know that a growing number of our members own campervans and we want to make sure we are catering to the needs of this expanding group. We have carefully researched the travel habits of campervanners and ensured our insurance meets their distinct requirements, just as it does with motorhomes; campervan insurance now has its own dedicated web page on our site, with the benefits of the policy clearly laid out."
For more information on the Caravan and Motorhome Club's cover and insurance, visit www.camc.com
- Ends -