Motorhome and Campervan Design Awards 2022
23/02/2022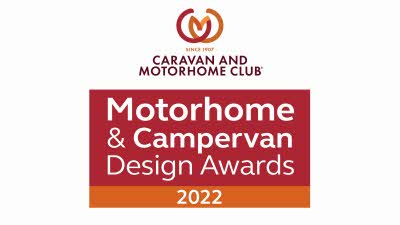 The results of the twenty-third Caravan and Motorhome Club Motorhome and Campervan Design Awards were announced today.
Judging took place during the Caravan, Camping & Motorhome Show at the NEC in February and via desktop assessment prior to viewing the vehicles. Seventy-two vehicles were submitted for the Motorhome and Campervan Design Awards. The Competition provides the best quality, and quantity, of information to members and buyers.
The assessment criteria included electrics and safety, comfort, kitchen/washrooms, air conditioning, heating and ventilation systems, technical aspects and stowage. Although the judges did not drive the vehicles, the scoring of the vehicles still evaluated driving elements such as seating positions, handbrake positions, visibility, safety whilst travelling in habitation area, front-seat comfort and driver ergonomics. Before going to the NEC, the expert panel collectively spent over one thousand hours going through an immense amount of data from websites, brochures, handbooks and entry forms to complete in-depth evaluations via desktop - the judges then went to the NEC to physically view the vehicles to complete this comprehensive judging process.
Nick Lomas, Director General of the Caravan and Motorhome Club said, "Our congratulations to all the winners. The Caravan and Motorhome Club organises this competition and compiles the data based on the important considerations when buying a motorhome or campervan. This invaluable source of information will provide people with the information they will need to help with their next motorhome or campervan purchase. We hope it will inspire many people to look at leisure vehicle holidays as an option to explore, have adventures and great holidays."
Grenville Chamberlain OBE, Chairman of the Caravan and Motorhome Club, who announced the results commented, "Our sincere thanks go to the industry for their continued support of this event. Huge congratulations to all the worthy winners."