Caravan and Motorhome Club introduces new "try before you buy" initiative
25/06/2018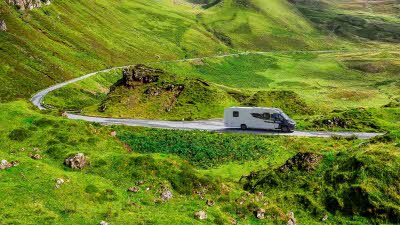 The new initiative has been introduced to inspire outdoor enthusiasts to take the plunge and purchase a new caravan or motorhome. Recognising that buying a new motorhome or caravan is a big decision, especially for those purchasing for the first time; the Club is offering the chance to experience the best of the great outdoors and test the waters by trying it out before they commit. Starting from £190 for two nights hire, for those who decide to buy up to seven days' hire cost is deducted from the final price.
Not only is there the opportunity to try out a brand new caravan or motorhome, including the iconic Airstream, but at the same time there is the chance to experience some of the UK's most beautiful outdoor locations. Whether its mountain climbing, cycling, surfing, a simple ramble followed by a pub lunch or exploring the iconic London sites; there is nothing like being in the great outdoors and the Caravan and Motorhome Club helps members experience it at its very best.
The Caravan and Motorhome Club is working with trusted dealers to offer this and so far has three partners on board offering the service in Cumbria, Shropshire, Manchester, London, Dorset and Sussex. Further locations are also expected to be added in 2019. Airstream renters will have their caravan on a choice of three sites and those trialling other models will have their caravans delivered to site local to the dealer, free of charge. Motorhomes are available to drive straight from the dealer. The Caravan and Motorhome Club are on hand every step of the way to offer technical advice and answering any questions potential caravanners or motorhomers may have.
Harvey Alexander, director of marketing at the Caravan and Motorhome Club said: "The Caravan and Motorhome Club is truly unique in offering the "try before you buy" concept. We know that buying a new caravan or motorhome is a big decision and we want would-be purchasers to feel as comfortable and as confident as possible, in all aspects of this type of holiday.
"It's not just about trialling a particular model and layout but also experiencing the lifestyle as a whole before making a final commitment. We are confident that once they try, holidaymakers will see exactly the amazing benefits and outdoor experiences they can have by being a caravan or motorhome owner."
The "try before you buy" caravans and motorhomes are kitted out with everything somebody would need for a stay. On the first day of the hire, the customer will be greeted and shown around the caravan or motorhome and given a demonstration of how everything works to ensure a totally stress free introduction to their new home away from home.