Caravan and Motorhome Club launches its 2020 professional driving courses
15/01/2020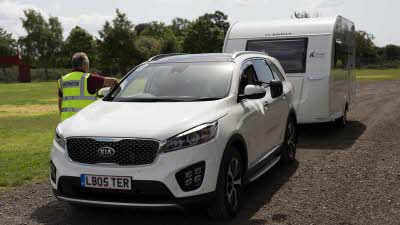 For new caravanners and motorhomers, or those who feel they need a refresher in driving their leisure vehicles, the Caravan and Motorhome Club has launched its 2020 practical training courses across 13 locations in the UK. The Club has over 40 years' experience running training courses that have been designed specifically to give tourers additional peace of mind before they head off on their adventure.
Running from February to October, each training course provides professional safety instructions and techniques. Sessions include:
Manoeuvring advice
Hitching and towing safely
Straightforward safety checks
Understanding the laws that affect caravanning and motorhoming
Practice in manoeuvring an outfit forwards and backwards
Understanding loading and how it affects towing
The training courses are split into: Practical Caravanning; Caravan Manoeuvring; and Motorhome Manoeuvring. The caravan and motorhome manoeuvring courses both take under seven hours, whilst the Practical Caravan Manoeuvring course for people who are completely new to caravanning is completed within 10 hours split over two days.
The Practical Caravanning Course was devised in co-operation with the Road Transport Industry Training Board. Each training centre is staffed by professional instructors and the courses are designed to be as enjoyable as they are informative.
Harvey Alexander, director of marketing at the Caravan and Motorhome Club said; "We are delighted to be able to offer these important courses to tourers. The courses provide excellent value for money and mean that people have the confidence to relax and enjoy their touring adventure with real peace of mind."
The courses are priced as follows:
Practical Caravanning Course - £185.00
Caravan Manoeuvring Course - £155.00
Motorhome Manoeuvring Course - £185.00
Participants also benefit from the opportunity to save five percent on Club caravan cover, motorhome insurance and car insurance for a new policy or at the next renewal - evidence of course completion is required. They also receive the Club's Essential Guide to Touring for free, which is jam-packed with plenty of useful information and normally costs £16.00.
For more information about the Caravan and Motorhome Club's training courses, please visit www.camc.com/trainingcourses
- Ends -
Notes to editors
All courses operate in the following locations:
Askham Bryan College, Askham Bryan, York
Sparsholt College, Winchester, Hampshire
P Vowles Training, Figheldean, Wiltshire
Evesham College, Evesham, Worcestershire
L-Buster Towing Training School, Hassocks, West Sussex
Diamond Driver Training, Newark, Nottingham
Road Safe Wales, Llanelli, Carmarthenshire
The Duchy College, Stoke Climsland, Cornwall
Dave Hughes Driver Training, Darlington, County Durham
Towing Solutions Macclesfield, Cheshire
Tilston Training, Llay, Wrexham
WSM Training, Lochmaben, Lockerbie
Carole's Driver Training, Market Harborough, Northamptonshire