Caravan and Motorhome Club launches its 2021 driving training courses
27/11/2020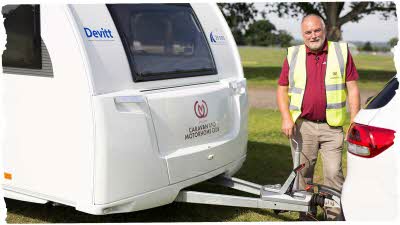 With 2021 looking set to be a great year for touring, now is the time to start thinking about booking a driving training course, whether you're new to caravanning and motorhoming or could do with a refresher having driven or towed your leisure vehicle less this year.
The Caravan and Motorhome Club has launched its 2021 COVID-Secure practical training courses across 13 locations in the UK, plus it is now partnering with Go!Driving to offer B+E driving license courses and tests. The Club has over 40 years' experience running training courses that have been designed specifically to give tourers additional peace of mind – nearly 55,000 participants have benefited from them to date.
Running from February to October, each training course provides professional safety instructions and techniques. The training courses are split into: Practical Caravanning; Caravan Manoeuvring; and Motorhome Manoeuvring. The caravan and motorhome manoeuvring courses both take less than seven hours, whilst the Practical Caravan Manoeuvring course for people who are completely new to caravanning is completed within 10 hours split over two days.
Sessions include:
- Manoeuvring advice
- Hitching and towing safely
- Straightforward safety checks
- Understanding the laws that affect caravanning and motorhoming
- Practice in manoeuvring an outfit forwards and backwards
- Understanding loading and how it affects towing
The Practical Caravanning Course was devised in co-operation with the Road Transport Industry Training Board. Each training centre is staffed by professional instructors and the courses are designed to be as enjoyable as they are informative. The courses are run at centres in Askham Bryan, Darlington, Dumfries, Figheldean, Llanelli, Llay, Macclesfield, Market Harborough, Newark, Plumpton, West Bromwich, Winchester, and Stoke Climsland.
The courses are priced as follows:
Practical Caravanning Course - £189.00

Caravan Manoeuvring Course - £159.00

Motorhome Manoeuvring Course - £189.00
Participants also benefit from the opportunity to save five percent on Club caravan cover, motorhome insurance and car insurance for a new policy or at the next renewal - evidence of course completion is required. They also receive the Club's Essential Guide to Touring for free, which is jam-packed with plenty of useful information and normally costs £16.00.
B+E license courses and tests
The Club is delighted to be partnering with Go!Driving, which offers excellent training courses for drivers who need to secure a B+E license* in order to tow larger vehicles. The courses will be offered at Go!Driving's centres at Enfield, Heathrow, Nottingham, Sheffield, Wakefield, Keighley, Wetherby, and Bolton / Wigan.
The courses are priced as follows:
Outside London:
One day course: £390 and a £115 test fee – inclusive of Club discount

Two day course: £720 and a £115 test fee – inclusive of Club discount

Three day sharing course: £1200 and a £230 test fee – inclusive of Club discount
London prices:

One day course: £540 and a £115 test fee – inclusive of Club discount

Two day course: £900 and a £115 test fee – inclusive of Club discount

Three day sharing course: £1440 and a £230 test fee – inclusive of Club discount
These courses need to be booked direct with Go!Driving: gotowing.co.uk/
Harvey Alexander, director of marketing and membership services at the Caravan and Motorhome Club said: "We are delighted to be able to offer this excellent range of courses to new and seasoned tourers alike, as we know everyone is excited to get back out on the road next year. These COVID-Secure courses provide great value for money and mean that people have the confidence to relax and enjoy their touring adventure with real peace of mind."
For more information about the Caravan and Motorhome Club's training courses, please visit camc.com/courses, call 01342 336666 or email events@camc.com
-Ends-
Notes to editors
*Category B+E Driving License
Passing the B+E test entitles the driver to tow trailers with a MAM of up to 3.5t, providing the gross train weight (vehicle plus trailer plus load) is no more than 7t.
If the towing vehicle weighs more than 3.5t, C1 and C1+E licences will be required.
Those that passed the B+E before 19 January 2013 technically have no limit on the size of trailer they can tow. However, it is important to note that drivers should not exceed the towing capacity of their vehicle and trailer.

About the Caravan and Motorhome Club
Champions of the great outdoors – from glamping to touring – the Caravan and Motorhome Club represents the interests of around one million caravan, motorhome, campervan and trailer tent owners across the UK. Founded in 1907, the Caravan and Motorhome Club has a wealth of experience and prides itself on offering great value and high quality campsites for tourers and glampers.
Caravan and Motorhome Club membership is just £54 per year and provides members with access to 2700 quality campsites in the UK and overseas. The Club offers over 340 campsites across 16 countries in Europe including France, Spain and Italy amongst other destinations. Stays at these sites can be packaged with great ferry offers to create holidays that are protected by ABTA. The Club also offers a range of escorted and independent tours in Europe, Australasia, North America and Southern Africa, all of which are protected by ABTA. All members can take advantage of expert advice, overseas travel services, cover and insurance and exclusive member offers and discounts.
The Club offers a choice of glamping accommodation, motorhome hire and tent camping through its Experience Freedom operation, all of which are available to non-members. Caravan and Motorhome Club members receive a 10% discount on glamping and 15% discount on motorhome hire. To find out more about Experience Freedom, visit www.experiencefreedom.co.uk
Covid-19

The health and safety of members, guests and local communities, is of paramount importance to the Club. As more and more members are able to get out and enjoy the great outdoors through the Club's network of campsites, the Club is asking everyone on site to play their part and participate in a voluntary COVID self-health check before arriving on campsites. They must ensure that they are not experiencing any symptoms that are COVID-19 related, including a high temperature, a new continuous cough, or a loss or change to sense of smell or taste. They must also not visit any campsites if they have been in contact with someone with confirmed or suspected COVID-19 symptoms who has not completed 14 days isolation or if they are under any self-isolation orders.
For further information about becoming a member of the Caravan and Motorhome Club, please visit www.camc.com or call 01342 318 813.