Contact Centre ranked within the Top 50 Companies for Customer Service in the UK
18/12/2015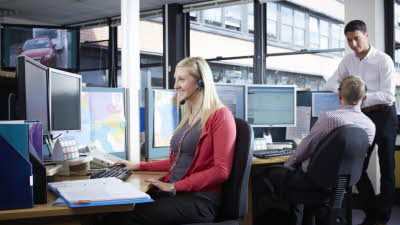 The Contact Centre at The Caravan Club headquarters has been ranked 28 in the Top 50 Companies for Customer Service, alongside companies such as The Co-operative Bank, Met Office and Aviva.
The nationwide programme aims to benchmark organisations to see how they compare with other contact centres both within their sector and across the best in the industry. This enables organisations to gain a better understanding about what drives customer satisfaction across the board and how contact centres perform against others as part of this highly regarded initiative.
The Caravan Club's Head of Operations - Membership Services, Peter Martin, explains why he decided to put The Club forward in this programme, the UK's biggest annual 'mystery shopper' research exercise.
"The main purpose was always to obtain independent feedback to allow us to benchmark the service we offer to members against household names such as John Lewis, Tesco and American Express, to name but a few. The results will help to identify areas for improvement and help us deliver our aspiration to provide even greater service to our members in the future.
"When we were told that we'd not only made the top 50, but were 28 in the UK in our first year, it was a very special moment for all of us."
The results were announced during a gala evening at Manchester United FC's Old Trafford, where Peter Martin and some of his team were there to receive their trophy and hear the other results.
Carole Evans, one of three Contact Centre Managers at The Caravan Club said, "We are all very proud of the achievement which is a true reflection of the standard of service our agents provide on a daily basis. We know that there's a great focus on member service throughout the Contact Centre so to have this proved by the Top 50 mystery shoppers is fantastic, especially so when the majority of the calls were taken throughout our busiest months of July and August. We've now received the full report from Top 50 so that we can see how we can do even better in future."
---
Contact information
Nikki Nichol
External Communications and Sponsorship Manager
The Caravan Club
01342 336 797 / 07771 834443
nikki.nichol@caravanclub.co.uk
Rochelle Claxton
Communications Administrator
The Caravan Club
01342 779346
rochelle.claxton@caravanclub.co.uk

Notes to editor

Champions of the great outdoors, The Caravan Club represents the interests of over one million caravanners, motorhomers and trailer tent owners across the UK.

The Caravan Club offers its members over 200 Club Sites and 2,500 privately owned places to stay, and provides all members with expert advice, overseas travel services, financial services and exclusive member offers and discounts.