Diversify and make the most of the staycation boom -Setting up a Certificated Location
28/09/2020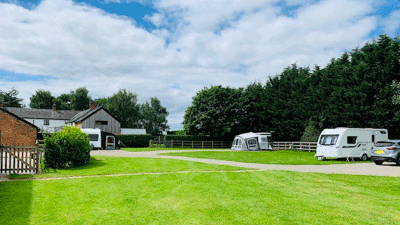 All you need to know about running a five pitch caravan, motorhome and campervan site for a new income stream
With the renaissance of the UK holiday, the Caravan and Motorhome Club is experiencing unprecedented levels of demand for campsite bookings and membership. Many campsites have been fully booked for several weeks. Now is the perfect time to set up your own five-van site.
For business owners with under utilised or spare land, there's a great opportunity to turn it into a new income stream with guidance and support from the trusted experts, the Caravan and Motorhome Club.
The Club - which represents around one million caravan, motorhome, campervan and trailer tent owners - offers a choice of over 200 full-sized campsites, and also provides members with exclusive access to over 2,250 Certificated Locations. Certificated Locations (CLs) are small five pitch campsites, hidden gems offering picturesque solitude away from the crowds, often set in rural areas, on farms or in the grounds of public houses.
The Caravan and Motorhome Club is in a privileged position to be able to issue annual certificates to land owners who wish to run a CL which provides a valuable source of additional income when people diversify and repurpose their land for use as a site.
Setting up a CL is a simple process and the Club will help you every step of the way. Managing your CL enables you to set the prices meaning you will have an additional income stream. Members will phone or email you directly about availability and to make bookings. You will have no advertising worries or expense as the Club will include details of your CL on the Club's website, on its UK Sites App and in the Sites Directory and Handbook. The Club website provides detailed, up-to-date listings of CLs for its members and is regularly updated to keep them informed of the latest additions, any changes and site closures.
Harvey Alexander, Director of Marketing and Membership Services at the Caravan and Motorhome Club said: "Our Certificated Location (CL) network is the jewel in the Club's sites network crown. Our members love holidaying at Certificated Locations and many members cite the CL network as they reason they join the Club. Our knowledgeable CL team will be able to help prospective CL owners through every step of the process to help get their new business venture set up."
For details on how to set up your own Certificated Location site, please visit camc.com/my5pitchsite
- ENDS -