Insurance quote incentive
21/02/2023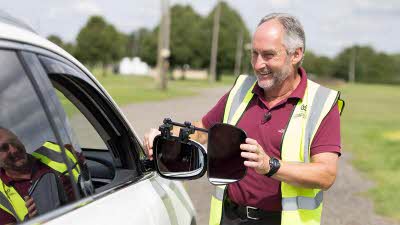 Tourers looking for insurance or cover could win a Caravan and Motorhome Club manoeuvring course when they get a quote
Tourers looking for insurance or cover for their leisure vehicle, car or home, will be automatically entered into a prize draw to win a manoeuvring course, worth up to £204, when they get a quote through the Caravan and Motorhome Club.
The Club's prize draw will launch at the Caravan, Camping and Motorhome Show at Birmingham NEC on 21 February 2023 and is open to members and non-members. Those that want to switch their policy to Caravan and Motorhome Club cover or insurance will need to become a member of the Club. However, anyone tempted to switch their motorhome, campervan or caravan cover to the Club's Caravan Cover, Motorhome Insurance or Campervan Insurance before the end of their current policy ends, will be refunded any cancellation fees, up to a maximum of £50*.
Caravan Cover has been designed by experts, who understand the passion tourers have to get away on a touring holiday and enjoy the great outdoors. The popular cover enjoyed by many Club members and rated 5 Star on Trustpilot**, includes new for old cover for outfits up to 15 years; hotel stay and caravan hire if the vehicle is damaged or stolen while away and cover for accidental damage, fire, theft, vandalism, storm or flood whether the caravan is on the road or in storage.
The Defaqto 5 Star Expert rated Motorhome and Campervan Insurance, is the only 5 Star Defaqto rated cover of its kind in the country open to tourers of all ages. Cover also includes clothing, non-permanent fixtures, fittings, and baggage up to £5,000 plus up to £75 per night for 15 nights' overnight accommodation if the vehicle becomes unusable in an accident.
The Club's Caravan Cover is so popular it is renewed by nearly nine out of 10 Club members.***.
As an added incentive, to take out the Club's Motorhome or Campervan Insurance, the Club will save members at least £25 off their current provider's renewal premium when switching.****
With 50 years insurance experience, the Caravan and Motorhome Club offers a portfolio of cover products. For example, as the Club knows their members like to get away, its Home Insurance can provide full cover for up to 90 days away from home, and beyond 90 days on application, allowing members to make the most of their long-touring holidays.
Harvey Alexander, Director of Marketing & Membership Services for the Caravan and Motorhome Club, comments: "Many people may naturally think we just offer cover for our members' motorhomes and caravans but our financial protection products extends far beyond that to include campervan, car, home, UK breakdown/recovery cover and overseas breakdown and travel insurance.
"We are delighted to be able to offer members and non-members the chance to enter this prize draw and look forward to welcoming visitors to our stand at the show where they can talk to one of our financial product experts to find out more about our competitive range of insurance and cover products."
Winners of the prize draw will be picked at random after the closing date on 21 March 2023 to receive either a caravan, campervan or motorhome training course. The Club runs courses across 17 locations in the UK, they are designed to ensure participants are completely comfortable driving their outfit safely before heading on their outdoor adventure. Sessions include manoeuvring advice, hitching and towing safely, safety checks, understanding the laws that affect caravanning and campervanning and more.
In addition to a comprehensive range of insurance and cover options, the Club also offers MAYDAY UK Breakdown Cover which has members covered 24 hours a day, 7 days a week, 365 days a year for breakdown emergencies nationwide. The Club's Red Pennant Overseas Breakdown and Travel Insurance includes options to cover single trips, including long stays overseas, and multiple trips in a year - providing choices for all members and taking into account individual preferences.
For a quote with the Caravan and Motorhome Club, visit www.camc.com/caravancover or www.camc.com/insurance.
Notes to Editors
*The Club will refund any cancellation fee, up to a maximum of £50, from your current motorhome or campervan insurance policy if you purchase Caravan & Motorhome Club Motorhome/Campervan Insurance before your existing policy has come to an end. Full terms and conditions are available on our website www.caravanclub.co.uk/insurance/motorhome-insurance
** Trustpilot rating correct as at 1 February 2023 but subject to change
*** Based on renewals data for the period 1 January 2022 to 31 December 2022 (91% overall for motorhome and 88.3% overall for caravan)
****Send us proof of a current renewal invitation (including details of cover and price) from your existing insurer/broker, and we'll beat it by at least £25. Offer only applies when switching to the Club, is subject to insurers' acceptance of the risk and cover being arranged on a like-for-like basis. Terms and conditions and excesses may vary from your current insurer and optional extras (such as Breakdown and Legal Expenses cover) are excluded. Future renewal prices will always be less or the same as an equivalent new business price.
*Terms and Conditions apply:
Prize draw terms and conditions for the Caravan and Motorhome Club's Financial Services Quote Incentive, to win one of three free training courses.
Entries to this prize draw will open at 00:01 on 21 February and close at 23:59 on 21 March 2023.
To enter: You need to complete a quotation through the Club for Caravan Cover or Motorhome, Campervan, or Car or Home Insurance within the above time frame.
There is no purchase necessary, nor fee payable to enter the prize draw or to receive the prize.

Entrants must be 18 years or over.

There are three prizes. Each winner will win a free Club training course to be booked and taken in 2023, either the Practical Caravanning or Caravan Manoeuvring Course or the Motorhome/Campervan Manoeuvring course. The prize is not transferable.

The prize winner will be notified by 14 April 2023.

All entrants to this draw must be residents of the United Kingdom of Great Britain, Northern Ireland, the Isle of Man or the Channel Islands.

Entries are limited to one per person.

The Caravan and Motorhome Club will randomly select three winners based on the completed entries made within the eligible time frame.
This selection shall be final; there is no right of appeal or discussion.
The Caravan and Motorhome Club reserves the right at any time to cancel or change the Prize Draw in any way if, at its sole discretion, circumstances arise beyond the Club's control.
By entering you agree that your personal details will be stored and processed by the Caravan and Motorhome Club for the purposes of selecting the winner and for the other purposes explained in our Privacy Policy. In the event of winning, you agree that your name can be used for publicity, in mediums, such as but not limited to, The Caravan and Motorhome Club members' magazine, social media and on the Club's website.
The Caravan and Motorhome Club will not be liable for entries lost or damaged.
The Competition is not open to employees of the Caravan and Motorhome Club or Devitt Insurance Services or members of their families. It is not open to any agents or any other person(s) or company connected in any way with the promotion or organisation of the Competition.
If the winner does not respond within 10 days of being notified of their win, or is unable to comply with these terms and conditions, the Caravan and Motorhome Club reserves the right to draw an alternative winner. No correspondence relating to the prize draw will be entered into.
The promoter is Caravan and Motorhome Club, registered office: Caravan and Motorhome Club, East Grinstead House, East Grinstead, West Sussex, RH19 1UA.
About Caravan and Motorhome Club
Championing and helping its members get more from the great outdoors, whether glamping or touring, the Caravan and Motorhome Club represents the interests of over 1.1 million caravan, motorhome, campervan and trailer tent owners across the UK. With over 115 years of knowledge and expertise, the Club has a wealth of experience and prides itself on offering great value and high quality campsites for tourers and glampers.
Caravan and Motorhome Club membership is just £59 per year and provides members with access to over 2,700 quality campsites across the UK and Europe. As the UK's No. 1 rated touring club* we make sure members get the most from their membership, saving them money with great value offers whether touring or at home. Since 2018, the Club has saved members over £11 million via Member Offers and its Club Shop.
The Club's everyday savings help members get more from the great outdoors while saving money. Members will save £15 per night on UK Club campsites anytime throughout the year – recuperating their membership cost back in only four nights! Members can save on touring essentials with up to 10% off in the Club Shop, deals on caravan cover and five star insurance. They can also take advantage of leisure and family time savings with up to 50% off on days out including award-winning attractions and experiences and with the Club's outdoor partners including the likes of Cotswold Outdoor, Mountain Warehouse, National Tyres and many more.
The Club offers over 300 campsites across 14 countries in Europe including France, Spain and Italy amongst other destinations. Stays at these campsites can be packaged with great offers on Eurotunnel and ferry crossings at the lowest price guaranteed to create holidays that are protected by ABTA. The Club also offers a range of escorted European tours which are protected by ABTA. Plus escorted and independent tours in Australasia, North America and Southern Africa which are also fully protected, either by ABTA or ATOL when a flight is included. All members can take advantage of expert advice, overseas travel services, cover and insurance and exclusive member offers and discounts.
For further information about becoming a member of the Caravan and Motorhome Club, please visit www.camc.com or call 01342 318 813.
*As rated on Trustpilot
About Experience Freedom
Experience Freedom from the Caravan and Motorhome Club provides glamping accommodation in some of the most beautiful locations in the UK. Helping members get more from the great outdoors, Experience Freedom offers a choice of glamping accommodation, motorhome hire and tent camping, all of which are available to non-members. Motorhome hire, including some discounted hire schemes can be found here https://www.experiencefreedom.co.uk/motorhome-hire/
Experience Freedom is operated by the Caravan and Motorhome Club, a membership organisation with a wealth of experience in operating high quality campsites.
Caravan and Motorhome Club members can save up to 10% on glamping accommodation for their friends and family staying at the campsite at the same time, it is automatically applied to the booking when the membership number is used. To book friends and family, simply call on 01342 777533 to make a booking with your Club membership card.
To find out more, visit www.experiencefreedom.co.uk
Media Contacts:
For more press information, please email Nikki Nichol at the Caravan and Motorhome Club on nikki.nichol@camc.com or by calling 07771 834443. Or contact the Four Communications press team, by emailing Victoria Eltis and Fleur van Heusde at camc@fourcommunications.com or call 07891 423322.