Keep your leisure vehicle in tip top condition - tips, hints, advice and inspiration from the Caravan and Motorhome Club
05/05/2020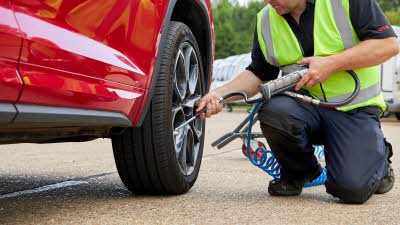 Fab Five Top Tips for basic maintenance
You know the score – tyres, wheel fixings, lights, fluids etc. All the routine roadworthiness checks for your towcar and caravan, motorhome or campervan. On the inside, check electrics, gas system and plumbing are working correctly and carry out routine tasks like sterilising the water system.
Then it's time to roll up your sleeves and get to grips with...
Spare wheel and stowage mechanism. Remove wheel, check age, condition and pressure of tyre. Free up and lubricate the mechanism if need be, especially if it's never been used

If the vehicle's being left longer than expected, chock wheels and leave handbrake off to remove the risk of the brakes jamming on
With battery or mains connection disconnected, clean electrical connections (12V and 230V) and check cables for damage
Check how much gas is left - will you need a refill before your first trip away?

Keep the leisure battery and (towcar/motorhome) starter battery in good condition. Charge them periodically, or use a trickle charger if you have one
Harvey Alexander, Caravan and Motorhome Club Director of Marketing, said, "While tourers aren't currently able to take to the road and visit their favourite sites, locations and tourist attractions, we wanted to offer tips and advice on how to keep their leisure vehicles (if they are on their home properties) in top condition and get them ready for future adventures. We also have our incredibly knowledgeable Technical Advice team on hand to take calls, and there is so much fantastic information on the Club website - whether it's inspiration for future trips, money-saving offers or advice on how to carry out work on your leisure vehicle. And just think how good it will feel when you are able to take your first trip and know your vehicle is looking great with everything in it that you will need for the next adventure."
Now's the time to sort out your paperwork…
Read the manual. We never do, do we? Well, now's your chance. Find out where the fuses are, and what that mysterious switch you've always wondered about is for. Next time you go away, you'll know how everything works, and if anything stops working, you'll stand a much better chance of sorting it out.
And while you're dealing with paperwork...

Check insurance/cover/service renewal dates. Don't let cover lapse, as it protects against ongoing risks like theft, fire, weather and accidental damage even if the outfit's not currently in use. It may be hard to get annual servicing done at present, but plan for this before getting back on the road if you possibly can. At the very least, identify the fixed and mobile service agents in your locality – note that your usual choice may be booked up, so find some options

Put loose handbooks and instruction sheets in a folder to keep in the outfit, and originals of important documentation like insurance/cover certificates, registration documents and warranty details in another folder to keep safely at home. Copy relevant reference numbers and contact details from those documents into your 'travelling' folder. Should anything go wrong on a future trip, you'll really appreciate having those details to hand
Chuck out the chintz!
It's springtime - get cleaning! Take time to really get into the details we all normally miss. Give loose carpets a good vacuuming outside. Clean around the seals, hinges and latches of doors and windows. Use upholstery cleaner to get rid of that stubborn mark that's been on the seat nearest the kitchen for the past two years. Look for things needing minor repair as you go – a deep clean really helps you scrutinise the inside and out for flaws

Take this opportunity to prune that list of 'nice to haves' down to true essentials. Weigh everything that comes out (kitchen scales for smaller items, bathroom scales for big stuff). Can you save 10kg, 20kg or even 50kg? You might be surprised

If you've time on your hands, weigh everything that's not part of the outfit itself. Did that add up to more than you thought? Go back to the previous point if it did…

Now you've cleared space, is there anything truly useful that you really need to add? Put it in now, or make a note to buy it in due course
Get crafty!
However great your outfit is, there's always something you don't like, something missing or just something which needs livening up. How far you can go with this depends on your DIY skills and in some cases whether your outfit's still under warranty, but ideas might include:
Replace tired old curtains with fresh ones…or get rid of them for a cleaner, modern look if you've got blinds anyway

Buy (or make) some scatter cushions. Add a personal touch and a splash of colour and style

Fit USB charging points close to where you want to put your phone at night. Or where the kids use their devices

Mark any bit you've previously walked into or hit your head on at night with white or fluorescent paint or tape

Fit a Bluetooth speaker so you can play music from your phone, laptop or tablet
Install a water-saving showerhead

Improve your internet. External antennas/signal boosters, 4G or 5G routers and such like will all help keep you connected
If you can't get to your outfit at this time
Make lists! What do you need to do when you can get at the outfit again? It could be maintenance, repairs, cleaning or enhancing.
Read the manual. If you haven't got the original to hand, many manufacturers publish electronic versions on their websites

If your outfit's out of sight, don't let it be out of mind. Check that insurance/cover renewal date, and identify local service agents for when you can get a service done

Be imaginative. You know what annoys you about that cupboard under the sink, that corner that needs another spotlight when you're reading, or that lack of a USB socket nears the kids' beds. Plan your improvements, and if you can, get the parts ready
These tips and advice will help get your outfit ready for use again, but please remember that most will still require a full habitation service to ensure safe and reliable use, so plan for this in advance. The Club recommends choosing a fixed or mobile workshop which is a member of the Approved Workshop Scheme - see www.approvedworkshops.co.uk for details.
The Club wishes everyone happy touring in the future, until then, please stay home and stay safe.
#WeAreAllInThisTogether
And don't forget, the Club website and social media platforms have a wealth of hints and tips to help get people through these difficult times and the Club Magazine continues to be packed full of ideas for when people are able to begin touring again.
For help and inspiration with future holidays, visit the Club website (www.camc.com) and check out the Club's social media channels @CandMClub.
- Ends -
About the Caravan and Motorhome Club
Champions of the great outdoors – from glamping to touring – the Caravan and Motorhome Club represents the interests of around one million caravan, motorhome, campervan and trailer tent owners across the UK. Founded in 1907, the Caravan and Motorhome Club has a wealth of experience and prides itself on offering great value and high-quality campsites for tourers and glampers. Caravan and Motorhome Club membership is just £54 per year.
For further information about becoming a member of the Caravan and Motorhome Club, please visit www.camc.com or call 01342 318 813.
Media Contacts:
For press information, interview requests and imagery, please contact Nikki Nichol, external communications and sponsorship manager at the Caravan and Motorhome Club on 01342 336 797 / 07771 834 443 or via email: nikki.nichol@camc.com
For press information, please email Zoe Poulton and Helen Coop at camc@fourcommunications.com or call Zoe on 07891 423 440.