Club announces David Turner as new Chairman
28/10/2023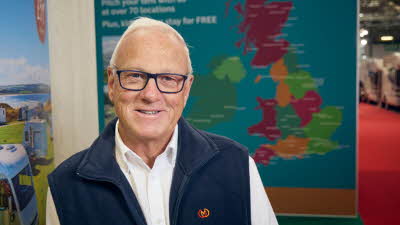 The Caravan and Motorhome Club announces David Turner as new Chairman
During the Caravan and Motorhome Club AGM in London on Saturday 28 October 2023, David Turner was appointed by Club members as Club Chairman.
David, a retired Banker, has been a member of the Club since 1988 and served on several Committees as well as holding the position of Club Vice Chairman.
Caravanning since 1979, David also enjoys fishing, reading, cycling and swimming. David, and his wife Jan, regularly caravan in the UK and abroad and stay at Club campsites and attend local member events.
David Turner said, "It is the most incredible privilege to become Chairman of the Caravan and Motorhome Club - a true members' club. I look forward to serving our 1.1million members and working with the dedicated Club staff and volunteers, both on the Club Campsite network and at Head Office. The Club is a great institution that has stood the test of time. Together with my committee colleagues and the Directorate team, we will continue to do all we can to enable our members to do what they love best, enjoy the great outdoors knowing they are in safe hands with the Club. We will also work to ensure we remain relevant to the next generation of Club members and their interests."
Nick Lomas, Caravan and Motorhome Club Director General said, "The Club is delighted to announce that David Turner has been appointed as Club Chairman. David embodies the spirit of our touring membership and I, along with the team, are looking forward to working with him. The Club would like to take this opportunity to thank Grenville Chamberlain OBE, who stepped down after 16 years as Club Chairman, for his tireless devotion to the Club and its members."
-Ends-
About Caravan and Motorhome Club
Championing and helping its members get more from the great outdoors, whether glamping or touring, the Caravan and Motorhome Club represents the interests of over 1.1 million caravan, motorhome, campervan and trailer tent owners across the UK. With over 116 years of knowledge and expertise, the Club has a wealth of experience and prides itself on offering great value and high quality campsites for tourers and glampers.
Caravan and Motorhome Club membership is just £59 per year and provides members with access to over 2,700 quality campsites across the UK and Europe. As the UK's No. 1 rated touring club* it makes sure members get the most from their membership, saving them money with great value offers whether touring or at home.
The Club also offers a range of escorted European tours which are protected by ABTA. Plus escorted and independent tours in Australasia, North America and Southern Africa which are also fully protected, either by ABTA or ATOL when a flight is included. All members can take advantage of expert advice, overseas travel services, cover and insurance and exclusive member offers and discounts.
For further information about becoming a member of the Caravan and Motorhome Club, please visit www.camc.com or call 01342 318 813.
*As rated on Trustpilot
About Experience Freedom
Experience Freedom from the Caravan and Motorhome Club provides glamping accommodation in some of the most beautiful locations in the UK. Helping members get more from the great outdoors, Experience Freedom offers a choice of glamping accommodation, motorhome hire and tent camping, all of which are available to non-members. Motorhome hire, including some discounted hire schemes can be found here https://www.experiencefreedom.co.uk/motorhome-hire/
Experience Freedom is operated by the Caravan and Motorhome Club, a membership organisation with a wealth of experience in operating high quality campsites.
Caravan and Motorhome Club members can save up to 10% on glamping accommodation for themselves and their friends and family when staying at the campsite with them. It is automatically applied to the booking when the membership number is used. To book friends and family, simply call on 01342 777533 to make a booking with your Club membership card. To find out more, visit www.experiencefreedom.co.uk