New European and worldwide tours for 2017
11/10/2016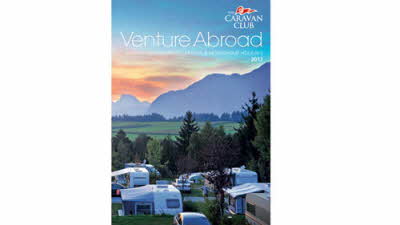 The Caravan Club is introducing an exciting array of new tours to its 2017 line up including a range of new escorted tours, independent worldwide getaways and, for the first time ever, a 'tailor made' worldwide offering for members looking to create a truly bespoke trip of a lifetime. The new 'tailor made' holidays will allow members to travel at their own pace, giving them the freedom to pre-book as little or as much as they want before departure.
The new worldwide tours on offer will also include an additional three escorted tours across the USA, Canada, Australia and New Zealand. Highlights include the addition of Canadian Rockies and America's Canyonlands tours. The Caravan Club is also developing its independent tours that give members the freedom to travel on their own whilst following a set itinerary that has been organised for them. New destination highlights will include Eastern Canada, Yellowstone National park and the islands of Hawaii to name a few.
Seven new European tours will also be introduced to The Club's existing tour programme including a tour to Slovenia and Croatia. For the first time ever, there will also be specific 'family tours' that include stays at family friendly sites and a range of activities for the whole family to enjoy at sites in the Netherlands and France.
25 night Slovenia and Croatia tour – Start your exciting journey at spectacular Lake Bled, before travelling into Croatia to explore contemporary cities like Zagreb, and discover the spectacular waterfalls at the Plitvice Lakes and Krka National Parks. Learn about the history of Croatia in Split and Trogir, both UNESCO World Heritage Sites, and enjoy an evening excursion to watch the sunset in Zadar.
Eight night Dutch Family Fun tour – introduce the family to the safe, relaxed and easy to follow cycling routes on guided excursions across the beautiful Ommen countryside, enjoy excursions to the Hellendoorn Adventure Park and get active in the countryside on exciting days out. The tour is based at Resort de Arendshorst a spacious, friendly campsite situated on the banks of the Vecht River and surrounded by forests and farmland. On the site there is a small paddling pool, playground and a petting farm for the children to enjoy, as well as a jetty at the river bank for launching canoes or fishing.
Harvey Alexander, director of marketing, The Caravan Club commented:
"We have been working hard throughout the year to create our strongest ever line up of exciting destinations for holidaymakers heading to the continent and further afield. With a wide range of new additions to our worldwide and European tours offering, including completely bespoke getaways and dedicated family tours, we are confident that The Caravan Club is offering the best range of caravan and motorhome getaways for 2017."
For further information and details on how to join The Caravan Club visit www.caravanclub.co.uk.
– Ends –
---
Contact information

Kate O'Brien
Emma Wayman
Siren Communications
0207 759 1150
caravanclub@sirencomms.com
Nikki Nichol
External Communications and Sponsorship Manager
The Caravan Club
01342 336 797 / 07771 834443
nikki.nichol@caravanclub.co.uk

Notes to editor

Champions of the great outdoors, The Caravan Club represents the interests of over one million caravanners, motorhomers and trailer tent owners across the UK.

The Caravan Club offers its members over 200 Club Sites and 2,500 privately owned places to stay, and provides all members with expert advice, overseas travel services, financial services and exclusive member offers and discounts.
For further information about becoming a member of The Caravan Club please visit www.caravanclub.co.uk or call 01342 318 813.