Caravan and Motorhome Club supporting 'No Mow May'
19/04/2023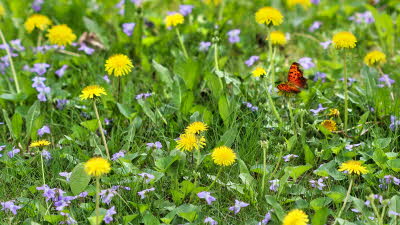 Champions of the great outdoors – from touring to glamping – the Caravan and Motorhome Club represents the interests of over 1.1million caravan, motorhome, campervan and trailer tent owners across the UK. The Club works with Green Tourism as a key enabler to working in a sustainable manner and supporting sustainable initiatives throughout its network of sites and offices.
The Club is therefore delighted to be taking part in 'No Mow May'.
No Mow May is Plantlife's annual campaign encouraging people not to mow during May and to help provide spaces for nature to thrive by letting long grass and wildflowers grow naturally.
Since the 1970's nearly 97% of flower rich meadows have been lost, and that means a vital loss of food needed by pollinators like bees and butterflies - which are also at risk of disappearing.
Natasha Shane, Head of Strategic Product Development and Sustainability for the Caravan and Motorhome Club says, "The Club is excited to support No Mow May for the second year running and we have strong support from our campsites. Many of the campsites teams are working hard on biodiversity initiatives with support from Green Tourism who are advising them on how to implement simple changes to attract wildlife and create a wonderful natural environment for Club members to enjoy on campsites."
Shane continues, "We are looking forward to seeing the 'before and after' images of the campsites at the end of No Mow May and to see how the wildflowers and wildlife have flourished."
Notes to Editors
About the Caravan and Motorhome Club
Championing and helping its members get more from the great outdoors, whether glamping or touring, the Caravan and Motorhome Club represents the interests of over 1.1 million caravan, motorhome, campervan and trailer tent owners across the UK. With over 115 years of knowledge and expertise, the Club has a wealth of experience and prides itself on offering great value and high quality campsites for tourers and glampers.
Caravan and Motorhome Club membership is just £59 per year and provides members with access to over 2,700 quality campsites across the UK and Europe. As the UK's No. 1 rated touring club* it makes sure members get the most from their membership, saving them money with great value offers whether touring or at home.
The Club also offers a range of escorted European tours which are protected by ABTA. Plus escorted and independent tours in Australasia, North America and Southern Africa which are also fully protected, either by ABTA or ATOL when a flight is included. All members can take advantage of expert advice, overseas travel services, cover and insurance and exclusive member offers and discounts.
For further information about becoming a member of the Caravan and Motorhome Club, please visit www.camc.com or call 01342 318 813.
*As rated on Trustpilot
About Experience Freedom
Experience Freedom from the Caravan and Motorhome Club provides glamping accommodation in some of the most beautiful locations in the UK. Helping members get more from the great outdoors, Experience Freedom offers a choice of glamping accommodation, motorhome hire and tent camping, all of which are available to non-members. Motorhome hire, including some discounted hire schemes can be found here https://www.experiencefreedom.co.uk/motorhome-hire/
Experience Freedom is operated by the Caravan and Motorhome Club, a membership organisation with a wealth of experience in operating high quality campsites.
Caravan and Motorhome Club members can save up to 10% on glamping accommodation for their friends and family staying at the campsite at the same time, it is automatically applied to the booking when the membership number is used. To book friends and family, simply call on 01342 777533 to make a booking with your Club membership card.
To find out more, visit www.experiencefreedom.co.uk
Media Contacts:
For more press information, please email Nikki Nichol at the Caravan and Motorhome Club on nikki.nichol@camc.com or by calling 07771 834443. Or contact the Four Communications press team, by emailing Victoria Eltis and Fleur van Heusde at camc@fourcommunications.com or call 07891 423322.