Popularity of autumn and winter touring continues to rise, according to the Caravan and Motorhome Club Members share how they get away their way during the cooler months
14/10/2019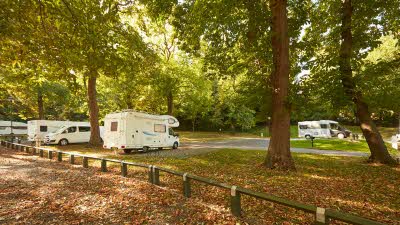 Proving that caravanning, campervanning and motorhoming are great holiday options no matter what time of year, Caravan and Motorhome Club members are continuing to embrace autumn and winter touring.
Bookings for autumn and winter 2018 to 2019 were up seven percent compared to the 2017 to 2018 season, and feedback from the Club's recent social media polls show that its members think there is much to love about touring during the cooler and quieter months.
Some 26 percent of Club members questioned said they enjoyed the autumn colours and 22 percent loved long walks on crisp bright days, with 35 percent enjoying the quieter sites and attractions out of season. Nearly 20 percent travelled out of season to appreciate the sheer beauty of the seasonal landscape.
The resounding sentiment was that whilst members want to get out walking and visiting local attractions, many also love the warm and cosy feeling of being in their campervan, caravan or motorhome over the autumn and winter months, whatever the weather might throw at them.
Top tips include:
Booking sites nearer to towns and cities so there's plenty to do and see if the weather isn't at its best
Avoiding muddy walks by visiting coastal sites, taking walks along the beach and going beachcombing
Take your winter jumper to snuggle in after a long walk in the beautiful countryside
Go 'old school' with a selection of board games if the weather outside is 'frightful'!
Fire up your outfit a few days before you go to check all the heating and hot water works, check your tyres, gas and insulation
Don't forget that Club campsites have great drying facilities if clothes get wet from winter walks – so take lots of change!
Harvey Alexander, director of marketing for the Caravan and Motorhome Club, said: "Our members are an active and adventurous bunch so it's no surprise that so many of them enjoy touring during autumn and winter, and we are striving to keep more and more of our sites open out of season to keep up with the demand.
"It's great to hear how our members all get away their way – whether that be curling up with a good book and a nice cuppa in a cosy motorhome or braving the chill and camping in a national park so they can spend the days walking and cycling. I've especially enjoyed hearing the tips that our members have for getting away in the cooler months, not just the practicalities of being prepared, but the lovely feeling they have of being safe and warm inside their leisure vehicles and benefitting from the great facilities we have on our sites."
Caravanners, campervanners and motorhomers who are looking to get away during autumn and winter are spoilt for choice as more than 55 Club and affiliated sites plus numerous Certificated Locations staying open all year round. From the Scottish Highlands to the Cornish coast, the sites are located across the UK and the majority of them offer heated washrooms, hot showers and electric hook ups, making it easy to stay warm and cosy no matter the weather. Many offer kids' stays for £1 per night and mid-week discount so families and couples alike can enjoy a break for less.
For those looking for a stylish glamping getaway, Experience Freedom from the Caravan and Motorhome Club offers many options for members and non-members alike across the UK. From camping pods to yurts, glamping pods, Airstream stays and motorhome hire with Swift Go, there are options suitable for every taste and budget all year round.
Caravan and Motorhome Club membership is just £52 per year and it not only provides members with access to 2700 quality sites in the UK and overseas, but expert advice, overseas travel services, great ferry offers, cover and insurance and exclusive member offers and discounts on everything from new cars to outdoor clothing - plus 10 percent discount on glamping products. The Club also offers escorted and independent tours of America, Australia, Canada, New Zealand and Southern Africa for both member and non-members.
For more information on the Caravan and Motorhome Club, please visit www.camc.com
- Ends -