Steve Brine MP visits Caravan and Motorhome Club Winchester campsite
04/04/2023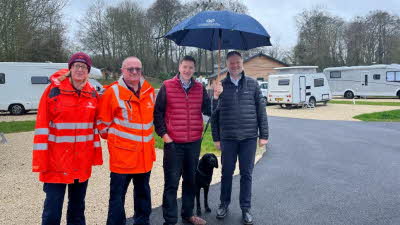 (3 April 2023) As part of celebrating English Tourism Week, the Caravan and Motorhome Club was delighted to welcome Steve Brine, the Conservative MP for Winchester and member of the Digital, Culture, Media and Sport Committee, to its Winchester (Morn Hill) Club Campsite on Friday 31 March 2023.
Winchester Club Campsite offers members 116 touring pitches, with 61 of these being hardstanding, and is open all year to both members and non-members.
The attractive 9-acre campsite is an ideal base for exploring the Hampshire countryside. Positioned just off the M3 motorway, it offers guests an ideal opportunity to stop off en-route north or south or vice versa whilst providing those who wish to explore the opportunity to visit the historic buildings of Winchester or local amusement areas such as Marwell Wildlife Park or the National Motor Museum at Beaulieu.
Winchester recently re-opened after an extensive £3.5m redevelopment that includes new facilities blocks (featuring level access, dishwashing, laundry and family room), new hardstanding, serviced, premium and designated ferry pitches and an improved layout for better access to pitches. Since the redevelopment, visitor experience scores have increased from 8.4/10 to 9.4/10.
Steve Brine MP commented, "It was great to visit Winchester Caravan and Motorhome Club Campsite today in Hampshire and it was easy to see why it is a popular destination for tourers. I am sure that campsite visitors across the year will also bring a welcome boost to the local visitor economy."
Mr Brine's visit came just before Easter, typically the start of the touring season. The Caravan and Motorhome Club, the UK's number one rated touring club, continues to make a positive impact on local economies. Club members spend over £420 million annually when on touring holidays, this is money that is spent on days out, shopping, eating out and visitor attractions etc.
Nick Lomas, Director General of the Caravan and Motorhome Club said, "We were delighted to welcome Steve Brine MP to our Winchester Club Campsite to celebrate English Tourism Week. Winchester campsite is a firm favourite with Club members and we were grateful that Mr Brine took time to visit us and see how the Club, and our members, make a significant impact on the rural economy, helping to support local businesses and communities."
For further information about becoming a member of the Caravan and Motorhome Club or to book, please visit www.camc.com or call 01342 318 813.